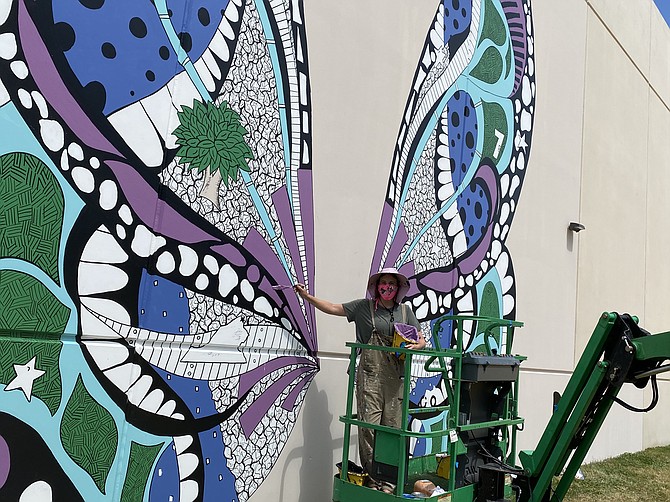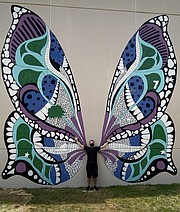 Reston, vocalist Taylor Swift, NFL Super Bowl XIV (54) and developer Howard Hughs have something in common: a mural by internationally acclaimed street artist Kelsey Montague. American Real Estate Partners commissioned Montague to design and create a Reston-centric variation of her signature butterfly mural on the exterior wall of the parking structure for International Tower at Reston Heights, 11800 Sunrise Valley Drive. The butterfly is part of the artist's "What Lifts You" series.
Montague is a prolific artist. She is known for her hand-drawn murals and artwork, commissioned by major brands, cities and business districts, developers, and used in product design work. She is interested in the juxtaposition of public art, interactive art and social media. "I have been doing street art all over the world for about six years now... well over 300 murals." she said. "I focus on interactive art. So, whether that's a pair of angel wings (or butterfly wings), you can stand with them...appear to be part of the work... All my work usually has the hashtag, "What Lifts You," which is focused on sharing."
According to Louise Boulton-Lear, who is Vice President of Brand Communications at American Real Estate Partners, the company worked with the Reston Association Design Review Board, its architects, landscape architects and community residents on the design of the 25 by 25-foot mural. "Lisa Heath, DRB Manager, was very engaged and supportive," Boulton-Lear said.
MONTAGUE painted two different sets of graphic butterfly wings, a giant pair soaring nearly three stories high and a smaller black and white pair of wings. Boulton-Lear said, "Building customers, residents and visitors can walk up to the mural and stand between the wings for pictures. They can bring their four-legged squad too. There is a place for everyone... We hope people will share their pictures through social media and be part of the Reston Wings conversation, and in turn, our community," she said.
American Real Estate Properties wanted the mural to be part of Reston's fabric, a tribute to the inclusionary community vision of founder, Robert E. Simon. At the same time, the company wanted to incorporate its corporate values, to "Go Beyond the Expected," create an experience that would be distinct and elevated. Boulton-Lear said they encouraged Montague to include "unique connections to Reston" and American Real Estate Partners' "immense regard for the courage of healthcare professionals" in the mural's design. "As Virginia Spine Institute is an anchor medical tenant, we wanted to create an exciting and fresh experience for patients, medical staff and guests coming in and out of the office building and structured garage. For Reston residents and others who visit, we wanted to highlight this as a place of community and connection."
According to Montague, she has painted "well over 300 murals worldwide," and travels with her sister, Courtney, Operations Director for the Kelsey Montague Art Brand. "I pretty much live out of a suitcase. I'm on the road constantly," she said. Yet, with all the hustle and bustle, Montague's murals are all different and inspiring. "They're one of a kind, and they all are very specific to the community that I'm drawing in and for…All my work inspires people to not only step into the work and become part of the art but also to think about what lifts them, what inspires them and share that positive message with their communities."
Dressed in painter overalls and a sun hat, Montague stepped onto the platform of articulated boom lift on July 17, temperature spiking in the 90s and humidity tropic. She faced the stark white concrete walls that soared multiple levels and worked quickly in the lift, free-forming the sharp back edges of the butterflies' wings but taking artistic license to personalize the interior areas. "I have an idea of the concept and the layout, but it's always going to be a little bit different, you know, always be in the moment. And I think that's the beauty of street art, because it is so personal and it is in the moment, and it's hand-drawn. It's not going to be something that's a print. It's something that I'm working on and creating," she said.
Montague strategically incorporated specific colors and figures in the mural related to Reston but will leave it to viewers to discover them.
JAMES DOWNEY of the Virginia Spine Institute tried out the wings on Tuesday, July 28. "I notice Kelsey Montague's mural every time I walk by," he said. "I lucked out. Every single one of my windows faces this way. I notice something new every time I look at it."