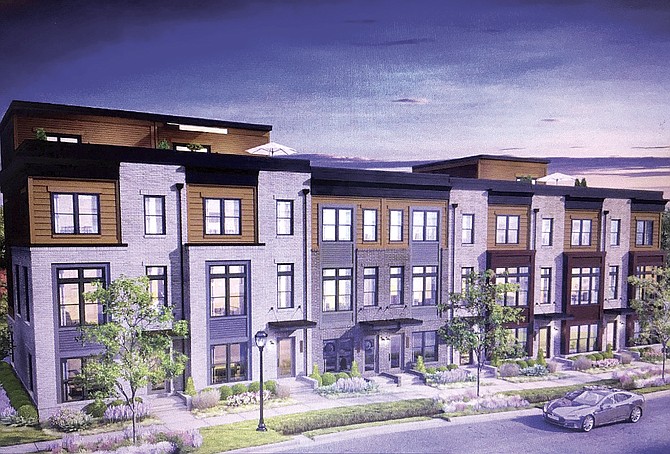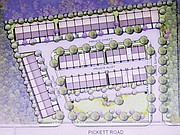 Courtesy of a Comprehensive Plan amendment and a rezoning, 50 townhouses will eventually be built on the site of a church moving from its current site in Fairfax City. After 16 months of discussions, Fairfax City Council recently approved the plan, which also includes some affordable housing.
EYA Development LLC will construct single-family, attached townhouses on some 3.7 acres at DC Metro Church's location at 3500 Pickett Road. They'll be four stories and 45 feet high, and the site will have a density of 13 homes/acre.
"We're well-known and have done many projects in the region," said Aakash Thakkar, a partner and executive vice president with EYA. "This will be our first in Fairfax City. We wanted to provide townhouses for the mixed-use, Pickett Road corridor. And we'll offer optional elevators, which have been well-received by senior citizens."
Planned are 25 front-loaded units along two sides of the site's perimeter, each with two, side-by-side, garage parking spaces, plus two driveway spaces, for 100 spaces total. The 20 rear-loaded units in the interior will also have two, side-by-side, garage parking spaces for 40 spaces total.
THE FIVE AFFORDABLE DWELLING UNITS (ADUs) will each have two tandem garage parking spaces (one vehicle behind the other) for 10 spaces total. There'll also be 20 on-street spaces, for an overall total of 170. The 45 market-rate townhouses will come in 20- and 24-foot-wide models; the ADUs will be 16 feet wide.
Councilmember Sang Yi decried the loss of about 200 trees for this project. And Councilmember So Lim noted that the ADUs will be much smaller than the other townhomes. But Brooke Hardin, director of Community Development and Planning, said they'll have a selling price of about $300,000 and be affordable to people earning 70 percent of the area medium income (which is above $100,000).
Since bringing this residential proposal to the Council last year, EYA representatives have had many meetings with the residents of the nearby Barrister's Keepe community. And, said Thakkar, "Many of our modifications came from them. We've also worked in close collaboration with City staff.
"Our tagline is 'Life within Walking Distance,' and we like to build in neighborhoods… We take walkability seriously and are very community-oriented."
—Aakash Thakkar, a partner and executive vice president with EYA
"In June 2019, we proposed more density, less parking and not as much buffering between the site and Barrister's Keepe," he continued. "We went from 65 to 52 to 50 units; and, for privacy, no houses will back up to that community. We moved the homes we'd proposed there to the other side of the site." In addition, the unit closest to Barrister's Keepe will be three stories, instead of four.
The approved project also includes a park along Pickett Road for community gatherings, but open to the public, too. There's a sidewalk on the new neighborhood's private street, right-of-way dedication for a multi-use path on Pickett, a 5-foot-wide pedestrian trail along the northern property line and two access points to Pickett.
Sweetening the deal further, EYA will also contribute $122,000 toward the construction of the Daniels Run Trail extension. This trail will eventually connect Daniels Run Park to both Picket Road and Main Street.
"Our tagline is 'Life within Walking Distance,' and we like to build in neighborhoods," explained Thakkar. "We take walkability seriously and are very community-oriented. We're also one of the foremost providers of ADUs in a for-sale, townhouse configuration, and they'll have the same architecture and quality of materials – both inside and outside – as the other units."
"The 16-foot unit we're proposing for ADUs here is a market-rate unit that we sell in other locations," he added. "It's three bedrooms, 2-1/2 baths. It costs us $600,000 or more to build an ADU that'll ultimately be sold for about $300,000."
"We could have built 45 units without the ADUs, but we thought the right thing to do for our first experience in the City of Fairfax was to include them," said Thakkar. "Five families will be able to afford them and call them home, and it's something we're really passionate about."
EYA ARCHITECT Jack McLaurin said the buildings' exteriors will feature a combination of earth-tone brick and cedar siding, plus bay-window extensions. "We'll provide an attractive, walkable streetscape with significant landscaping," he said. "And we'll have traditional streetlights along Pickett Road, plus 15, more-contemporary, internal streetlights lining the park and promenade area."
Thakkar anticipated construction to start in the first quarter of 2021. "This project has come a long way from when we first looked at it, and I'm comfortable with the ADUs," said Councilmember Janice Miller. "We don't have a project similar to this, and I'm glad the sidewalks will give the residents access from their homes to Pickett Road."
Then, before Council unanimously approved the project, resident Brian Knapp spoke on behalf of the Barrister's Keepe community. "Knowing the church would move away someday, we worried that what would replace it wouldn't be compatible with us, so we're pleased with this townhouse development," he said. "And we've spent thousands and thousands of dollars battling the stormwater runoff from that property, so we're really happy that EYA will take care of it."