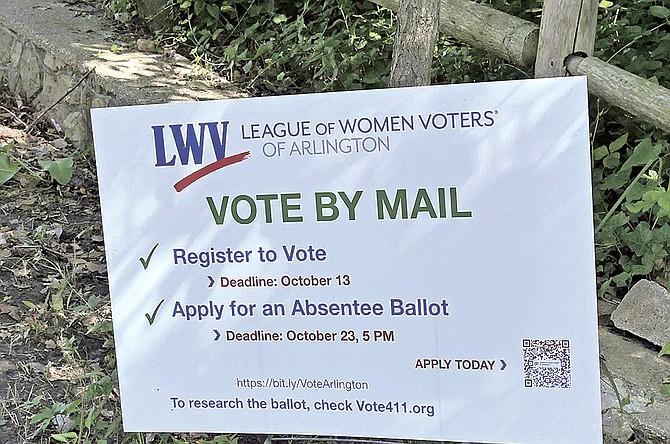 Many things in what we used to call "normal" life have changed, but the election is still only three months away. Yet things have changed here, too, as County election officials are urging voters to put safety first and vote absentee.
What to do?
The first step, regardless of whether you plan to vote in person or by mail, is to register to vote. The deadline to register to vote is October 13. If you are uncertain whether you are registered to vote you can check on the Virginia or Arlington election websites. It also makes sense to double check your registration.
After you have verified that you are registered to vote, choose whether you wish to vote in person or by mail. Your one stop shopping for information on your registration status, an absentee ballot application, candidates and election law is the Virginia Department of Elections website, elections.virginia.gov. Questions can also be directed to the Arlington Office of Elections at voters@arlingtonva.us or 703-228-3456.
If you choose to vote in person, you could vote on Election Day, Nov. 3 between 6 a.m. and 7 p.m. at your regular polling place. A better choice is to vote early at your the Registrar's office in the Bozman Government Center at 2100 Clarendon Blvd. beginning 45 days before the election, Sept. 18. Additional satellite early voting sites have been requested but still need approval from the County Board. Voting on Election Day is likely to involve lines.
If you wish to vote by mail, you can request an absentee ballot application at the election website or pick up an absentee ballot application at county facilities. It is now easier to vote absentee. Any voter can vote absentee without any reason, replacing the former requirement that a voter had to cite a reason from an approved list. This new rule took effect July 1.
Ballots must be requested by Oct. 23, but don't wait, request a ballot now you want to vote by mail. If you are voting for the first time, you must submit a copy of a valid ID with your ballot or your initial application. Send your ballot application to the registrar's office in the Bozman Government Center by mail, fax or email attachment. Don't wait until October if you can avoid it.
Among several issues this year according to Charlene Bickford, Chairman of the Arlington Electoral Board, is that a number of these county facilities are currently closed due to COVID, and the facilities that do have applications run out quickly and must be monitored for replacement.
Once your application for a ballot has been received, ballots will be mailed out the week of Sept. 18. When you receive your ballot, mark the ballot. Under state law the ballot must be placed inside an envelope, and the envelope must be signed by the voter and a witness. There have been objections to the requirement for a witness, and a case is before the Circuit Court in Richmond to waive the witness requirement.
Return the ballot immediately so you don't lay your ballot aside and forget to mail it and to avoid a last minute rush of ballots for the election workers. The ballot may be mailed or dropped off at the Registrar's Office at the Bozman Center.
There has been a request by the registrar for satellite sites but the County Board must approve them. There are currently no drop boxes that will allow voters to drive by and submit the ballot without involving the postal service.
"Every precinct will be open Election Day with poll greeters and sample ballots…. You can minimize the struggle of social distancing by voting ahead."
One change in absentee voting this year is allowing a mail-in vote to be counted up to the Friday after the election if it has been mailed on or before Election Day. Joan Porte, President of the League of Women Voters of Arlington (which also covers the City of Alexandria) says, "this is a big concern and there has to be a tamping down of expectations. If people are still expecting to get an election outcome on Election Night as usual, there could be confusion."
Porte says this is a different year with the challenges of the coronavirus. "We thought we had everything planned for 2020 and then the world ended."
Since they can't reach voters with information in the conventional ways due to closure of public facilities the League has devised alternatives from volunteer adoption of neighborhoods, to sandwich boards at every farmer's market, "yard signs galore outside every library and public housing and we just got permission from Arlington Parks and Recreation to put signs at every community center."
Porte says League members are adopting neighborhoods. "I'll do Dominion Hills. They stick their head in a store and ask if they can hang a non-partisan flyer."
In addition, the League is putting 2,400 flyers as well as installing posters at the "grab and go" food sites on August 21, which is the last week of the school feeding program. Porte says these are required to be in Mongolian, Spanish, Amharic and Arabic. In addition, they are holding a week of voter registration outside the Arlington Food Assistance Center in September as people wait there for their food distribution.
She says they are also doing "pandemic postcarding" which has recently included 3,000 postcards to unregistered voters in Arlington and 15,000 outside through Reclaim the Vote. "I got 1,300 names on Tuesday and by Wednesday I was out of names. People were saying 'I need more;' we're trying to keep up with demand." The last batch was bilingual to unregistered voters in Texas.

Rick Hale, who is working through the United Church of Christ's Faith and Democracy 2020 campaign to increase voter participation by persons of color says they ordered 5,000 postcards and plan to send out 2,000 and distribute the rest to other churches. "We're just getting started; we'll pass out the first round this weekend." This group will be sent out in early September to encourage early voting in Texas.
Porte says they are lucky "to have Pam the Wizard" who has built a 90 column spreadsheet with information on every project, who is responsible for it and the status.
Bickford says people will have every opportunity to vote whether absentee by mail, in person early voting or Election Day. But there are so many issues this year. She points out with the expected large absentee voting, there will be bureaucratic challenges. She says even though they have a high speed vote counter, the envelopes still have to be opened, and you have to look at the certification on the envelope and smooth the ballots so they will go through the counter. In addition, the polling places in Arlington's 54 precincts are still required to be open by law on Election Day, which presents staffing and safety issues.
But Stuart Scott, a precinct captain in the Crystal City area, expresses optimism. "Every precinct will be open Election Day with poll greeters and sample ballots. It should be business as usual." But he reiterates the overall theme. "You can minimize the struggle of social distancing by voting ahead."
There has been some voter confusion due to pre-filled mail ballot applications received by some voters last week from the Center for Voter Information, which is not affiliated with the Arlington County Office of Voter Registration and Elections. If you received one of these and live in Arlington, it does serve as a valid request for a ballot and there is no need to order one online. While other Virginia localities are reporting errors on their forms, the ones provided to Arlington voters appear correct. Completed forms will be sent to the Arlington County Office of Voter Registration & Elections for processing.