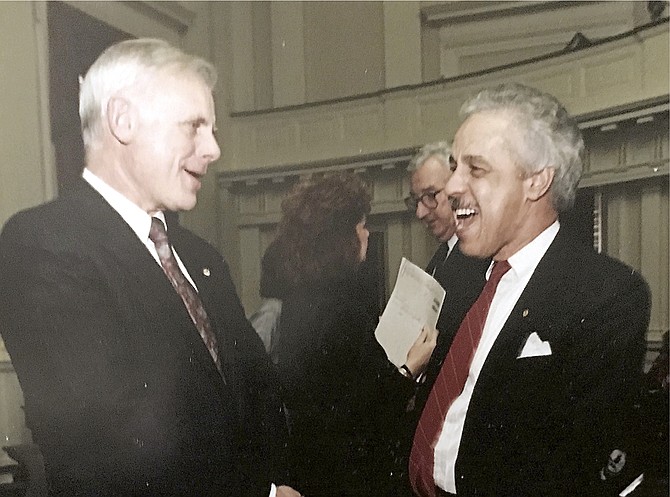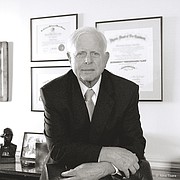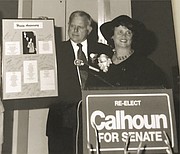 Bob Calhoun, a political statesman who represented Alexandria in elected office for 20 years, died Aug. 6 at his country wildlife preserve in Berryville, Va., following a battle with prostate cancer. He was 83 years old.
"Bob was always interested in politics," said Calhoun's wife Sandra. "His grandmother was an influential Democratic backer in the Chicago area while the other side of his family were fervent Republicans. So I guess you could say it was kind of in his blood."
A resident of Alexandria for 55 years, Calhoun served on the City Council from 1976-1981 and again from 1984-1988. He was elected vice mayor for the 1979-1981 term. He represented Virginia's 30th district in the State Senate from 1989-1996.
Robert Lathan Calhoun was born July 22, 1937, in Oak Park, Ill. He was the only son of Robert and Madeline Calhoun. He and his sister Carma were raised in Glen Ellen, Ill., and Indianapolis, Ind., where he participated in Scouting and played clarinet in the school band. He earned an undergraduate degree from Tufts University and graduate degrees in law and economics from Yale University.
It was during his time at Yale that Calhoun met Sandra "Sandy" Bensen. The two were married Aug. 8, 1964, and made their home in Northern Virginia as Calhoun was beginning his career as an advisor to Commissioner Charles Webb at the Interstate Commerce Commission. He served in that role from 1963-1970 before moving on as Deputy Director of Policy Review for Under Secretary Charles D. Baker.
Calhoun went into private practice as a partner in the Boston-based law firm Sullivan & Worcester from 1972-1996 before becoming Of Counsel at the Alexandria firm Redmon, Peyton & Braswell. He retired in 2019.
"The move to Redmon, Peyton & Braswell was a good one for Bob," Sandra Calhoun said. "It was difficult being a partner in a firm and balancing his obligations as a politician."
A Republican, Calhoun was that rare politician known for working productively and amicably with Democrats during his time on City Council and in the State Senate. He was praised by Senator Wiley F. Mitchell, his predecessor, as a superb legislative mechanic; by former Delegate David Speck as the "most broadly knowledgeable politician" he knew; and by former Council member Carlyle ("Connie") Ring as a master of legislative drafting,
"Bob was proud of his work as an elected official and considered it an honor and privilege," said Sandra Calhoun.
During his time on City Council, Calhoun helped resolve the waterfront title dispute, promoted the development of the Torpedo Factory, and facilitated the creation of the Covanta Waste Energy plant. In the Senate he sponsored legislation on topics as varied as mad dog control to augmented estates.
Calhoun's post-political career included public service as a member of the Virginia Code Commission. From 1996 to 2002, Calhoun served on the boards of the Metropolitan Washington Airports Authority, the Washington Metropolitan Transit Authority, the COG transportation planning board and the Northern Virginia Transportation Commission. He helped facilitate the public-private partnership that led to the creation of the Metro Silver Line.
Other community involvement included serving on the City of Alexandria's Board of Real Estate Assessment Appeals and the boards of Agenda:Alexandria and the Northern Virginia Community College Educational Foundation. In this capacity Calhoun co-chaired the fundraising appeal that contributed to the opening of the Rachel M. Schlesinger Performing Arts Center at the Alexandria Campus of Northern Virginia Community College and home of the Alexandria Symphony.
Calhoun was a founder and long-time board member of the Scholarship Fund of Alexandria, a Paul Harris Fellow of the Rotary Club of Alexandria, and Fellow of the Virginia Law Foundation. He was named a Living Legend of Alexandria in 2012.
In addition to his wife of 56 years, Calhoun is survived by sons Andrew (Mollie), Rob (Elizabeth Wilmer), and Gordon (Lisa); six grandchildren, Thomas, Robert, Zenobia, Ophelia, Lily, and Rachel. Other survivors include five cousins; brother-in-law, Dave Hume; three nieces and nephews and five great-nieces and nephews. He was predeceased by his parents, sister and one cousin.
"Bob especially loved his grandchildren," said Sandra Calhoun. "He was so proud that his grandsons became Eagle Scouts and that our granddaughters performed in dance and instrumental recitals."
A memorial service will be scheduled next spring or summer at Westminster Presbyterian Church. Contributions may be made in Calhoun's memory are The Scholarship Fund of Alexandria, 3330 King Street, Alexandria, Va., 22302 or the Clarke County Easement Authority, 101 Chalmers Court, Berryville, VA 22611.
"Bob really loved being in politics," said Sandra Calhoun. "He had such an enthusiasm for the work so even though it took him away from his family at times, we couldn't begrudge him for that. He was determined to make a difference."