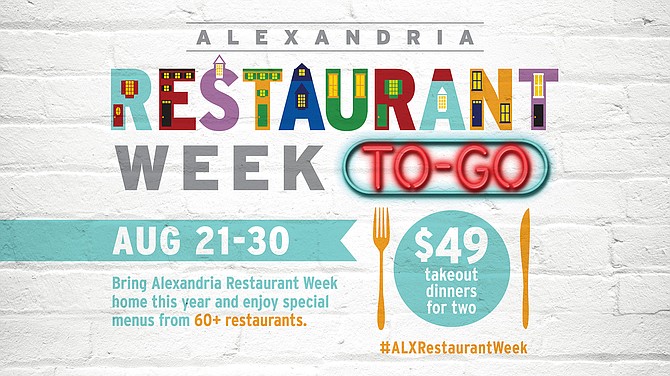 While indoor dining has been curtailed in many restaurants due to social distancing requirements, this summer's festival of local food is moving to another exclusive locale: Your home.
Indeed, Alexandria's Restaurant Week festivities haven't let the Covid-19 pandemic completely derail the proceedings. Whereas the normal weeklong summertime event would offer many in-house deals, this year's rendition is indeed an in-house affair: In diners' homes, after picking up curbside or takeout orders. From Aug. 21 through Aug. 30, dozens of the city's eateries are offering special $49 dinners for two. Here are some of the best bets.
Taverna Cretekou, 818 King St.
The back patio at the venerable Greek restaurant on King Street has been a welcome respite for diners in the middle of the pandemic. But for Restaurant Week, Taverna Cretekou is going one further and offering its best delicacies for curbside pickup instead. The prix fixe menu offers a mixed-green salad, featuring Greek olives, feta, tomatoes, red onions, cucumbers and more, to start, and then a choice of entrée ranging from lamb lemonato (braised lamb shank in a white wine and lemon sauce) to imam baildi (baby eggplant stuffed with onions, tomatoes, pine nuts and raisins). Dessert serves up a choice of rice pudding or a light semolina custard. Feeling a little thirsty? Select bottles of wine can be added on for $19.95.
Yunnan by Potomac, 814 N. Fairfax St.
The region's first Yunnan cuisine restaurant is ensuring that Restaurant Week diners get their money's worth in noodles and dumplings. Offered via takeout or curbside pickup, Yunnan by Potomac's deal is a cross-section of the restaurant's extensive selection: Two small plates (ranging from pork belly or tofu bun to Laonai potatoes), two Mixian noodles selections (including braised beef lu and muogu shiitake) and one order of dumplings (choose from hometown pork, chicken basil and garden party).
Glory Days Grill, 3141 Duke St.
Live sports are back! Flip your home television to the latest Nationals game and order a feast from Glory Days Grill to accompany it. Order an appetizer (including pretzels or fried pickles) to share, then select two soups or salads, then choose two entrees from a list featuring the likes of braised short rib and garlic-cream grilled chicken pasta, and finally top things off with either funnel cake fries or bourbon pecan pie. Pour up a beer, kick back and take in the ballgame with a full stomach.
Taqueria Picoso, 1472 N. Beauregard St.
The West End taqueria is putting its best foot forward for Restaurant Week, offering a wide array of tacos for takeout or curbside service. Pick up to four protein bases, ranging from meaty al pastor to all-vegan oyster mushrooms, and pile them high on eight housemade tortillas or tostadas, accompanied by two salsas, pickled vegetables, onions, cilantro and limes. Before you dig into the tacos, though, give the guacamole and chips a try – and, of course, raise a toast with a 16-ounce bottle of classic or grapefruit margaritas.
Hope Nelson is the author of "Classic Restaurants of Alexandria" and owns the Kitchen Recessionista blog, located at http://www.kitchenrecessionista.com/. Email her any time at hope@kitchenrecessionista.com.