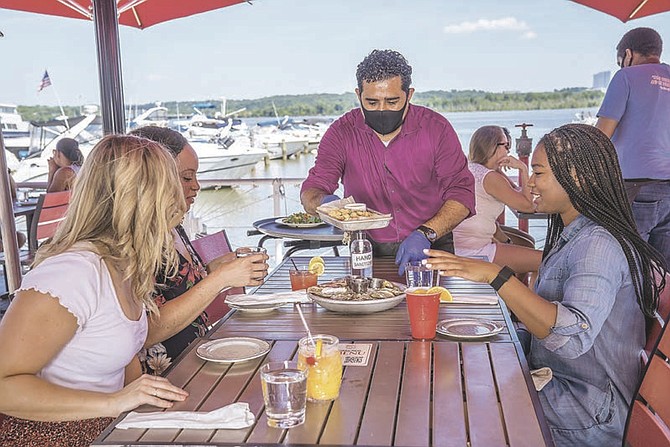 Like an old friend that you know you can rely on year after year, Alexandria's summer Restaurant Week is almost here once more. The 10-day festival of all things foodie kicks off Aug. 20, but you'll want to make your reservations for many spots well ahead of time. Not quite ready to dine in? No problem. There are plenty of to-go options available as well.
Aldo's Italian Kitchen, 2850 Eisenhower Ave. Suite 1
Indoor dining, outdoor dining, takeout or delivery – Aldo's has your options for this Restaurant Week. Begin your meal with a soup or salad, then select from chicken marsala, lobster ravioli or grilled salmon as an entrée, and finally finish things off with a choice of cheesecakes – chocolate chip and limoncello are on offer – or a cannoli.
Augie's Mussel House, 1106 King St.
Augie's may be known for its mussels, but that's not all that's available for Restaurant Week. The restaurant's two-person menu deal offers up one appetizer (which features the likes of wings, steak and cheese eggrolls, and pretzels with beer sauce) and two entrees, including jambalaya pasta, chicken and waffles, and, of course, mussels.
Sisters Thai and the Magnolia Dessert Bar, 503 Montgomery St.
One of the newer kids in North Old Town is coming out of the gate strong with its Restaurant Week offer. Their in-person three-course menu starts with a choice of four appetizers, ranging from curry puffs to spring rolls, and then moves onto a main course featuring the likes of panang curry, fried rice, pottery shrimp and more, and finally winds down with some toffee cake and ice cream.
Taqueria Picoso, 1472 N. Beauregard St.
Love tacos? Taqueria Picoso has you covered. The eatery is offering up deals for two and for one, both featuring an array of protein choices to enhance your tortillas. The two-person option offers a choice of up to four proteins (equaling a pound in weight total), ranging from brisket to vegan chorizo, as well as eight tortillas and all the fixings, including guacamole, chips, rice and beans and two elote. The one-person menu offers a half-pound of proteins (choice of two) with all the sides except for elote. Not feeling the taco love? No problem. The taqueria also has quesadillas and wings on the Restaurant Week menu.
Yunnan by Potomac, 814 N. Fairfax St.
Noodles, bao buns and all the fixings: Where do we sign up? Yunnan by Potomac is offering both in-person and to-go orders for its Restaurant Week menu, and either way, you'll finish the meal happy and full. Their two-person deal offers up one small plate to start – choose from Asian pear radishes, chili bok choy, and more – one bao bun or dumpling order to share, and then two mixian noodle entrees, from lettuce wraps to brothy concoctions.
Hope Nelson is the author of "Classic Restaurants of Alexandria" and owns the Kitchen Recessionista blog, located at www.kitchenrecessionista.com. Email her any time at hope@kitchenrecessionista.com.