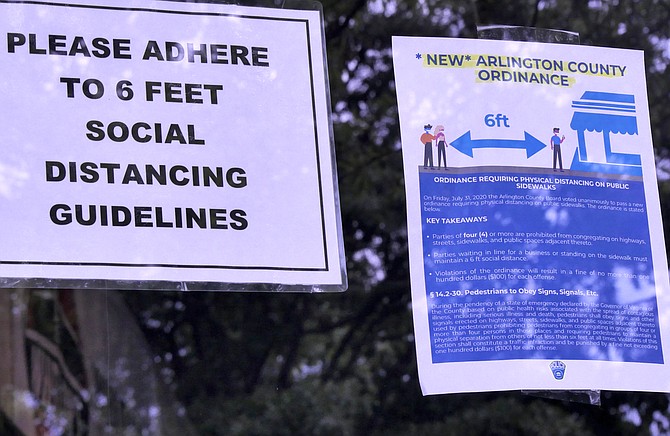 Arlington takes coronavirus restrictions seriously. The County Board passed an ordinance July 31 that targets groups of more than four in public places who don't adhere to physical distancing requirements.

The ordinance requires signs to be posted and pedestrians to obey the signs and signals erected on highways, streets and sidewalks. Pedestrians are prohibited from congregating in groups of four or more (including family members) and must maintain a 6-foot distance from others at all times.

Libby Garvey, Chair of the Arlington County Board, says some of the signs have been put up in target areas, and a map will be posted on the Arlington County website soon. She says this is not meant to target neighborhoods where people are running or walking with their families and kids without face masks.

The ordinance was passed due to the threat of COVID-19.
It states "since the inception of Phase Three Arlington has experienced significant crowding inside restaurants and on the sidewalks, rights of way and adjacent public spaces where patrons wait for long periods of time awaiting admission to the restaurants" without wearing face coverings and practicing social distancing. The Virginia State Department of Health statistics records 3,196 cases of coronavirus with 437 hospitalizations and 135 deaths in Arlington as of Aug. 15.

Garvey says the Board could see that social distancing could be a problem back in Phase Two as Virginia was getting ready to enter Phase Three. The coronavirus cases went up at that time as people started relaxing the social distancing and mask-wearing requirements. "People were saying "oh, good we're done." But she says logic plus science and experience from everyone else around the world tells you coronavirus will spike if you don't continue social distancing and wearing masks.
Garvey continues, "We just need everyone to comply. We have bars open and schools closed and have done incredible damage to businesses. This is backwards." She points to what is happening around the world.
"We know we have coronavirus in Arlington. It is not currently spiking but it is not under control. We have to be preventative."
Matt de Ferranti, a County Board member, says that where he lives in the Clarendon area people seem to be abiding by the social distancing guidelines. But he knows some areas at night are a concern and he sees a lot of social media with videos of the crowds on sidewalks. He explains the ordinance is about targeting where people are congregating.

This ordinance was adopted to become effective immediately on an emergency basis. In accordance with state law it will be advertised for public hearing to consider adoption of a permanent ordinance at the Sept. 12 meeting of the County Board.
The goal is to educate people and gain voluntary compliance so implementation will be delayed while County Public Health officials, the Police Department and Fire Marshall provide information to the public. Violations constitute a traffic infraction and will be punished by a fine not exceeding $100.
Garvey says the County health officials have been visiting businesses to let them know about the new ordinance, and there has been pretty good compliance by restaurants inside the dining areas.
"Our public health officials have jurisdiction inside the restaurants but the issue is with the sidewalks outside where this is considered a traffic violation and the Arlington County Police Department has jurisdiction."
A spokesman for ACPD says educational efforts to date have included proactive checks of restaurants with teams of ACPD, Public Health, the Fire Marshall's Office and ABC to educate and ensure compliance; distribution of educational flyers as well as social media; a virtual information session with businesses and a Town Hall with Board members.
"Enforcement is only to be used if needed and will not occur until signage is posted. The county is first focused on a public education campaign and hopes enforcement may not be needed."
Garvey adds, "Late at night people are more relaxed and may not be wearing face masks. I am hoping overall people agree with voluntary compliance. That's what we want." She says most people move on the sidewalks when the police ask them.
"Our police don't want to escalate this." Garvey says that the County has the option to go to curfews. "That's not good, but people wouldn't be on the streets, so there you go." Garvey expresses frustration. "We're not being strict enough; we're in a really bad place to get the political will to make sure we do this."
"People may complain about losing their freedoms, but we make people wear seat belts; we have rules about the clothes high school kids can wear. What is the difference having rules about face masks?"