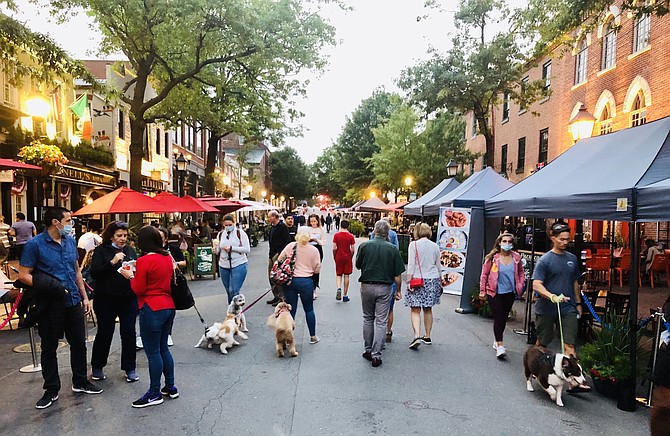 Not wearing a mask indoors might get you a $500 fine from the Commonwealth of Virginia, although failing to wear on the sidewalk outside will get you just a side-eye from the City of Alexandria.
The ongoing debate over civil penalties shows a divergence of opinions about how and when to hit people with a fine for failing to wear a mask. Earlier this month, the House of Delegates and the state Senate both passed legislation creating a new civil penalty for people who violate the governor's executive order mandating masks in public places indoors. Then, last week, the Alexandria City Council considered and rejected a civil penalty for not wearing a mask in public places outdoors when social distancing isn't possible.
"We think having an ordinance will help us get more compliance, and that's what we're trying to ratchet up," said City Manager Mark Jinks, who recommended a civil penalty for not wearing masks outdoors. "Having a fine amount on the sign helps get compliance."
Members of the Alexandria City Council raised concerns about how a civil penalty could possibly be enforced, especially after several members of the public testified against the idea. Several members expressed fears that city officials issuing tickets to unmasked people on the sidewalk would lead to escalating conflicts, which have already been a problem in the city and elsewhere. Ultimately, council members ended up moving forward with a mask ordinance requiring a mask outdoors that has no penalty. Councilman Canek Aguirre and Councilwoman Del Pepper voted against the motion.
"There should not be tickets," said Pepper. "There should not be staff or council members or anybody else trying to hand out masks or give tickets or in any way shame people."
"There should not be staff or council members or anybody else trying to hand out masks or give tickets or in any way shame people."
—Councilwoman Del Pepper
MEANWHILE, IN RICHMOND, members of the General Assembly are considering a new civil penalty for not wearing a mask in violation of the governor's executive order. Currently, violating the mask order is misdemeanor, which means that officials from the Virginia Department of Health would need to meet the threshold for pursuing a criminal case if they wanted to seek compliance. As a result, officials from the Health Department say, criminal cases are almost never pursued. That's why lawmakers are seeking adding a new civil penalty, which would allow the Department of Health to hit violators with a fine of up to $500.
"When we have a public health emergency, we can only protect ourselves when every individual abides by some rules," said Sen. Barbara Favola (D-31). "This doesn't expand the rules that are under the governor's executive order. This merely makes it easier to enforce those rules for everybody's health"
The House version of the bill passed with six Republican votes, and the Senate version passed with one Republcian vote. Most Republicans say they're concerned that giving the governor the power to enforce executive orders with a civil penalty could be abused, and they didn't want to lay the groundwork for a future governor using the authority in a way that might be unreasonable. During a debate on the Senate floor, Sen. Ryan McDougle (R-4) seasoned the debate with a specific scenario
"Heart disease kills more Virginians than the current pandemic," said McDougle. "The governor could place a civil penalty of up to $500 on the use of salt."
"That is a very interesting scenario," responded Sen. Creigh Deeds (D-25), who introduced the bill. "The governor has not declared a state of emergency with respect to heart disease. He's declared a state of emergency with respect to this pandemic."
THE DEBATE OVER MASKS can be contentious. While most people are fine with wearing them to prevent the spread of covid-19, opponents of wearing masks in public are often loud and hostile. That's led to conflicts in grocery stores and restaurants across Alexandria, where businesses that are already beleaguered by the economic crisis now have to figure out how to handle irate customers. During the City Council's public hearing about the mask ordinance, one speaker outlined conspiracy theories culminating in a suggestion that the social distancing mandate was a plot to use satellite surveillance identification technology.
"There was a substantial portion of misinformation in there that's very dangerous," responded Alexandria Mayor Justin Wilson. "Please refer to public health experts before you take any health advice from public testimony."
Tensions are also high in Richmond, where Sen. Amanda Chase (R-11) refuses to wear a mask. She has a doctor's note saying she can't wear a mask for medical reasons, although she was dismissive of masks before she started talking publicly about her medical exemption. The Senate clerk's office arranged for her to be surrounded by plexiglass walls at the back of the makeshift Senate chamber, which is located at the Science Museum of Virginia to accommodate social distancing. She voted with all Senate Republicans except Sen. Richard Stuart (R-28) against the bill Deeds introduced creating the new civil penalty.
"Those who vote for this are basically voting in favor of extortion," said Sen. Amanda Chase (R-11), a Republican who is running for governor.
That bill is now headed to the House of Delegates, which is expected to take it up this week.