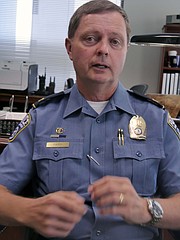 Arlington County Police Chief Jay Farr says, "It's important to remember that Arlington already had a pandemic plan in place and we have had for years. We saw China, Italy. I thought we better dust it off.
"|By the fact that we had a set of plans and protocols, it freed up time to think about the constantly changing set of coronavirus guidelines. Today nothing, tomorrow all this. You have to stay flexible." He adds, "If we didn't have something in place, we would have been overwhelmed."
He said the biggest change came with the first Governor's executive order on restaurants. "There was a whole change of dynamics with Clarendon, all of the nightlife, and how do we design a plan of action, of education and voluntary compliance. It wasn't about enforcement."
Farr says they started by giving restaurants a copy of the Governor's orders each time they changed. If the restaurant violated the social distancing or the limitation of ten people, they would get a notice. In several cases the police had to go back a second time and issue a written warning. At some point the next step would be issuing a citation violation, which is a class one misdemeanor but not an arrest.
But Farr says the Arlington community has been compliant with the rules "although I do get a lot of love mail/ hate mail about police harassment with the parks being closed." He says he understands why people get upset, "but we just give them a warning and ask them to move along."
Arlington hasn't yet had any protests about violation of civil rights like some other Virginia communities. "However, this is sort of an interesting thing. The Constitution protects the right to protest; it is really a fine line." He says, "For instance, if people protested at the Arlington County Courthouse, we would probably give them some amount of latitude. There is the letter of the law and the spirit of the law." He says usually when you allow the protesters to get their point across, they leave peacefully. "If they were to block the entrance it would be different and we would probably have to make an arrest."
Farr prioritizes resources to focus on crimes against persons before crimes against property and juggles the duties of the force as needs change. Currently the patrol function is ok. Resources have been freed up with schools closed, eliminating the need for school resource officers and the ACPD community outreach events cancelled for now so they can supplement patrol. "If I get to a certain point, I would have to call in the systems management and criminal investigations teams back into patrol" or he could extend the current 10.5 hour workday to 12 hours to cover the same area.
He said the current situation has necessitated changes in which calls the ACPD responds to and which it diverts. If it is not a crime in progress, most low-level calls can be handled online and still get the information. He said the public has been responding to the new system, and online reports are up 25-30 percent. This is in conjunction with the emergency center asking people if they really need a police officer. If ACPD does go to the home, they ask the caller to step out of the house and the officer observes social distancing.
Farr says they follow CDC guidelines on the wearing of masks. If an officer is on a normal patrol and maintains social distancing, wearing a mask is optional but if they expect engagement, the officers have N95 masks. "The County was good at stockpiling them ahead of time."
Only one officer has tested positive for COVID-19 and self quarantined for 14 days. "He was not hospitalized and should be back at work within a few days." He says the Arlington Department of Human Resources is responsible for the surveillance work but it is a challenge if you truly believe it is out in the community.
Farr says, "The real challenge for the officers is the stress and anxiety of the unknown from me to the brand new guy on the street. How long will this last? Will there be another round?" He said a number of the officers have real stresses about whether they will take this home and how to protect their families. "This is a challenging job to start with, and the pandemic compounds the situation by throwing a curve."
Each day the officers get a temperature check when they come to work and know they are good to go. They get all the most recent program information. "We have 'Inside the Blue,' an internal system, and regular meetings each week with the senior teams. In addition, the District Commanders touch base every day. Farr says he has to filter the information so he doesn't inundate his teams. "You wouldn't believe what I get every day." On Wednesdays he shares information with others at the Center for Homeland Security Naval Postgraduate School in Monterey, California.
Farr says, "The most important thing with all of the challenges, anxiety and stress, the ACPD men and women have really stepped up. They aren't calling in sick. They are out there every day putting in their best effort."