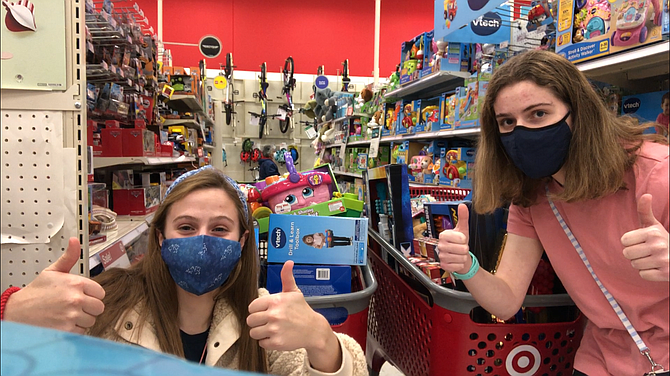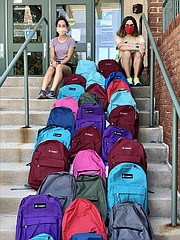 Lauren Rosenthal is on a toy buying Zoom call with several friends the Wednesday before Thanksgiving trying to decide what toys to buy for 45 children at Doorways. It's a little complicated, because the children range from babies to teenagers and she doesn't know any of them personally to know what they might like.
She and her friend, Lillian Keith, and several other Yorktown High School students had organized a backpack drive back in August to raise $740 for 27 backpacks filled with school supplies. She said they had a pretty good idea what to put inside — folders, notebooks, colored pencils, "and they wanted cute designs."
As Christmas approaches, the girls are turning their efforts to toys.
"We were looking to spread holiday spirit and collect gifts for children so we can guarantee a smile on everyone's face for Christmas," Rosenthal ays. She says, "We know Doorways has about an even split between boys and girls in the 6-10-year old range with the most needy children under seven." She says Doorways has requested baby clothes for a small number of infants.

And most of the girls want dolls "and if they want the dolls to look like them, most of the children are African American and Latinos." This year the children want Baby Alive dolls, which Keith says, "I've never heard of." Sports equipment and Legos seem popular, too, as well as the old favorites like Thomas the Train and Tonka.
Due to coronavirus the girls thought they would be shopping on Amazon instead of picking out the toys in person—maybe easier, but not as much fun. But after a careful look at Target Black Friday prices, they discovered they could get much better deals and buy a lot more toys. So with careful planning they arranged a quick, socially distanced trip and filled up a trunkful.

Rosenthal says they have set a goal of raising $1,400, which is enough to buy 45 children a gift of $25 or more. Doorways plan to include a book with each gift. Rosenthal adds, "We want to be sure we are fair. We don't want to buy one kid a scooter and another a Lego set. We're somehow going to do the math and figure out how much to buy."
Rosenthal knows from doing this before with the backpacks that it can be complicated. Keith says last time with the backpacks "We had to make three different purchases." So this time they started off with a call to organize and toss around ideas and plan the flyers and then follow up calls.
The girls set up a Go Fund Me page about two weeks ago, and currently 25 donors have contributed $1,250 out of the $1,400 goal. "I know my parents and their friends and our neighbors and extended family have been big supporters." Rosenthal says, "It is amazing how quickly the money came in and how generous people were." Keith says that some people have wanted to buy toys in person instead and have delivered toys to their homes, and they have a few things so far. "We try to get a lot of variety and choice."
Keith says they chose Doorways because it is such a worthy organization and not as well known as some of the other groups in Arlington. Rosenthal says Doorways creates pathways out of homelessness, domestic violence and sexual assault leading to safe, stable and empowered lives.
"I didn't realize what Doorways did until I started looking at it and now I feel a part of it."