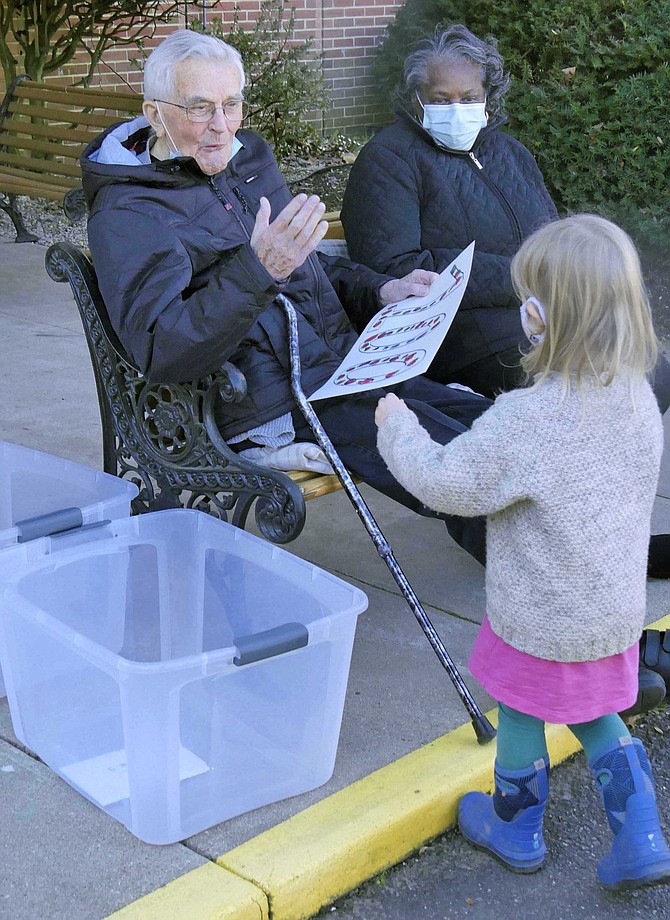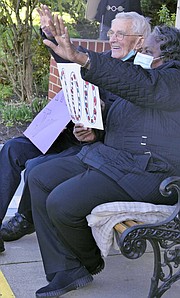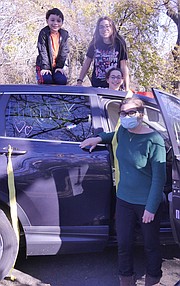 Cars line up early in the lower parking lot of Missionhurst on N. 25th Street on Sunday, Nov. 29 for a surprise drive-by parade for Father John van de Paer's 100th birthday. In addition to members of the parish, guests are expected from Philadelphia where he served from 1952-1995.

Christina Pereira and her three children Francesca, Isabel and Alejandro are first in line with their black Honda decorated with streamers and painted windows. Further along in line, Anne Leland has placed a Happy Birthday sign next to a Black Lives Matter sign on the side of her car. She explains, "Father John is very conscious of social justice, as passionate as a young person, and he served in an African-American parish in Philadelphia for many years."
A bench has been placed in front of the Promotion House. Father Tim Atkin places a soft quilt on the bench for the guest of honor who is expected to arrive at 1 p.m. No one is quite sure how they expect to get Father John to the surprise celebration.
"Well, he's not here yet," Father Tim says. But he explains, "We told him people want to see him, and he always comes out to see people. He's a real people person."
The sound of a siren is heard from the lower parking lot as an Arlington County Police Department vehicle leads the parade of cars up the hill. Father John is sitting on the bench beside Doris Rucker who has driven here from his former Philadelphia parish to be part of the festivities. They wave at each car as it slows down to call birthday greetings. Some people hand birthday cards out the window. A red convertible slides by.
A small white poodle peers out of a front window and a young girl pops out of a sunroof. "Happy Birthday Father."

About 50 cars have driven by and people stop counting. "There's no end to this," he exclaims.
As the second police car signals the end of the parade, a parishioner comments from the crowd, "And the last shall be first."
This birthday has a lot of moving parts with a day of festivities. Father John received a blessing from the Pope during the morning mass. Tonight there will be a celebration on Zoom where a citation will be read from the City Council of Philadelphia. In Keystone the electronic board outside the Keystone Valley Fire Department reads, "Happy Birthday Father John — The People's Priest."
Father John joined Missionhurst-CICM in 1940 and made his first vows in 1941. He was ordained a priest in 1947 and arrived in the United States a year later. Father John's first assignment was first assistant pastor at St. Cyprian Church in Columbus, Ohio. He spent the remainder of his career at St. Charles Borromeo in Philadelphia where he retired in 1995. He has spent his retirement years in Arlington.
You can read more about Father John van de Paer in Monday's Philadelphia Inquirer: https://www.inquirer.com/news/father-john-van-de-paer-st-charles-borromeo-st-malachi-100-catholic-church-20201129.html?outputType=amp