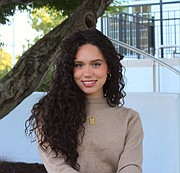 The Scholarship Fund of Alexandria held its annual Women's Holiday Soiree virtually on Dec. 3 to celebrate women and the power of community. The event, entitled "Hygge for the Holidays" brought nearly 60 women from Alexandria and beyond together via Zoom for toasting, holiday @home entertaining tips and a celebration of how scholarships can change lives for students with financial need.
The Soiree, which has thus far raised $16,000 for scholarships, featured a signature cocktail-making lesson from The Majestic and Alexandria Restaurant Partners, a holiday floral design tutorial from Lily and Lilacs Floral Design and holiday family meal tips from Mindy's Catering.
"It was so wonderful to see so many familiar faces! I loved seeing longtime scholarship supporters and women who were new to the cause," said SFA Executive Director Beth Lovain. "Everybody turned on their camera, set up next to their sparkly holiday décor and really got in the spirit. It was tremendous fun."
2017 Titan graduate and 4-year SFA scholarship recipient Sugeivis Gomez joined the Zoom. She is in her senior year at Georgetown University, and reflected on how the SFA scholarship had not only enabled her to afford college, but also empowered her to be in control of her future. Gomez also shared the news that upon graduation she will join Deloitte as a consultant/analyst with its public sector practice in Arlington.
"Scholarships work. They create opportunities. They provide and open doors for eager and ambitious students like myself. My SFA scholarship provided me with a stepping stone to endless opportunities," said Gomez. She added, "Please continue to be agents of change so that other boys and girls can take control of their future and their destiny."
"I was amazed at the warmth and community we were all able to share. At this difficult time, I think we really all needed to be together," said SFA Board Chair Priscilla Goodwin. "The pinnacle of the night was hearing from Sugeivis. She shared remarkable insight on how SFA has helped her along the way. She is the embodiment of the promise of our students and of the work that we do. There is great need among our students, but also great promise. It's really important, especially at this time, that we continue to invest in students and their future."
"We are so grateful to all who made a gift during the event. The far-reaching effects of COVID-19 are having a devastating impact on local families and students with extreme financial need. The scholarships we provide have never been needed more in our 34-year history than right now," Lovain underscored.
All funds raised during the event will go directly to supporting college scholarships for students with financial need in the T.C. Williams Class of 2021. There is a $5,000 match in effect – thanks to a generous SFA donor, all gifts made to this campaign will be doubled, up to $5,000. To make a gift to this campaign, go to https://tinyurl.com/SFASoiree
The SFA, a 501 (c)(3) non-profit organization, was founded in 1986 to help T.C. Williams students with financial need afford college. For the past 34 years, SFA has raised funds to support college access and scholarships for kids with financial need. Since its inception, the Scholarship Fund has awarded more than $16.5 million in scholarships and helped send nearly 5,000 local students to college.