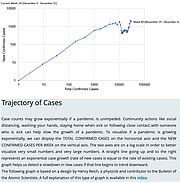 Since March, healthcare workers at Reston Hospital Center, like their counterparts elsewhere at county, state and national levels, as well as globally, have fought relentlessly, risking their own lives to treat and save their coronavirus patients. More often than not, during these past nine months, the patients recovered and went home to their families, but many died. Like other healthcare workers, those at Reston Hospital did something to control their negative emotions. They strengthened their resolve, believing, holding onto hope, that circumstances would improve even in the face of adversity.
People passing by Town Center Drive and New Dominion Parkway in Reston can see it from a distance – the four large block letters H-O-P-E, brilliantly illuminating the steep hill at Reston Hospital. It may be the best holiday light display ever, not because of its size but its meaning now and in the COVID months ahead.
On Dec. 1, local business owner and founder of the COVID19 U.S. Honor Quilt, Diane Canney, installed the quilted letters there. "I know this is a very difficult time for all hospitals in the nation. We hope our letters could serve as a large 'thank you card' of gratitude and hope from local residents and people across America to the employees at Reston Hospital Center," she said. The installation showcases 150 art panels from across America honoring front-line workers and remembering those lost to COVID-19. It was displayed at the Lincoln and Jefferson Memorials in Washington, D.C.
According to Canney, her 95-year-old mother challenged her to "help others" when she asked her what she would like for her birthday. "The quilt tells the story of frontline health workers in their relentless fight to treat and save their patients infected by the highly contagious airborne virus. The quilt also remembers and honors those who succumbed to COVID-19. For close-up detail viewing from the sidewalk, binoculars are a good idea. More information can be found at https://www.hopequilt.org/.
On Thursday, Dec. 10, the week after Canney installed HOPE at Reston Hospital Center, the United States Food and Drug Administration advisory panel gave the green light to recommend that the Food and Drug Administration authorize Pfizer and BiNTech's coronavirus vaccine for emergency use in people 16 and older. The vote was 17 to 4 with one abstention. The panel's approval was second to the last step in the process of rolling out the vaccine for emergency use. It opened the door for the FDA to give the final authorization.
FOLLOWING THE GOOD NEWS, that same evening, Jeffrey C. McKay, Chairman of the Board of Supervisors of Fairfax County, addressed the Fairfax County community in a newsletter. It proved a reality check. McKay said, "It's sad that during the holiday season we must continue to fight this disease, but that's the reality we are in...I'll be blunt about how we are doing. Fairfax County's and Virginia's COVID-19 case numbers aren't looking good. Our percent positivity and the state's percent positivity rates are both at 11 percent. Cases per day in Virginia are almost four times higher than they were in May. Community transmission is high across the state. While we still have hospital capacity in Fairfax County, should cases continue to rise at this rate, that could easily change." According to McKay, the county's rise in cases was caused by "spending more time inside with those out of your household, more family gatherings, increased travel, and mitigation fatigue."  He said that as much as possible, "we need to stay home, wear a mask and social distance when not home, and limit activity to those within your household."
McKay said that the Virginia Department of Health (VDH) was preparing to receive 480,000 doses of vaccine by the end of the year. Distribution in Fairfax County would follow those announced by VDH along with those from the CDC. Health care personnel and long-term care facilities would be among the first to receive the vaccine.
Friday evening, Dec. 11, the FDA announced in a news release that the U.S. Food and Drug Administration issued authorization for emergency use for a vaccine for the prevention COVID-19 caused by severe acute respiratory syndrome coronavirus 2 (SARS-CoV-2) in individuals 16 years of age and older. FDA Commissioner Stephen M. Hahn, M.D. said,  "The FDA's authorization for emergency use of the first COVID-19 vaccine is a significant milestone in battling this devastating pandemic that has affected so many families in the United States and around the world."
While not an FDA approval, according to Peter Marks, M.D., Ph.D., Director of the FDA's Center for Biologics Evaluation and Research, "The emergency use authorization of the Pfizer-BioNTech COVID-19 Vaccine holds the promise to alter the course of this pandemic in the United States."
FDA EVALUATION of available effectiveness data stated, "At this time, data are not available to make a determination about how long the vaccine will provide protection, nor is there evidence that the vaccine prevents transmission of SARS-CoV-2 from person to person."
The authorization set off a coordinated effort to get the first week's batch of about three million doses to the "1A" tier, health care workers and nursing home residents as quickly as possible.
On Dec. 11, COVID-19 case data for the Fairfax Health District showed the Trajectory of Cases of the pandemic growing exponentially, displayed by the TOTAL CONFIRMED CASES on the horizontal axis and the NEW CONFIRMED CASES PER WEEK on the vertical axis for the week: 50 (Dec. 6–Dec. 12).
Starting at 12:01 a.m. Mon. Dec. 14, Virginia Governor Ralph Northam's updated COVID-19 measures go into effect. "All individuals must remain at their place of residence between the hours of 12-5 a.m. Exceptions include obtaining food and goods, traveling to and from work, and seeking medical attention...All Virginians aged five and over are required to wear face coverings in indoor settings shared with others and when outdoors within six feet of another person...All social gatherings must be limited to 10 individuals both indoors or outdoors."