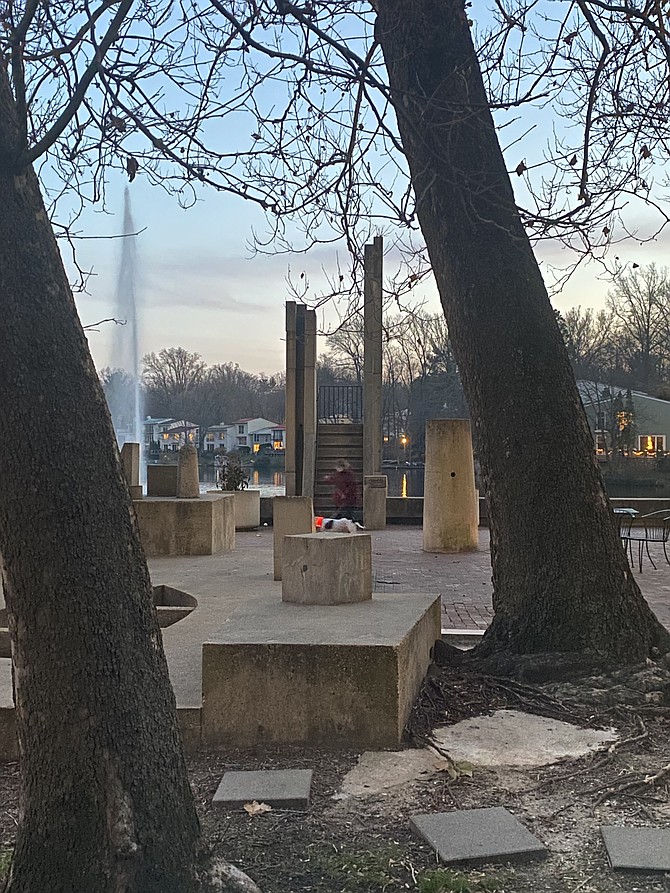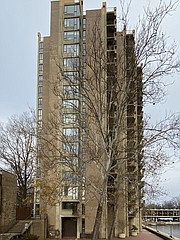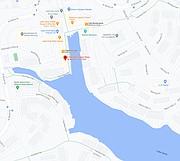 Two Reston sycamore trees at Lake Anne Village Center appear to be a concern to certain people, but for three different reasons. Their unease involves Reston's flagship characteristics, its tree canopy, lakes, and public art. Apparent consternation for some residents at Heron House is that the sycamores block lake views. According to the Morton Arboretum, sycamore trees can reach heights of 75 to 100 feet tall with a canopy 50 to 70 feet wide. The high-rise condo is noted for its floor-to-ceiling windows and cement balconies offering extended views of Lake Anne and its fountain. The condo is located on Lake Anne's edge, a Resource Protection Area (RPA), under the Chesapeake Bay Preservation Ordinance.

On Dec. 9, Senzel Schaefer, Lake Anne Reston Condominium Association Board President, said she served as president for over a year. "During my tenure, the issue of removing the sycamore trees on our plaza has been raised multiple times by a small handful of owners, all residents of the Heron House. At first, I was puzzled as to why residents would want two majestic and healthy trees removed. Upon some digging, I found that it was blocking their view of the lake and therefore they have been lobbying the Board of Directors to spend 40K to have them taken down."
Mary Mulrenan is the Public Information Officer at Fairfax County Land Development Services. In an email on Dec. 6, she wrote that they "located two trees near Washington Plaza North, Reston, in a Resource Protection Area (RPA). Someone has indicated these trees are allegedly designated for removal, but our check of records in that location shows no exemption request at this time." In Fairfax County, RPAs include any land characterized by, among other things, one or more of the following features: tidal wetland, tidal shore, and water body with perennial flow.
According to Mulrenan, a site visit indicated Lake Anne Reston Condominium Association was aware of the RPA restrictions and would "not proceed with any removal before following all relevant regulations." Non-compliance with RPA restrictions is a violation of the Chesapeake Bay Preservation Ordinance and can result in penalties up to $5,000 per day," she added. "No vegetation removal is allowed within 100 feet of a body of water… without prior approval from Fairfax County's Department of Land Development Services...This includes the removal of dead, dying or diseased trees and shrubs, noxious weeds, or invasive plants," according to Fairfax County Land development Services RPA Notification, mailer, v8.
Mike Leone is Director of Communications, Marketing & Member Services at Reston Association. He, too, heard concerns from residents at Heron House. "Reston Association's Covenants Department has received some concerns from at least two members of Heron House regarding the proposed tree removal. To date, no application has been submitted to RA nor has contact been made from the condo association to RA related to the removal of the trees. The condo association would be violating RA rules if they do not notify RA and check to ensure an application is not required (for example, if the trees were dead)," he wrote in an email.
The second concern individuals broached was that the sycamore trees' root systems might be threatening the plaza. According to Schaefer, the group who brought up the issue of removing the trees said, "The roots of the sycamore trees are damaging the surrounding brick." Schaefer recalled saying, "There is no evidence of any movement of the brick. … I opposed the motion and suggested we seek the advice of an arborist. My recommendation has been challenged by two Board members who also live in the Heron House," she said.
Eve Thompson is a homeowner and merchant in the historic Lake Anne area. She does not serve on the Lake Anne Reston Condominium Association board. Thompson brought the third concern that the sycamores endangered more than just the plaza. According to Thompson, the trees threatened the priceless and irreplaceable site-specific work by Uruguayan-born sculptor Fonseca Gonzalo.
Called "Sun Boat" (1965), the brutalist, multi-piece public artwork is owned by Lake Anne of Reston, a Condominium. According to the guide, "Public Art Tour Series: Lake Anne" developed by Public Art Reston, "(The) fanciful collection of molded concrete elements are fully integrated into the plaza next to Heron House." Children are often seen climbing and playing on the inspirational piece. "We are so blessed to have his work…How precious they are," said Thompson. "It's maintenance; It's a property trying to protect a sculpture," said Thomson.
In the guide's forward, Anne Delaney, Executive Director, Public Art Reston, said, "With this guide, Public Art Reston invites you to consider Lake Anne Village Center as both an open-air art gallery and unique Reston experience that promotes the value of art in daily life."
Schaefer said that fixing the heating system in the Heron House should take priority for the funds. "I proposed that the heating be restored first before we spend money elsewhere. The group has met my suggestion with complaints of ignoring their issue.," she said.
As the Presiding Officer of the Board of Directors, Schaefer said, she had the fiduciary responsibility to ensure the association's resources were spent wisely.
March 2021 marks the 60th Anniversary of when Robert (Bob) E. Simon purchased the 6,750 acres of farmland in Fairfax County to create an open community that would later be named using his initials and the word "town." Fourteen months after purchase, with county approvals in-hand, Simon set about to construct the community he envisioned, one with a lake, where no lake existed. But there was a stream valley filled with native trees.
The Connection Newspapers reported in a story by Alex McVeigh dated Wed., July 11. 2013, when Robert Simon was walking with his newly hired forester, Glenn Saunders, Simon said, "We realized that everything within the contour of the lake's water level would have to be removed. There were hundreds and hundreds of beautiful dogwood, myrtle and holly trees and we thought it would be a shame to tear them all out. So, we decided to start our own plant nursery… (They) were eventually re-planted as needed as the project developed."