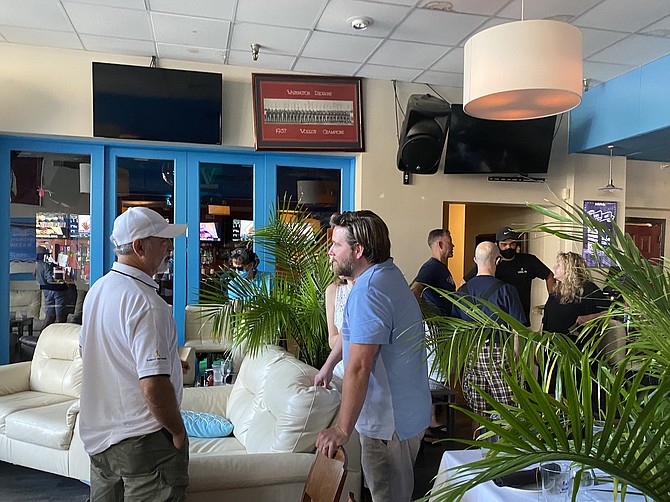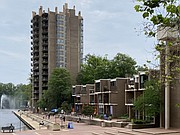 Ongoing lack of hot water is an issue again for nearly all condominium owners at the 27-unit, mixed-use Quayside building located at Lake Anne Village Center in Reston. Frustrated condo owners fear another four-month struggle, similar to Quayside's first no-hot-water experience. That episode began with declining water temperatures in the fall of 2020 that reached recorded lows of 44 degrees by mid-February 2021. Residents like Robin Jordan crouched in their showers over pots of water warmed in the microwave to wash until the second of two new boilers was installed. The Connection reported on Feb. 14, 2021, that Jason Romano, President, LARCA (Lake Anne Reston Condominium Association), said, "As long as we have an interim solution in place that buys us time… We're not under the gun for implementing a rush job (to repair the leaking lines)."
Senzel Schaefer is a property owner at Quayside. She identifies as LARCA's 2019-2021 president. However, Romano, co-owner of Lake Anne Brew House in the Quayside building, said he is the elected LARCA President. Schaefer invited a handful of other dismayed condominium owners to discuss the matter in a casual, in-person conversation Thursday evening, May 27, with Fairfax County Supervisor Walter Alcorn (D-Hunter Mill District). Word of the meeting spread. Instead of a small group of condominium owners, an unexpected twenty-six people showed up at Kalypso's Sports Tavern on Lake Anne Plaza, owned by George and Vicky Hadjikyriakou.
Romano did not attend the May 27 meeting with Alcorn. He controls the LARCA board meetings and is the contact person for Community Management Corporation, LARCA's property management services company. In-fighting within LARCA occurred up to and following its 2019 board election. A 2020 forensic analysis by Ernst & Young flagged concerns with LARCA's 2017-2019 financial practices and decision-making, and a Fairfax County Police investigation into a possible fraud case based on information presented to the Virginia Attorney General's office and the Fairfax County's Commonwealth Attorney's office of possible wrong-doings mars LARCA.
ADDRESSING THOSE GATHERED for the May 27 meeting, Schaefer said, "I know everyone has had a lot of interest in talking to Supervisor Alcorn…Our issue [no hot water] has been dragging on, and solutions have come up that were recommended but not followed, George [Hadjikyriakou] being heavily involved in that process. It's come to a point where information is kind of being controlled from one angle or another...Transparency is key... That's been failing here in our community, and now with the division of things, it's gotten even further."
Matt Stevison lives at Quayside, Lake Anne Plaza. He is Project Manager at LeMay Erickson Willcox Architects, Member of the Reston Planning and Zoning Committee, and Lake Anne Covenants Committee member. Stevison said that as a historic preservationist and master planner, he appreciated how important Lake Anne Plaza was as a place of historic prominence. According to Stevison, the water problem at Quayside was not the first problem seen as the Plaza structures aged, and it certainly wouldn't be the last.
Stevison said that the Plaza was a significant planning and architectural achievement in Reston and Virginia. He wanted "this place to be preserved" but had concerns with the current management decisions for the Plaza. Stevison said, "I want it to be maintained as this awesome, vibrant, public space in Fairfax County, 50 years, 100 years from now."
However, Stevison said there was an imbalance between the 60-year-old buildings with their decreasing material lifespans and the cost burden of maintaining them falling solely on the Plaza property owners while being enjoyed as an asset by all in Fairfax County. "There is an imbalance between how the property is used and appreciated," he said. "To me... the big picture problem that we have right now is how can we work with the County or the state or the national government and come up with some creative ways to get the funding that we need to be able to maintain this place. And keep it as this extremely important piece of the architectural history [of Virginia, Reston, and Fairfax County].
A discussion between condo owners claimed LARCA had $100,000 left in reserves, having spent approximately $100,000 so far on two new boilers, installation, and ongoing repairs. The first boiler cost $12,000, and it proved too small; the second, a more powerful boiler, cost $35,000. But it cannot keep up with the hot water demand and resulting water loss leaking out of the underground, corroded pipes located under the concrete slab of the first-floor units.
In addition, the rate of water leaking out of the corroded pipes encased in the concrete floors of the first-floor units tripled since February's estimate of 300 gallons an hour to 900 gallons an hour, according to Stevison. "I have a major concern about discharging that amount of water per day to the ground underneath the building and what that theoretically can be doing to undermine the foundation." "This place could potentially collapse into the ground," said Schaefer.
Robin Jordan, co-owner of a Quayside condo, said her biggest concern is that LARCA did not develop a long-term solution after the first run with no hot water. "So here we are, months into it, almost half a year, and we haven't even started," Jordan said.
Alcorn asked what the plans were to fix the problem this time. Stevison said the LARCA board decided on above-ground pipes. He said that would qualify as a major building system replacement, "a level two renovation," which would require documents for a permit that could take upwards of two months to process before starting any work. Stevison said, "If they do it without a permit, it is going to get shut down."
Alcorn said, "I've not been made aware that anything has been filed with land development services for a permit. I'm happy with my office doing whatever I can to accelerate the review."
ACCORDING TO ALCORN, given the current situation, the County is working on putting together an offer to condominium owners in LARCA to help with the financial burden they are suffering regarding infrastructure repair and replacement. Alcorn said, "We're focused on two things, primarily at least in this initial phase. One is the engineering situation. Obviously, the hot water is not working right now... The County is sending a structural engineer to identify all the critical infrastructure issues that have to be addressed...and frankly to come up with a cost estimate for what it's going to cost to fix. That's something that'll be shared with everybody that's going to be very helpful."
Alcorn said Lake Anne Plaza is on the National Register of Historic Places. He said, "I want to see this stay as it is, the buildings here." Alcorn said he explained to his fellow Supervisors that Lake Anne Plaza is the historic heart and cultural center of Reston, as far as he was concerned, so there was an interest for the County, the Commonwealth, and the nation. Once the County identified the problem(s), Alcorn said, "We would come forward with a proposal that, frankly, buys some of your property... maybe a parking lot or something like that, something that actually will facilitate revitalization. That's my interest; that's the County's interest in order to keep Lake Anne vital. And restructure LARCA... because this is not working."
Viewpoints