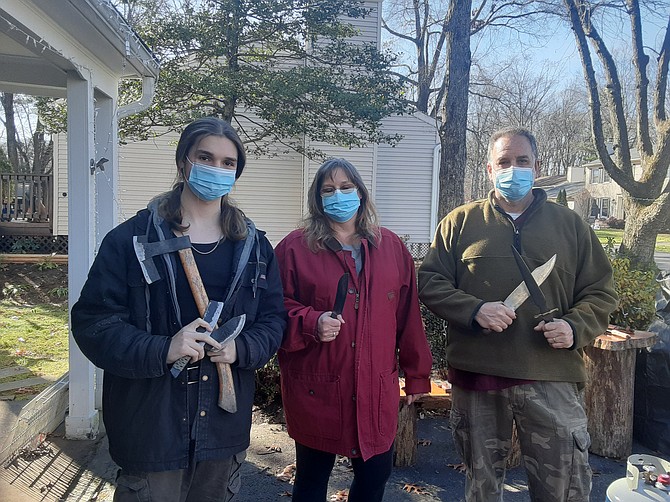 This holiday season, the Coplon family gathers around the fire pit, heating red-hot steel and pounding it on the anvil, creating an assortment of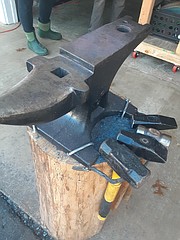 knives and blades as part of their new hobby of blacksmithing. It started out from a reality television show called "Hell's Fire," and has now turned into a Boy Scout badge, an understanding of forged steel and a new appreciation for a craft that doesn't get much attention.
"I find it therapeutic," said Noah Coplon, a junior at Robinson High School who is honing his skills making knives, tools and a spear with the forging operation they've set up in the driveway. All this is done on a propane fueled blacksmith forge, a special tool bench for grinding the steel, leatherworking tools, and an appreciation for this ancient art.
"We get people come by all the time," said Jay Coplon, Noah's father. "I built this table to support all this," he said, pointing at a tool bench on wheels that has a belt grinder, and an assortment of steel finishing tools. A few of the knives they hammered out are now being used in their kitchen too. Noah's mother Rebecca held out the chopping knife that's been part of dinner preparation. "Jay made me a knife, I use it all the time," she said.
After watching the show "Forged in Fire," Noah Coplon got interested, so he and his mother attended a class at Nova Labs in Reston to learn blacksmithing. "Noah expressed an interest in this so I signed him up for classes," she said.
The Nova Labs facility in Reston is a membership-driven, all-volunteer makerspace, with the purpose of empowering people to Rediscover the Joy of Making Things, their website read.
The Coplon family finds a certain amount of freedom involved too. Pounding away at hot steel, grinding the blades and picturing the final product is invigorating. They are working on a few knives and a sword for Christmas presents, but Jay Coplon found it too restrictive when he took a few orders for certain things. One customer ordered a knife to look like something seen in a picture, and Jay Coplon made the knife to fit the order, but he found this type of thing too restrictive. "It took the fun out of it," he said.