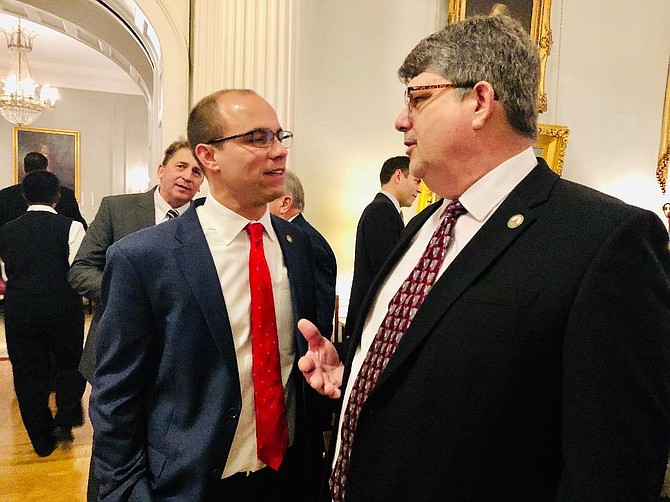 Alexandria and Norton are grappling with road diets, although the details of how to implement the idea are as different as the two cities on opposite sides of the commonwealth. One is urban; the other is rural. One grips the Potomac River; the other is nestled in the Appalachians. Now the two sister cities will be dieting together as part of a new effort launched by Governor Ralph Northam called the Local Government Exchange Program. The idea is to bridge cultural and geographic divides by having the communities develop delegations to visit partner communities.
"This a way to move beyond politics that too often pits communities against each other," said Northam. "The idea is simple—it's much easier to understand a distant place when you see it, talk to the people who live there, get to know one another, and exchange ideas."
The governor's program is modeled on President Dwight Eisenhower's Sister Cities International program, which was created in 1956 to promote cooperation across international boundaries. The pilot program has two partnerships: Wise County and the city of Norton are teaming up with the city of Alexandria, and the city of Danville will partner with Loudoun County. If the idea is a success, other Virginia local governments might end up being part of future partnerships.
"I know you're trying to control growth," Norton Mayor Joseph Fawbush told Alexandria Mayor Justin Wilson during a launch event at the Executive Mansion. "We're trying to encourage it."
The two communities couldn't be farther from each other. Norton is surrounded by Wise County on the opposite side of Virginia, the far southwest corner of the state where the coal industry long dominated the economic and political scene. Norton has 4,000 people, and Wise County has 38,000. Alexandria, on the other hand, has 160,000. But scale is not the only thing separating these communities. Since the recession hit a decade ago, the number of coal jobs in Virginia has been slashed in half.
"We're focused on jobs," said Norton City Manager Fred Ramey. "We really need to create more basic jobs to replace those that were lost with the end of coal."
Road diets have become popular for local governments across the country, and the sister cities of Alexandria and Norton are both dealing with the issue in their own way. Alexandria has implemented three road diets, one on King Street, another on Van Dorn Street and a very controversial one on Seminary Road. Opponents of the Seminary road diet have organized a Facebook page to share their grievances and Wilson is a regular participant in the ongoing discussions there.
"Certainly during the peak rush hour in the morning and the evening, there is slightly more congestion right now," says Wilson. "Their concern is that it's inhibiting emergency vehicle response. The fire chief says it hasn't, but that's a concern."
For Norton, the idea is still in the planning stages. Their City Council is hearing presentations about how it would work and why it may be a good idea for the city's main drag through the central business district. The motivation for the road diet is basically the same in Norton and Alexandria as it is everywhere else.
"We want to put a bike lane in," Fawbush said. "We're trying to reform downtown into a more pedestrian bike-friendly environment. Right now it's just a pass-through from one end to the other."
In Alexandria, the opposition is from people who preferred traffic lanes to bike lanes — a cultural divide pitting the bicycle community and pedestrian advocates against people who live in the wealthiest part of Alexandria. Folks who live on the Seminary love the idea, although many of the people who live in the large houses surrounding it don't. For Norton, the debate is more about how a road diet might influence commerce.
"All of our businesses take front-door deliveries because we don't have alleys behind all of our businesses," said Norton City Councilman Robert Fultz. "So how do you manage a front-door delivery with a two-lane road."
Both communities are also seeking to make a name for themselves as tourism destinations, although for different reasons. In Alexandria, you can't walk down King Street without tripping over a historic site. For Norton, though, the tourism marketing is based on nature and outdoor activities.
"We have hundreds of miles of trails in southwest Virginia," said Del Terry Kilgore (R-1). "We hope the folks from Alexandria will come down and visit us for a while."
The delegations from both communities are already plotting out which government facilities they want to see and, of course, which restaurants they want to visit. Downtown Norton has a clutch of international restaurants, and he's happy to make suggestions about which menu items should be considered. Leaders in both communities say they haven't given much thought or even visited the other.
"We have corrections facilities in Wise. We don't have any in Alexandria," said Ebbin. "We have more tourism in Alexandria, not as much as Wise would like."