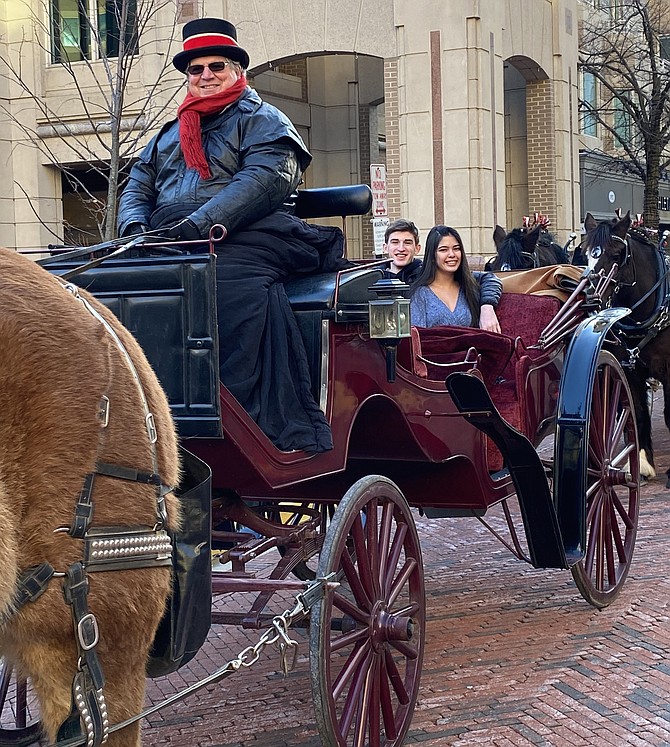 Reston Town Center offered a bit of that lovin' feeling Valentine's Day, Fri., Feb. 14. Once again, picturesque horse-drawn carriages pulled by teams of Belgian Draft horses toured the downtown center and attracted couples, families and friends to the magical fun. Proceeds benefited the Scholarship Fund of Leadership Fairfax.
The crisp air was not a deterrent to Chloe Richmond and Brendan Miers of Chantilly, who climbed aboard for a fairytale clip-clop ride down Market Street. With driver John Moore of Harmon's Horse Drawn Carriages at the reins, the couple snuggled under a blanket in the forward seat at the rear of the vis-à-vis. Richmond said she planned the evening for Miers. "It's my Valentine's Day gift. Next, we're going to dinner and seeing a movie, Richmond said.
Karen Cleveland, President and CEO of Leadership Fairfax, also enjoyed the opportunity for a bit of magic. "We love celebrating at Reston Town Center with all the happy couples and families on Valentine's Day. The carriage rides bring nostalgia into Reston and add the perfect romantic touch. My husband and I plan to take a ride before having dinner at Mon Ami Gabi," said Cleveland. As the evening wore on, the carriage rides delighted not only couples but also families and friends alike, topping off their Valentine's Day celebrations with a little fun.
Leadership Fairfax is a registered 501(c) 3 nonprofit organization. According to its website, the nonprofit offers community leadership development programs to a broad range of applicants. For some, the Scholarship Fund allows them to participate in the program and, as graduates, better reflect the community in which they live and work. Visit www.leadershipfairfax.org for more information.