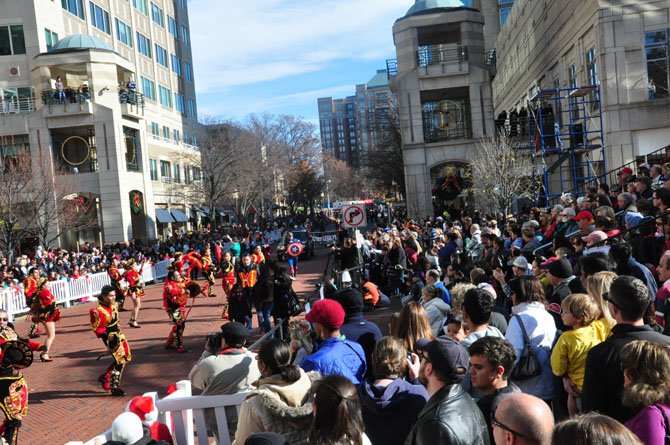 Reston Town Center presents the 23rd annual Reston Holiday Parade on Friday, Nov. 29 at 11a.m. to launch the festive season with Macy's-style balloons, musicians, dancers, antique cars, and more. This one-of-a-kind, one-hour parade along Market Street will also welcome the arrival of Santa and Mrs. Claus in a horse-drawn carriage. The Reston Holiday Parade is held rain or shine, and since 1991 it has been an annual tradition on the day after Thanksgiving at Reston Town Center, 11900 Market Street, Reston.
In recognition of the Metrorail Silver Line arrival this winter, "Destination: Reston!" is the parade theme for 2013 with huge balloons, floats, and costumes inspired by modes of transportation – walking, cycling, trains, planes and automobiles, and more. The Reston Holiday Parade attracts approximately 10,000 spectators from near and far to see at least 50 groups, amounting to approximately 500 participants in the procession. Special guest emcees will announce the parade from two VIP grandstand locations on Market Street. Grand Marshal for the 2013 is Joe Ritchey, who was selected for his many levels of long term dedication to the Reston community. This year, a Junior Grand Marshal will also lead the parade, honoring Lauren Spar of Langston Hughes Middle School. VIPs and dignitaries will also take part in leading the parade. One exception this year is Reston founder, Robert E. Simon, Jr. who will be on a trip to India at the time. Continuing another tradition, prior to 11 a.m. start, thousands of commemorative Reston Town Center jingle bells will be handed out to children along the route as they wait for the parade to begin.
After the parade, Santa and Mrs. Claus will stay for visits and photos until 4:30 p.m. and will return to light up the huge Christmas tree at 6 p.m. The tree lighting attracts a gathering of approximately 5,000 people to Fountain Square for a half-hour Sing Along of traditional Christmas songs. Horse-drawn carriage rides begin at 6:30 p.m.
For more information visit, www.restontowncenter.com/holidays.