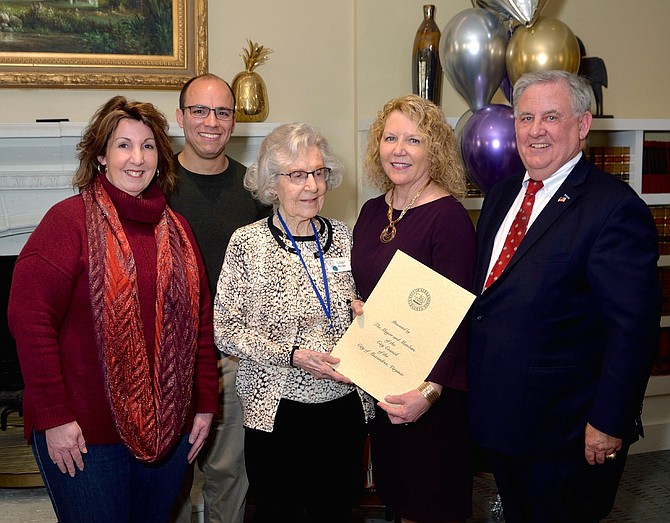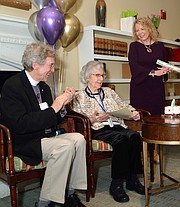 Lillian Moraski, born Feb. 13, 1920, celebrated her 100th birthday Feb. 9 at Goodwin House Alexandria with Mayor Justin Wilson presenting the centenarian with a proclamation marking Feb. 13 as "Lillian Moraski Day."
Moraski, a resident of Alexandria for more than 70 years, was married to Joseph Moraski for 65 years prior to his death in 2010. Together they were members of Blessed Sacrament Catholic Church and raised three children. Moraski has three grandchildren and eight great-grandchildren.
A veteran of World War II, Moraski served as a Woman Marine Corps Sergeant and was the sixth Moraski family member to serve at the same time in the armed forces. She supported the U.S. Department of Defense as a recruiter and secretary at the Pentagon and at Cameron Station. She holds the distinction of being the most senior Marine at Goodwin House.
Since moving to Goodwin House 22 years ago, Moraski took up painting and utilized her considerable skills as a seamstress to create ballet costumes for the Virginia Ballet.
According to Moraski's daughter, Joan Renner, longevity runs in the Moraski family with Renner recalling the 100th birthday celebration for Lillian's mother, who lived to be 101.
The family welcomes friends and acquaintances to send birthday wishes to Lillian Moraski in care of Goodwin House Alexandria, 4800 Beauregard Street, Alexandria, Va. 22311.