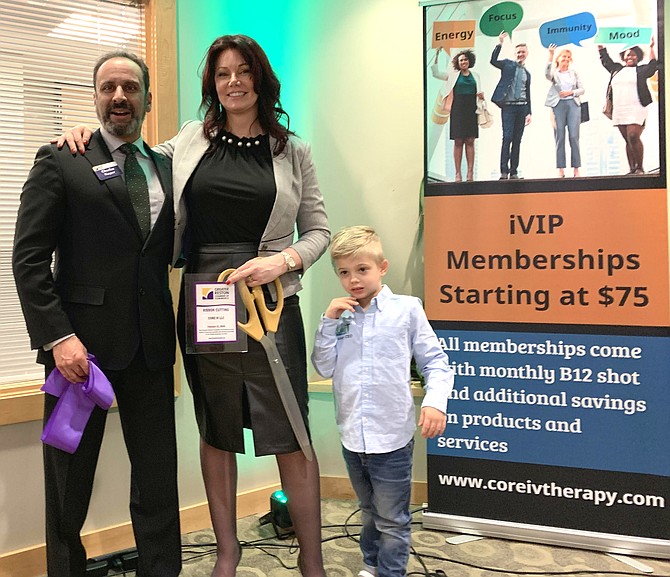 Greater Reston Chamber of Commerce President Charles Kapur helped cut the ribbon on Wednesday, Feb. 12, for the grand opening of a new Reston business called Core IV Therapy located at 1900 Campus Commons Drive.
"We're thrilled to have thriving new businesses such as Core IV Therapy actively involved in the Greater Reston Chamber of Commerce," said Kapur.
Made popular on the west coast, Core IV delivers hydration, electrolytes, vitamins, minerals, and amino acids directly into the bloodstream for 100 percent absorption and 100 percent bioavailability. Core IV drips are designed to help achieve increased energy, enhanced mood, improved stamina and muscle recovery, decreased stress and anxiety, better immunity, hydration, improved skin, and overall wellness. The new service helps anyone in the Reston area looking to rehydrate, boost workout and/or recovery, help restore the body's balance from cold and flu symptoms, improve mental clarity, enhance skin and beauty, overcome exhaustion, reduce aging, and help with migraines, and even cure hangovers, just to name a few.
"We believe that the only thing that truly heals the body is the body itself," said Core IV's founder and CEO Ginger Delph, "but even the perfection that is our body needs assistance, especially considering all of the internal and external toxins it is exposed to every day."
Core IV can also visit clients at home or work, for the utmost convenience.For more information or to schedule a consultation or appointment, call 1-866-4COREIV or visit www.coreivtherapy.com.