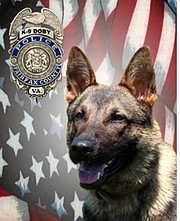 K9 Doby, Fairfax County Police Department, Virginia, died after suffering a medical emergency while on an active track of two robbery suspects in the 2000 block of Arlington Drive in the Mount Vernon area of the county. K9 Doby, a Belgian Malinois-German Shepherd mix, was two years old and served a tour of 11 months.
According to Officer Down Memorial Page, Remembering All of Law Enforcement Heroes, fallen officers and K9s, "(K9 Doby) and his handler had tracked the suspects several buildings away and were attempting to reacquire their scent when K9 Doby suddenly collapsed. His handler immediately initiated CPR before transporting him to an emergency veterinary clinic. K9 Doby was not able to be revived."
K9 Doby served with the Fairfax County Police Department for 11 months and was certified in patrol and narcotics detection. Like other fallen K9s, K9 Doby gave his life to ensure his handler, fellow officers and citizens stay safe. "Today, we remember K9 Doby, our four-legged brother who died unexpectedly while responding to an armed robbery due to an undiagnosed medical condition. We honor K9 Doby today and every day. Rest in peace, Doby," tweeted @FairfaxCountyPD.