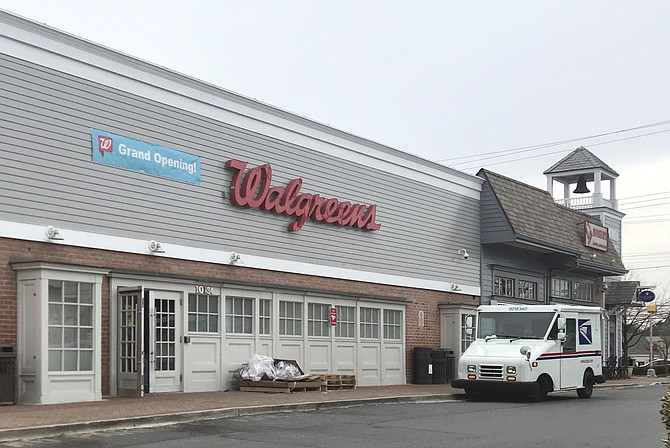 Walgreens in the Potomac Place Shopping Center just opened, Fire Wok across Falls Road opened just over three months ago; yet the two are new businesses in Potomac.
The new Walgreens, not to be confused with another Walgreens also in Potomac Village on the northeast side of River and Falls roads, was a Rite Aid until just recently.
Walgreens made a deal in 2017 to buy 1,932 Rite Aid stores for $4.4 billion, according to money.CNN.com. The actual buy-outs began in 2018, according to the CNN article.
Potomac's Rite Aid closed for five days, converted to a Walgreens, and opened on Friday, Feb. 21 with a new look, according to store manager Rashidi Semiti.
During that time, store personnel added new signage and pulled Rite Aid products from the shelves, according to a worker who asked not to be named.
In celebration of the Grand Opening, customers received a 30 percent discount on all purchases.
"We were quite busy," Semiti said. "We are excited, we have a lot of good stuff and our store is beautiful."
Semiti said he encourages people to come in and see the "new store."
As for confusion with the Walgreens across the street, it happens. Right now, it is the only Walgreens that comes up when doing a Google search.
"My understanding is [Walgreens] will keep both," Semiti said.
The new Walgreens is located at 10134 River Road. Phone 301-299-8600.
Fire Wok is a bright presence at 9812 Falls Road, Unit 104, with its large white signage showing a red flame coming from under a wok. The inside is also colorful, with Asian decorations on the walls. The restaurant has dine-in table seating as well as carry out and delivery services.
The name comes from the cooking methods: fire: heat and the use of a wok. It does not refer to the spiciness of the food, manager Anson Chen said.
The menu is mainly Cantonese style Chinese, he said, with Asian fusion and curries.
Chen is particularly proud that the locally owned restaurant features fresh ingredients and is far from fast food.
"Our goal is to bring back traditional food to the neighborhood," he said. "We get delivery every day, so we use fresh meats, not frozen."
Among customer favorites, Chen mentions Peking Duck, Shaky Beef and a Fire Ball - a meal in a bowl with chicken or beef and noodles. He said the bowl is especially popular among older diners. In spite of its name it is not spicy, Chen said.
Fire Wok is open seven days a week from 11 a.m. to 10 p.m. The phone number is 301-299-2022 or 301-299-2212.