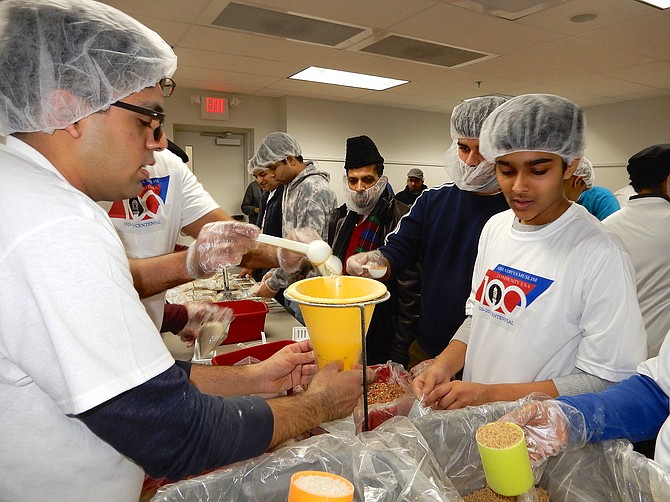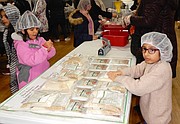 Hamza Qumar carefully measured a portion of fortified rice and poured it into a large, yellow funnel that opened into a plastic food bag. Into that same bag, as well, went vitamins, soy protein and dried, mixed vegetables.
He and other members of the Ahmadiyya Muslim Community at the Mubarak Mosque in Chantilly were creating food packages to send to people in need in the Philippines. They did it in partnership with Harvest Pack, a humanitarian, hunger-relief nonprofit.
"I want to help people who don't have food or shelter," explained Hamza, an eighth-grader at Liberty Middle School. "Because we have food and they don't; I don't want them to starve."
He was one of about 120 Ahmadiyya Muslims participating, Feb. 15, in a nationwide day of service to express their gratitude to America. The Ahmadiyya Muslims are a sect of Islam whose central tenet is "Love for all, hatred for none." They condemn violence, terrorism and Jihad and, instead, believe in morality, justice and peace.
FEB. 15 is historic for the Ahmadiyya Muslim community in America, since it marks 100 years since its establishment in the U.S. So, in thanks and commemoration, each of its 62 chapters around the country did local, community-service projects. In Chantilly, it was the food-packing event – for which the participants raised money to purchase the food.
"We want to serve humanity and the poor wherever they are," said Shahid Malik. "And we wanted to do something to make an impact."
When the food bags were filled, they were sealed and packed in boxes. They were then sent to Harvest Pack's warehouse in Minnesota for shipment to the Philippines. Each bag yields six servings; and when the volunteers were all done, they'd packed a whopping 17,280 meals.
"Our mission is to put healthy meals on every table, both overseas and locally," said Sophie Klein, an event leader with Harvest Pack. "These meals will go to adults in a job-training program in the Philippines. That way, while they're studying, they can focus on learning skills to make them more employable so they can obtain higher wages, instead of worrying about feeding their families."
"I'm participating for the very noble cause of helping the needy," said Farhana Fouzia. "I've been ladling the powdered vitamins into the food packets. I'm enjoying it; and it's nice that, as a community, we're able to come together."
ALSO HELPING OUT was high-school freshman Lyla Malik. "Normally, I'd be sleeping in on Saturday morning," she said. "But when I heard about this, I really wanted to participate, and my mom said it would be a good experience. I like to help other people; it makes me feel good and happy. I've been scooping vegetables into the funnel for the food packets. I'm having fun being with everyone, working together."
Akavish Khan, one of the women's presidents at the Mubarak Mosque, was pleased with the volunteers' efforts. "I wish everyone a happy centennial celebration; we're looking forward to the next 100 years," she said. "I'm happy with the turnout. We take part in various service activities throughout the year, and we instill community service in our youth. That's why we have a lot of children here today, helping, too."
"I'm excited to celebrate 100 years by giving back to our community and reminding ourselves and everybody else that we're an integral part of American society," added Saira Bhatti. "It's also an example of our presence in U.S. history as a community."