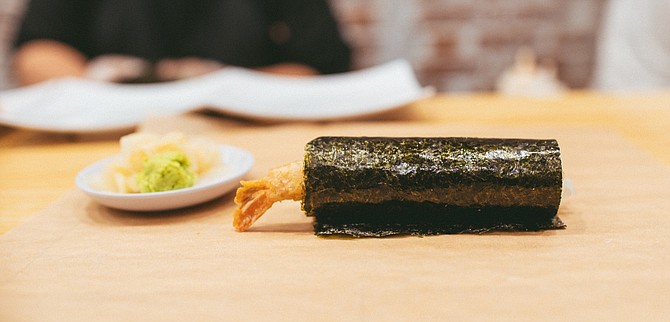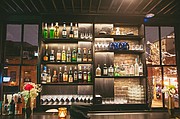 It's a well-known corner in Old Town Alexandria, home to many a variety of themes and pubs over the years. Scotland Yard took up residence for decades at 728 King St., and then came Eamonn's fish-and-chips shop with the beloved PX speakeasy on the top floor. Now, the corner has changed hands again, as well as cuisines. Gone are the British pub staples, and in their place arrive a passel of options with a Japanese flair. And upstairs, while the lush cocktails remain, the hush-hush speakeasy nature has departed. Call it building upon the previous tenants; call it striking out in a different direction. Call it the Handover and King's Ransom, whatever you do.
"Growing up in the area, this has always been an iconic corner. It's right in the heart of King Street," said co-owner Teddy Kim. "… We loved the building, loved location, so we brought in an architect, measured the space, and started to play around with concepts."
It wasn't long before the concept became clear – a handroll sushi restaurant, faster than a traditional sit-down experience, but not quite fast-casual, either.
"We thought (the handroll concept) was a perfect fit for downstairs, the dimensions of the space," taking advantage of the long, narrow area, Kim said.
From avocado to bulgogi, the Handover's menu is small but mighty. The options, chosen by Chef Melvin Urrutia, cover the gamut of familiar favorites and further-flung items, hewing to a minimalist theme rather than a kitchen-sink approach.
"You might have a spicy tuna roll, which is not the one that's all filled up with sriracha mayonnaise and all that," said co-owner Ian McGrath. Rather, the roll sports tuna, sesame chili oil and Japanese spice blend – with no fillers.
The same goes for the oshinko roll, featuring pickled daikon radish: "It's sitting there on its own with a little bit of chiffonade shiso leaf," McGrath said.
And then there's King's Ransom, the upstairs space formerly occupied by Todd Thrasher's PX. Gone are the days of secret passwords and limited customers; in its place is a more accessible space that eschews formality but maintains high standards.
"I've just found that it was my experience at People's Drug and with Old Town Alexandria that it's a great city and town to be able to put things out because people really appreciate if you put the time into something," said beverage director Jon Schott. And Schott and his team are putting a great deal of time into their cocktail program.
The cocktail menu offers something for everyone, from tiki-style drinks to a reformatted classic Manhattan. The King's Ransom also brought in a Toki highball machine that creates filtered sparkling water that's three times as carbonated as champagne, Schott says. The combination of an innovative menu and such tricks of the trade as that highball machine leads to some interesting results.
For instance, "if you want a vodka soda, we have one, but it's purple and the bubbles are flying through it, and it has lychee in it," Schott said.
"We'd been working with Jon at People's Drug and his talent is just mind-blowing what he can do with the flavors, the artistic element of it, so we gave him a lot of free range to come up with the program for upstairs," Kim said.
And upstairs or downstairs, whether touting a handroll or a glass or both, both concepts aim to shine.
"I feel like this is one of those cases where that classic Old Town long skinny townhouse feel can come into its own and give each of these guys a stage that they can show off their talents in," McGrath said.
IF YOU GO
The Handover and King's Ransom, 728 King St.
Hours for the Handover: 11 a.m.-10 p.m. daily.
Hours for the King's Ransom: 5 p.m.-midnight Sunday-Thursday; 5 p.m.-1 a.m. Friday-Saturday.
Try this: "If you want the inside scoop, I'd strongly recommend the shrimp tempura (roll), but in the soy wrapper instead. That gives it a creaminess that's unique to the soy paper," said Teddy Kim.
Hope Nelson is the author of "Classic Restaurants of Alexandria" and owns the Kitchen Recessionista blog, located at www.kitchenrecessionista.com. Email her any time at hope@kitchenrecessionista.com.