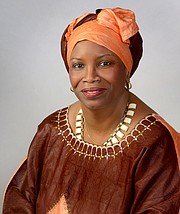 The Other Alexandria column has covered many heart-warming articles this year about local individuals, their community and their historical contributions to Alexandria.
Some of the articles covered individuals who served in the military, like Conny Gray, a Spanish-American War Veteran; William Thomas, a World War 1 Veteran; and two World War II veterans, Donald L. Taylor and Paul Nevell Carter. Other articles covered individuals who made positive impacts on their families, like Jennie Bell-Cantey, who raised someone else's child and gave that child all the love she needed. Then Mattie Hackley-Speakes, who gave all her love to her step-daughter and her step-grandchildren. Then there was the story of John L. Taylor, who raised his daughters, and the love they have for him. The story of Roland "Roro" Scott and his daughter, a heart-felt story, told of the loss of her father too soon, and the special bond they had.
The Other Alexandria also covered stories about educators and Parker-Gray School, including educators like John F. Parker and Patrick H. Lumpkins. There was also one sports article that I covered, "Making History: The Dream Team." When the article was written, two surviving members of the team were living, now only one is alive. There were other articles on individuals who made history beyond Alexandria, like Dr. Charles Fremont West, whose early years took him to the 1924 Olympics. The story of Annie B. Rose and her father, Lewis H. Bailey, who was enslaved prior to the civil war and later became a pastor and started several churches. The story of two women trailblazers, Lillie Finkle and Louise Massoud, told of these community activists who raised awareness about the existence of the Freedmen Cemetery.
Throughout Alexandria's history many individuals left and went to other states, but people like Sherrin Hamilton Bell never forgot where they came from. Her family was in Alexandria as early as the 1700s. Then two individuals: Roger C. Anderson and Joseph C. Waddy both educated in Alexandria served their community. Mr. Anderson impacted the youth in Alexandria, and Judge Waddy settled major civil rights cases.
For 2019, I enjoyed interviewing people in my articles, especially the mother of my first firefighter article, "Making His Ancestors Proud". The story of a young firefighter, Reuben A. Burton, was rewarding. Another heart-felt story of 2019 was my last article of the year on another firefighter, Gerald Amos Wanzer. The conversation with Gerald about his life as a firefighter was indeed emotional for me, which led me to title the article, "At Heart a Firefighter for Life."
But these articles would not have been successful had it not been for the many people who allowed me to tell their story. I want to thank all of you who spent time with me to talk about your contributions, families and your community.
Also. none of these articles would have been possible if it had not been for Steven Mauren, the former Editor-in-Chief of the Alexandria Gazette Packet. He gave me the opportunity to write these articles. My new editor, Mary Kimm, has been supportive in allowing me to continue my column. Thank you.
And thanks to all my wonderful readers. I appreciate all of you who read my column, commented on the articles, and who have written the editor and expressed your deepest appreciation for my column, "The Other Alexandria".

With tears in my eyes, I'm indebted to you, and I'll continue to write stories about "The Other Alexandria," in 2020. Happy New Year to all of you!
Char McCargo Bah is a published author, freelance writer, independent historian, genealogist and a Living Legend of Alexandria. She maintains two blogs, http://www.theotheralexandria.com and http://www.findingthingsforu.com.