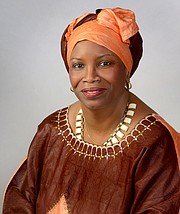 The Other Alexandria's column has covered many heartwarming articles during this most difficult year and the end of another decade. Even with the rampant spread of COVID-19 in 2020, the Alexandria Gazette newspaper still managed to report local stories in the community. The column told stories about the African American community whose history and contributions are sometimes overlooked or even forgotten.
There were numerous articles covering the African American community. The first article of 2020 was on the Bell and Johnson Funeral Service. This funeral home has been around for several decades. There were four articles on people who served in the military. Clifton D. Wanzer served in the United States Air Force; Raymond Leroy Williams Sr. served in the United States Army and died in Vietnam; Joseph Lovelace served in the Army and in the Air Force; then about the two brothers, Chester Leroy Davis and William Davis who served in the United States Army. Those stories were about celebrations of duty to their County. There was a story of Connie Belle S. Chissell, the wife of a doctor, a pioneer woman who saw a need for women to have a daycare. There was another article on the Poet who was a firefighter, Kendall Thompson. He was inspired by his work experiences to write poems.
There were numerous articles on memories of long-ago, two of those articles focused on women who remembered their grandfathers. Betty Garrett Scott told stories about her grandfather, Norman Roy. Two cousins, Rita Murphy Harris and Toniette Henry Duncan recalled events about their grandfather, Wilmer B. Henry. Then Calvin D. Terrell and his wife, Frances Colbert Clements Terrell narrated stories about their childhood in the Seminary area. A native of Philadelphia, Leroy Council remembered the stories of his mother, Margaret B. Campbell Council's life in Alexandria. Then there was the Sunnyside Community in Alexandria, the community that Lovell Lee grew up in.
Then I wrote a historical story on Reverend Fields Cook in Alexandria who made history as a juror on the treason trial of Confederate President Jefferson Davis. He was a colorful man who experienced many historical events. There was an article on Joyce Casey Sanchez who paid back to her community by helping the youth.
I enjoyed all the articles I wrote, but the one I enjoyed the most was The Cigar Man Made a Better Life – James Thomas Ford. This article brought me back to my childhood because I knew Mr. Ford, but I did not know the details about his life until I started researching the article.
Two articles connected to our current struggle with the COVID-19 pandemic. They were on the 1918 Influenza Pandemic: Annie Withers' Losses. The other was on Bessie Evans Baltimore Carter who died from the Influenza Pandemic leaving two young daughters. Then there were three articles on Parker-Gray School, one on the first principal, Henry T. White, and the second article was on Parker-Gray's woman runner, Marian Stanfield. The last article was on Parker-Gray High School Alumni Scholarship Awards.
We started 2020 on a sad note with the Pandemic; I ended 2020 with an article on a sad note, about the passing of one of Alexandria's beloved residents, Mr. James E. Henson, better known as, "Too Blessed to be Stressed."
The closing of 2020 is one for the history books. Many people have died due to COVID-19. As in all my articles, I remind all of us not to forget about those who have gone before us. They contributed to our community and their stories should be told. And that being said, I am wishing all of you a Happy New Year and a healthy 2021.
Char McCargo Bah is a published author, freelance writer, independent historian, genealogist and a Living Legend of Alexandria. She maintains two blogs, https://theotheralexandria.com/ and https://findingthingsforu.com/.