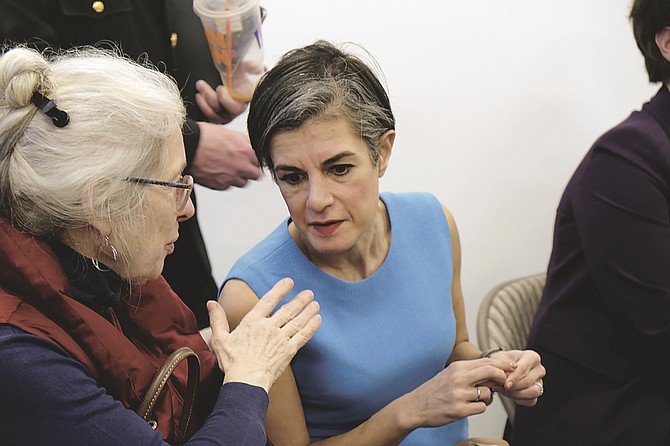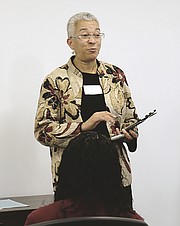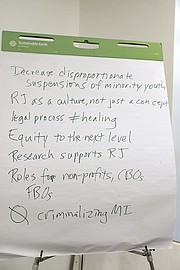 Liane Rozzell, speaking to a crowd of 70 Arlington residents on Jan. 11, gave an example of restorative justice that helps illustrate the concept: "Some boys are playing in the video game arcade," she said, "and one younger kid won't move away from the machine the other boys want to use. Eventually, an older boy forcefully pushes him out of the way, the police are called, and that boy is charged with assault. The parents get together and defuse the situation, noting the younger boy has a learning disability and was frustrated because he didn't understand how to play the game. They agree that the way to deal with the "hurt" caused by the older boy is to have him mentor the younger one in how to play the game, and to make sure he is protected from bullies who might harass him for taking too long. This happens, and everyone is happy. But the prosecutor won't drop the charges: he responds that the older boy was charged with assault, and therefore must be prosecuted (and punished.)" "But," Rozzell asked, "Which approach actually resolved the problem?"
Liane Rozzell and Naomi Verdugo got involved in the restorative justice movement because they had sons who collided with the criminal justice system; they saw the system fail not only their sons, but a multitude of young men and women (and adults) who deserved more than punishment. Thanks to the Annie E. Casey Foundation, and the encouragement of the new Commonwealth's Attorney, Parisa Dehghani-Tafti, as well as the Arlington county board and police and Sheriff's offices, Arlington is about to embark on a new way of healing a crime's victims – and perpetrators.
Speaking to a crowd that was much larger than they had anticipated, Rozzell talked about a system that would build empathy, leadership, and community.
"Heal the harm, how do we repair the harm," Rozzell stressed. "There are 2.2 million Americans in prison, and another 5 million on probation, many of whom will end up back in prison. The system doesn't work."
The fundamental premise of restorative justice is that the perpetrator and the victim should meet up. The one who is harmed should vent about that harm – in itself a therapeutic thing to do – and the one who committed the harm should explain how he came to commit the harm, sometimes revealing where the system had failed him along the way. A plan to "restore justice" is worked out, instead of a system of retribution, where no one benefits.
Restorative justice is not just about prisons and courtrooms, but about schools and how we deal with the minor offenses occurring at our schools. One teacher, speaking about restorative justice, said: "When I used retributive system of justice, I lost a relationship with a student, but when I used the restorative system, I gained a relationship."
Rozzell has been part of a family-driven movement to transform justice systems for youth since 2007. She currently serves as a senior policy associate for the Annie E. Casey Foundation, advancing policies that improve the outcomes of youth who become involved in the juvenile justice system.She has been loaned to Arlington County by the Annie E. Casey foundation to coordinate the restorative justice project. "Thanks to the County Board and Parisa, without whom I would not be standing here today, we have a chance to make this happen here. But I am not going to do it alone. I need the help of people in the community at every level. It's like planting a tree," Rozzell said. "That's what we are about to do in Arlington. And like any tree, we will have to make sure the roots are good, and that we frontload this with community participation. We will reap the fruits of this later."
Parisa Dehghani-Tafti, who ran, and won, on a platform of criminal justice reform and restorative justice last fall, as well as Libby Garvey, Arlington County Board Chair, and Rick Goldstein, and Nancy Van Dorn, school board members, and several members of the Sheriff's department, attended the meeting.
Nancy Van Dorn noted that in addition to board members, the entire disciplinary committee of Arlington Public Schools had come out on a Saturday afternoon, to show their support for a system that would improve the community at all levels. "I had no idea they were all coming today. I'm so gratified to see them here. As someone who has been on the receiving end of harsh school discipline, I can tell you, it breaks our hearts every time we have to expel a student. And I know we can look back in that child's record and see where we should have intervened, and didn't."
Rozzell recommended a short film about restorative justice, is.gd/rjhealsvideo, and the book "The Little Book of Restorative Justice" for those who want to learn more. Rozzell will be setting up a website for community input.
The second half of the meeting centered around young adults and juveniles with mental health issues who are often failed by the community and end up crosswise with the justice system. Verdugo and Florence Jones of the Arlington Mental Health & Disability Alliance (AMH&DA) are directing an effort to find ways to support those in Arlington who are at risk for falling through the cracks. When an incident does occur, they want to find ways to address the harm caused by young people with mental health issues, without inflicting on them the forced detention and criminal procedure which usually ends up aggravating their problems. The group talked about priorities for the next year, including reducing social isolation for mentally ill children and young adults. They noted that young adults, some of who were in special services at school in APS but then went to college, often end up back in Arlington after failing to stay in college, or being fired from a job, but they are no longer followed by anyone and receive no support.

Participants in the meeting, including many parents of children with mental health issues, or adults in rehabilitation, or mental health professionals, stressed that Arlington is behind the curve on what is happening nationally, but is on the cusp of going to the next level. They agreed to start a working group to advocate for change, to work on educating residents and breaking down barriers so that "mental health issues" get discussed instead of whispered about, and finding out what best practices are done by other communities to deal with social isolation, one of the most pervasive problems for people with mental health issues. To participate in this effort, interested residents can reach Florence Jones or Naomi Verdugo at http://www.amhda.org