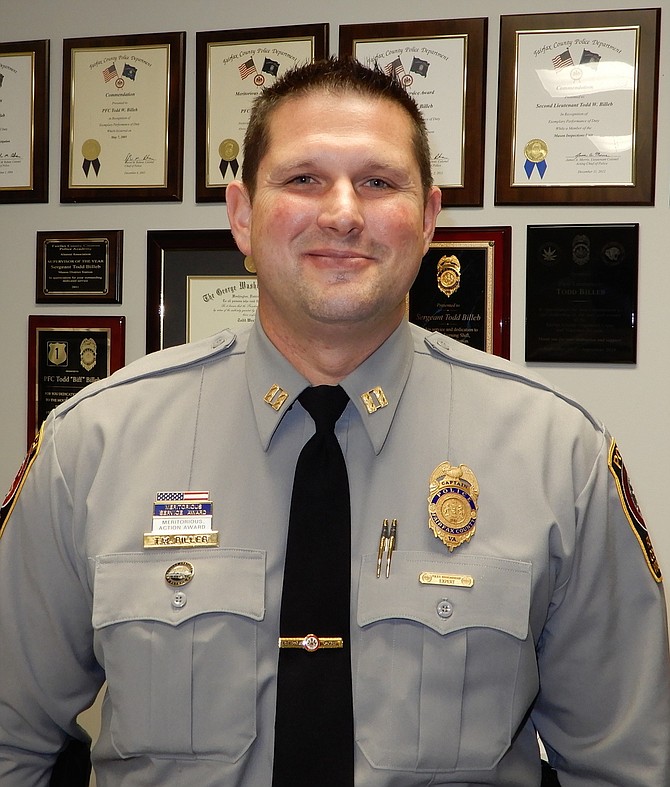 Capt. Todd Billeb, commander of the Sully District Police Station, didn't start out to become a police officer. Born and raised in Seminole, Fla., he enlisted in the Marines in September of his senior year in high school.
"I was just 17, and my dad signed for me," he said. "My great aunt and uncle were both career Marines, and I wanted to be one, too."
He served for eight years, coming to this area when he was stationed with the Marine Security Force at the 8th and I streets Barracks in Washington, D.C.
But, said Billeb, "They changed the retirement benefits from 50 percent of your base pay to 35 percent. I loved the job, but it wasn't financially feasible, so I got out. Plus, I was married and had a daughter by then. In my eight years, I went to over 40 countries; but with a family, I didn't want to be deployed all the time."
Instead, he joined the uniformed Secret Service for two years, but didn't like it. So in September 1999, he joined the Fairfax County Police Dept. and now has 20 years under his belt.
Billeb began as a patrol officer at the Mount Vernon District Station, also serving there with its Neighborhood Patrol Bike Unit and then, in 2005, as a Task Force officer with ATF (Alcohol, Tobacco and Firearms, plus explosives). He was also deputized as a U.S. marshal to identify repeat, violent offenders who'd escaped the justice system.
"I was working with the feds to make the streets safer," he explained. "I enjoyed it a lot because I worked with a really great group. And when you do get a violent drug dealer – who's fired a weapon at people – off the street, you feel like you're making a difference."
Then in the summer of 2008, Billeb returned to patrol to get reacclimated to the system. That fall, he went to the Mason District Station for sergeant training, was promoted and stayed there as a squad supervisor.
"We worked with Fairfax County Zoning, Code Enforcement and the Fire Marshal's Office to do business inspections and crack down on massage parlors that way," he said. "We also used that same team and – with Virginia Alcohol and Beverage Control – we went to bars having a high volume of calls to make sure they were compliant with county and state regulations and codes and their liquor licenses."
IN SEPTEMBER 2012, Billeb was promoted to second lieutenant and briefly went to the McLean District Station before returning to Mason as a squad supervisor, that December, when that station's supervisor suddenly passed away. Next, in August 2013, came a two-year stint in Internal Affairs.
After that, in August 2015, he joined the Police Department's Major Crimes Division. There, he supervised the child abuse squad and the financial crimes and fugitive sections. "It was a great experience, I learned a lot," said Billeb. "I was continuously on call, but I worked with a great bunch of hardworking folks."
He served two years in that position until August 2017, when he was promoted to first lieutenant. He then became assistant commander of the Organized Crime and Narcotics Division, which oversees the Street Crimes, Narcotics and Money Laundering units.
The Street Crimes Unit deals with short-term, street-level, narcotics investigations. Meanwhile, the Narcotics Unit handles long-term, more complex, higher-level, narcotics investigations, working with the supply line and tracking the money.
As for the Money Laundering Unit, explained Billeb, "Not only do we want to remove the drugs, but impede the dealers' ability to buy more. And if we can take their product and their proceeds, it makes it much more difficult for them to stay in business."
Then in September 2018, he came to the Sully District Station as its assistant commander under Capt. Dean Lay. They worked well together and, in July 2019, Billeb was promoted to captain and became the station commander, himself. "I enjoy it," he said. "We have a supportive community and a good group of officers. The CAC [Citizens Advisory Committee] is very active, and it's a good community to work in.
"It's the community's station, and Dean was a great mentor," continued Billeb. "So it was an easy transition because we had the same vision and a similar leadership style."
The station has a staff of 138 officers, including 111 sworn officers, 13 civilians and 12 auxiliary officers. They're responsible for covering approximately 70 square miles bounded by Route 50 on the north, Loudoun County on the west and Prince William County on the south. This area includes Centreville, Chantilly, the Town of Clifton, Bull Run Regional Park, Ellanor C. Lawrence Park, Fairfax Station and Historic Mt. Gilead.
"The biggest thing that impacts everybody here is traffic," said Billeb. "Our main crimes are larcenies from vehicles, especially in the summer, so we reminded our residents to lock their cars. We also analyzed which areas were being targeted and then patrolled them. Then, working with other agencies, we were able to arrest several of the perpetrators and reduce those incidents significantly."
THIS TIME OF YEAR, he said, his biggest concern is pedestrian safety "because it gets dark earlier and also because of impaired driving." So his officers are doing their best to prevent any tragedies arising from these conditions.
He's also pleased that "Sully has the lowest crime rate of all the police districts in the county. This is a very safe and good community."
Billeb says the most challenging part of his job is balancing resources – personnel, finances and equipment. "We can always use more, but that's not unique to us," he said. "And when you enjoy what you're doing, those little speed bumps don't seem all that difficult."
His greatest satisfaction, he said, is "working with the people – the officers and the community – and seeing that what we're doing is positively impacting them. You get into this business because you want to make a difference and help people. So when you see that happening, you enjoy seeing good, collaborative, police work that benefits the community."
Also important, said Billeb, are "the relationships you build in the process of accomplishing that. It takes a team effort – we can't do it on our own." And he wants the community to know how thrilled he is to be leading the Sully District Station.
His message to the residents is: "We're here to work with you. And if people want us to be involved in particular, community events – or they need to report a problem – they can contact us anytime."