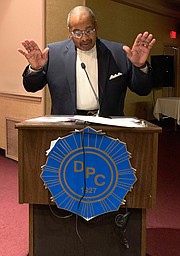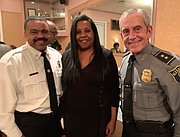 The Departmental Progressive Club held its annual installation of officers program Jan. 10 with Merrick Malone taking the reins as president of the 92-year-old historic organization.
State Del. Charniele Herring (D-46) administered the oath of office to the 2020 DPC officers and members of the board of directors for both the DPC and Ladies Auxiliary. Herring is now majority leader in the Virginia House of Delegates.
Malone, Director at the District of Columbia Housing Authority Office of Capital Programs, is joined by Tavares Floyd as vice president, Elijah Griffin Sr. as financial secretary, Daniel Selby as assistant financial secretary, Scott Price as treasurer and William Chesley as recording secretary.
Additional officers and directors include: Harry White, House Committee chairman; Willie Bailey, assistant House Committee Chairman; Nelson Greene Jr., Sergeant at Arms; and Lawrence Robinson, William Campbell and William Harris as members of the board of directors.
Installed as officers of the Ladies Auxiliary were: Rosa Byrd, president; Ann Allen, vice president; Ardene Henson, secretary; Donita Greene, treasurer; Mildred Worthy, chaplain; and Bernice Lee and Barbara Wilks as members of the board.
Mayor Justin Wilson was among the city officials on hand for the event, held at the DPC facility on Gibbon Street in Old Town. Also among the attendees were vice Mayor Elizabeth Bennett-Parker, City Council member Del Pepper, Fire Chief Corey Smedley, Police Chief Michael Brown and former Mayor Allison Silberberg.
Established in 1927, the DPC is one of the oldest social organizations in the city and has expanded its role over the years to include community outreach and support for local nonprofits.
www.DPC1927.org