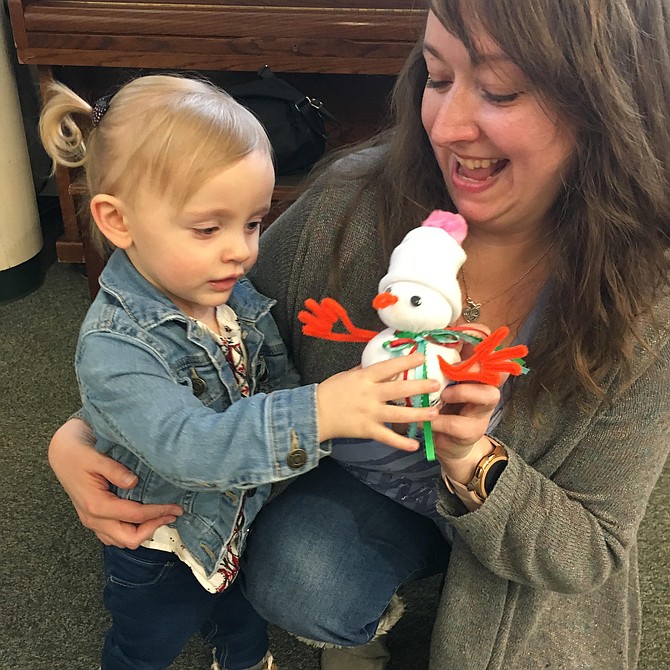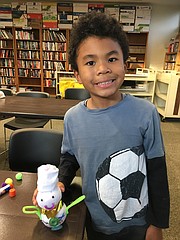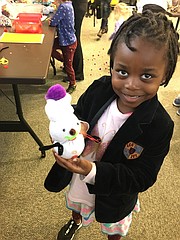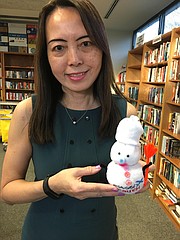 About two dozen children showed up at the Potomac Library last Wednesday for a Build a Snowman afternoon activity.
None seemed at all concerned about how to make a snowman when the temperature was 53 degrees outside and there was no snow on the ground.
"I never made a snowman before," four-year-old Nicole Kayo, of Poolesville, said. "I tried once, but it's too hard."
Nicole and her mother worked together to create the perfect snowman, one that will last all winter, even indoors.
Librarian Michelle Izuka told the children and adults, who seemed equally interested, how to make their snowmen.
First, select a white sock from the pile on the table set up in the library's community room, then let Michelle fill it about two thirds of the way to the top with rice. White, of course.
After that, knot the top, leaving enough sock to fold down to create the snowman's hat, then get string or ribbon and section the snowman off, creating a base and a head.
Then, help yourself to buttons, pom poms, fancy stick-ons, pipe cleaners, googly eyes, more ribbon, anything on the craft table and finish up with a fancy fantasy snowman.
"I think the best part [of this snowman] is his cute little hat," Nicholas C.W., 7, of Rockville, said, pointing to the pom poms he glued to the top of his snowman's hat.
Nicholas named his snowman Charlie and his sister, who would not share her own name, went with Elsa.
Emily Turek was there with daughters Fiona, 3, and Cara, 1. She helped the girls choose decorations for their snowmen after Izuka filled them with rice.
"This was fun," Turek said. "Especially with Frozen in the movies."
Yes, added another mother, there are a lot of Olafs in the group.
Izuka, who oversees the craft program at the library, said she plans a craft time for the third Wednesday of the month, a craft suitable for all ages.
The word is out about Potomac's craft time. Crafters come from all around the county. There were snowmen makers from Poolesville, Rockville and Montgomery Village as well as Potomac.
"This library is the best," said Kimberly King. "Give [Izuka] a big thumbs up. She is so kind and patient."
The craft for next month will be Make a Suncatcher. That will be from 4-5 p.m. Wednesday, Feb. 19. For more information visit mcpl.libnet.info and select Potomac Library.