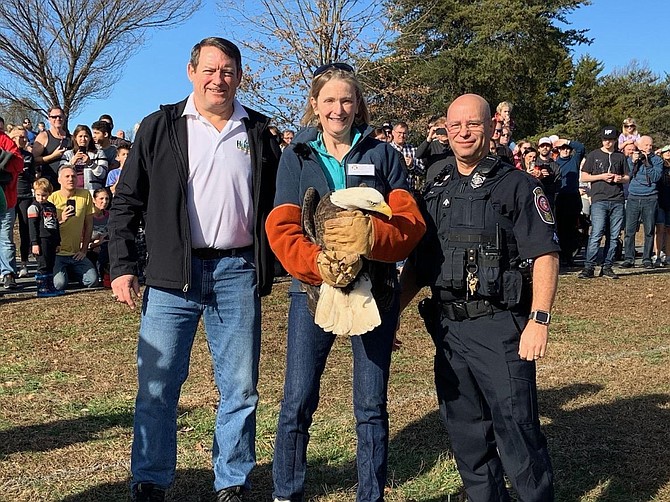 In December, a bald eagle was found along a trail near Burke Lake Park, and it was suffering from injuries that kept it from flying. The police were called to the scene and an officer from the Fairfax County Animal Protection Police donned some heavy-duty gloves and picked up the eagle, and contacted the veterinarians.
From there, Dr. Belinda Burwell of Wildlife Veterinary Care ran some tests and found the male eagle had lead poisoning and a shoulder injury that left him unable to fly. He was taken to Wildlife Veterinary Care located in Boyce, Va. to be rehabilitated.
A few weeks later, on a sunny Sunday in January where the temperatures were unseasonably warm, the eagle was released back to the wild at Burke Lake, where the Fairfax County Park Authority believes there are two other eagles living at the lake. Dr. Burwell facilitated the release, with Fairfax County Police Officers, residents, and Supervisor Pat Herrity (R-Springfield) looking on. "It was an incredible experience to see this majestic bird returned to its home at Burke Lake Park," Herrity said.