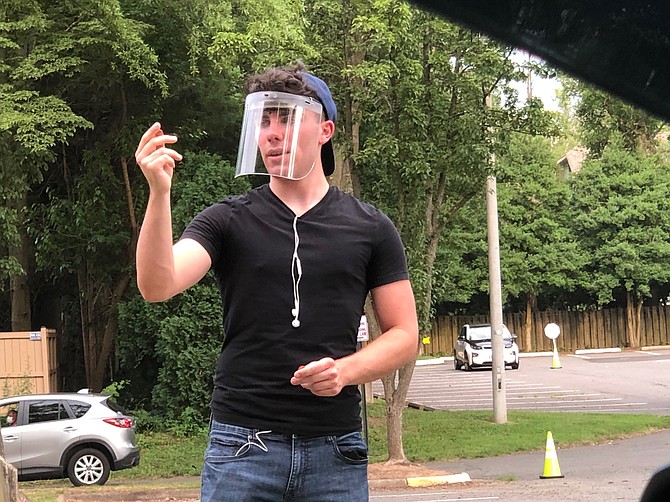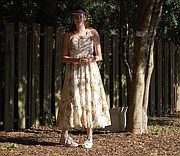 After the end of live performances during quarantine, the Alden Theatre is championing a new form of theatre: the Drive-Thru Drama. Starting July 3, the theater is presenting "Small Change," a production centered around the journey of a $1 bill. Instead of a traditional theater setting, the production is set up so cars can drive through the Mclean Community Center parking lot and stop to hear actor monologues.
Danielle Van Hook, Director of Youth Theatre Programs, came up with the idea of the Drive-Thru Drama after attending many Zoom rehearsals. She thought the in-person aspect was missing and drew from the idea of a pageant wagon in which actors moved on wagons through crowds.
"I just thought of what would happen if we sort of flipped that model. So the actor stays in place but the audience drives through the story and that was sort of the beginning of where this idea came from."
Instead of adapting a previously written piece, Director Andrew Scott Zimmer wrote "Small Change" specifically for the format of the production. He recounts creating the piece to conform with the specifications brought to him by Van Hook.
"When Danielle pitched the idea of staging a play this way, the play didn't exist yet, I went wrote it around the constraints that we had in place. So it's just one of those 'Necessity is the mother of invention' type things where Danielle kind of mapped out how the experience was going to go and I built a piece of theater around that."
COMMUNITY MEMBERS enjoyed the production so much that tickets for both weekends sold out. Audience member Heather Cudmore watched "Small Change" three times over the weekend and enjoyed the live performance aspect.
"The connection that these face-shield clad characters make with the audience even while watching from our cars is significant. It is great to get out into the real world to experience talented, live actors tell a story that makes you laugh and cry. Yes – I was surprised when a few scenes actually made me teary-eyed in a parking lot, but for those who get a chance to see the play, I am sure they will agree."
Audience members weren't the only group to have a different experience, cast members also adapted to fit the occasion. Rebecca Blacksten, an actress playing the Performer in "Small Change," compares the experience working in the Drive-Thru Drama with conventional shows.
"Yes – I was surprised when a few scenes actually made me teary-eyed in a parking lot, but for those who get a chance to see the play, I am sure they will agree."
—Audience member Heather Cudmore
"Normally, the full cast rehearses together and works with one another to create a cohesive piece, but for Drive-Thru, we all practiced separately and we didn't get to see each other's work. It's wild to try new things at every car and to see personal reactions because it's easy to have a huge crowd of reactions, but it's freaky and kind of fun to have one or two people staring at you while you do a 3-minute piece for them."
EVEN AFTER SOCIAL DISTANCING restrictions end, Van Hook hopes for the Drive-Thru model to continue. She suggests it as a way for the Alden to continue performances during theater maintenance periods and involve the audience.
"I think that this format can really grow and change based on the constraints that we have which is really exciting. Putting it together has sort of reminded me a little bit of why I just really love producing and creating theater and working with theatre-makers because it's just been a really exciting way to think about what we do and then kind of flipping it a little bit."