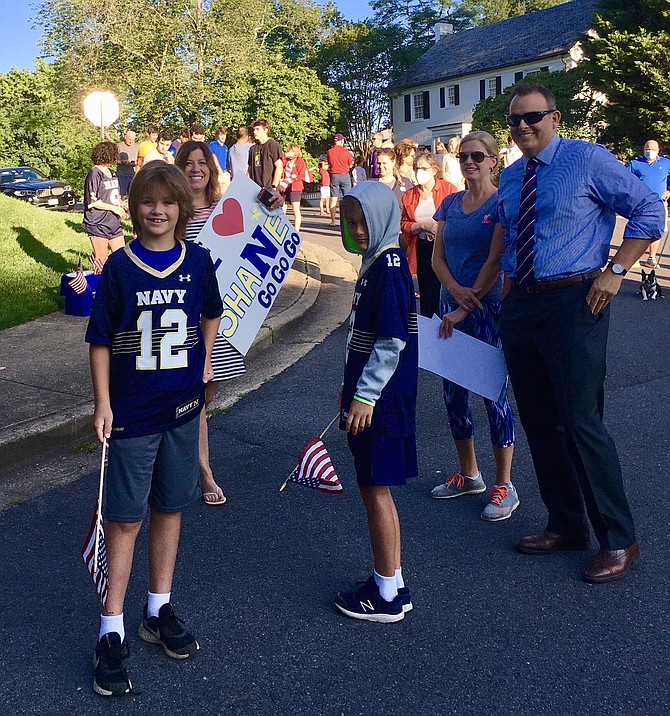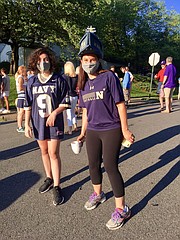 At 7 a.m. on Thursday, July 2, more than forty neighbors gathered to line North Abingdon Street to send off Shane Tomb as he left to begin his "Plebe Summer" at the U.S. Naval Academy. Tomb is a 2019 graduate of Gonzaga College High School. He applied to the US Naval Academy (USNA) in 2019 and was selected for the Civilian Prep Program. After a year at Georgia Tech in the Mechanical Engineering program, he entered the USNA class of 2024. He received his appointment from Congressman Don Beyer of Virginia's 8th District.

Tomb's family was unable to throw him a proper send-off because of the COVID-19 pandemic, and he had to remain quarantined for two weeks before leaving on Thursday. But the U.S. Navy is a family, and the "Navy family" in the area, headed by neighbor Lisa Shapiro, called together neighbors who have known Tomb as he grew up here, to line the street (while socially distancing) to show their appreciation for his service to his country, and offer their support as he starts off on a tough six week "endurance test."
Admission to the U.S. Naval Academy is extremely competitive. Only about 7 percent of applicants receive admission, roughly the same rate as Yale University. Applicants must earn a high grade point average in high school, be involved in extracurricular activities, including community involvement, and score way above average on the SAT/ACT tests. Although they earn a tuition-free, top notch education with admission, they also commit to serving five years in the U.S. Navy following graduation. Many go on to lifelong careers in the Navy.
But first, they have to get through plebe summer. The six week session is famous for the stress it places on new plebes. Tomb will learn how to salute, how to address upperclassmen, how to turn corners correctly, how to "chop while looking at the boat." He will memorize a book of "rates" (rules), know the 225-page "Reef Points" manual inside and out, and learn the names of varsity sports team captains by heart, together with going through rigorous physical training in the heat of the summer.

Normally, Plebes are able to visit with their parents after having their heads shaved and dressing in their white uniforms and caps. Then comes the iconic photo of the new plebe, flanked by proud family. But because of the pandemic, the Tombs had to drop their son at the sign-in desk and say good-bye, just like that. They were asked to stay in the car. No photo op. No hugs. Although Tomb took two personal items, a phone and a calculator, both were taken from him as he entered and he was handed a white uniform. Plebes don't scan the internet, play video games, or call home when they want. They are allowed two phone calls home during the six week period.

Because of the pandemic, Tomb will have to go through another two weeks of quarantine and the induction ceremony will be delayed until all the Midshipmen have been quarantined.
Parents and the public, who usually attend the ceremony, won't be invited. Although still up in the air, there is a less than 50 percent chance that parents' weekend will take place in early August. Diane Tomb said "we know he is in good hands."
Tomb looked out of the back seat of the car at his neighbors along the street as he headed off. He had already had his head shaved in anticipation of the grueling military training he was about to face, and grinned at the crowd as his parents and one of his sisters drove him to Annapolis. He gave an enthusiastic thumbs up. It was a fitting way to start the patriotic weekend.
More like this story