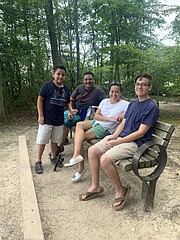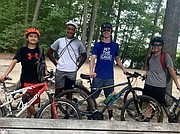 Over the Fourth of July weekend, many area residents visited Burke Lake Park to relax, have fun and celebrate Independence Day with friends and family.
Despite the park not hosting July Fourth celebrations or specials, Burke resident and marina employee Stephen Weisweaver said that many visited over the weekend.
"We did have a lot of people coming in and renting boats, but for the most part it was a steady flow throughout the day," he said.
Many other activities were available, such as disc golf, biking and a socially distant train ride through the woods, providing a way for people to get outside safely.
"We were bored at our house so we came out to ride bikes, and we were talking about possibly getting a boat to ride around the lake later," said Zach Schumacher, a student from Burke. "They come on the trails quite a bit and I haven't been yet."
"We have visitors from Texas and this is one of the family's favorite spots, so we came here," said Mary Dohrman of Fairfax.
A preschool teacher, Millie Rios, brought her family from Chantilly to enjoy the park.
"We wanted to know more about the picnic and campground area, and one of my kids loves fishing," she said.
The marina has also taken precautions to prevent the spread of COVID-19.
"I assist people in getting in and out of the water and I make sure that everyone is safe while using their boats," Weisweaver said. "Things are not running as usual. We usually don't have partitions telling people where to go and we're having to sanitize all the boats as they come in and sanitize all of people's lifejackets."
Though many visited the park during the festive weekend, some chose to celebrate July Fourth at home.
"We had a big family dinner together, plus we had two invited guests who are brother- and sister-in-law of our host, Michael, and then we did fireworks," said Dohrman.
"I lit off fireworks and went over to a close friend's house," said Schumacher.