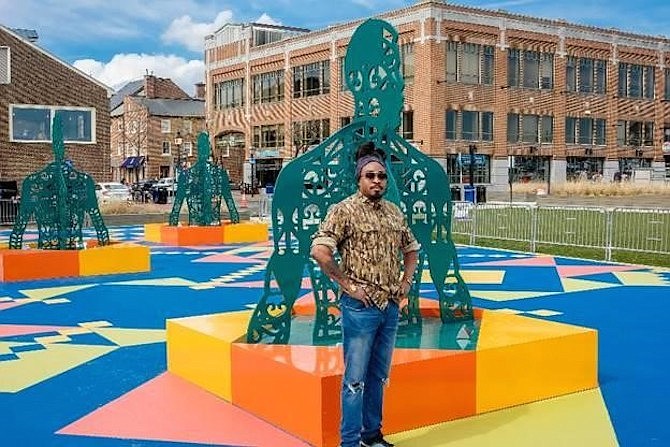 Following delays of several months due to COVID-19 restrictions, the city has formally opened its newest public art installation at the Alexandria waterfront.
Located in Waterfront Park at 1 Prince Street, the exhibit titled "Wrought, Knit, Labors, Legacies," is a temporary installation by Olalekan Jeyifous and the second in the Site See: New Views in Old Town annual public art series. It will be on display through November 2020 and follows SOFTlab's 2019 Mirror Mirror installation.
Wrought, Knit, Labors, Legacies frames Alexandria's African American history through the lens of the city's merchant and manufacturing industries of the 17th to 20th centuries. Once a prosperous port city that was home to one of the largest domestic slave-trading firms in the country, Alexandria was a major center for shipping and manufacturing with an economy inextricably tied to the labor of enslaved and free African Americans.
A ground mural echoes African American quilting and textile traditions using icons that represent some of Alexandria's historic industries: fishing, flour, tobacco and railways. From this colorful surface, four large, ornate metal profiles face the water, wrapped in sculptural seating and illuminated in low light.
In the fall, a series of commissioned performances inspired by Wrought, Knit, Labors, Legacies will complement the art installation at Waterfront Park. The series will feature poets and spoken-word artists curated by Alexandria's Poet Laureate KaNikki Jakarta, as well as movement-based performances by Tariq O'Meally. The performances will follow applicable physical distancing and health guidance.
Jeyifous was commissioned in 2019 to create this original site-specific work and was selected by a community task force with the Alexandria Commission for the Arts' approval.
Based in Brooklyn, Jeyifous along with Amanda Williams, are co-creating the monument for Congresswoman Shirley Chisholm in Brooklyn. The Architectural League recently honored him as one of 2020's Emerging Voices.
Jeyifous received a bachelor's of architecture degree from Cornell University. His work has been exhibited at the Studio Museum in Harlem, the MoMA, the Vitra Design Museum and the Guggenheim in Bilbao, Spain. He received grants and fellowships from the New York Foundation of the Arts, the New York State Council on the Arts and the Brooklyn Arts Council.
In 2021, the Site See series will feature work by Mark Reigelman.
Wrought, Knit, Labors, Legacies was installed in mid-March, but due to COVID-19 health guidelines, it remained closed to the public until Alexandria entered Phase Three of the "Forward Virginia" blueprint.