Joe is on the autism spectrum and wanted to participate in the Bridges to Independence summer internships initiative. "Each student shares their preference for an industry, such as fashion design, law, marketing, etc. Bridges tries to pair that student with their industry of choice," said Christina Armstrong, Bridges' Chief Philanthropic Partnerships Officer.
Joe was interested in gaming and Information Technology. One of Bridges' corporate partners immediately stepped in to help and invited Joe to intern with them during the summer of 2019. Prior to his start date, the company set multiple meetings to ensure their team was fully equipped to meet Joe's needs to provide a fulfilling experience. During his time there, Joe was paired with three people to go over professionalism and video editing. They assigned him a project to complete. Joe was ecstatic to be there and said he learned a lot but most importantly made a lot of friends. At the end of his internship, Joe presented his project to the company and received a standing ovation. But what would Joe do today, with the COVID-19 pandemic making this kind of hands-on internship off limits?
Bridges received a $20,000 grant from AT&T Foundation to support the Bridges' Youth Development Program and make this kind of mentoring possible virtually. The Youth Development Program provides opportunities to low-income high school students in Arlington by improving students' acceptance into college, mentoring them with community leaders, internships with local businesses, and tutoring to improve academic performance. The funding will help Bridges provide mentoring, tutoring, and the internships virtually during the COVID-19 pandemic. "We are very appreciative of AT&T's contribution. They have proven themselves to be prominent members in our community, committed to helping vulnerable youth. In these uncertain times, with virtual classes and social distancing, our youth are craving interaction and are requesting to meet with their tutors and mentors up to three times a week, instead of once a week.
"The funding from AT&T will help us navigate a virtual path and revise our program," said Sam Kelly, Bridges' Chief Executive Officer. "We're excited to help Bridges to Independence work with young people in Arlington who face significant challenges as they prepare for life after high school. As students move to online and digital engagement, our contribution will help students improve academic performance, develop leadership skills, and explore college and career opportunities," said Garrett McGuire, regional director for AT&T in Virginia. Bridges to Independence's Youth Development Program is offered to families who have received services and case management through Bridges' shelter and housing programming. The program creates a place for youth to take on leadership roles, learn appropriate self-expression, build and maintain positive relationships, receive mentorship, and learn skills for post-high-school success. The vision is to provide them with foundational skills to begin their lives after high school focused on breaking generational cycles of poverty. The two organizations share a goal to empower youth to reach their highest potential.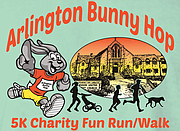 Bridges Receives Support from Arlington Bunny Hop
Bridges to Independence received a $10,000 grant from the Arlington Bunny Hop 5K and Clarendon United Methodist Church to support the housing of Bridges' local homeless families. The check received in June will help house four families in June and start the process to house four more in July. In addition to providing families with security deposits and application fees, the grant supports add-on services to help families remain in housing, such as case management, workforce development, financial empowerment, youth development, and basic needs like furniture, personal supplies, and food.
As families face loss of income and homelessness due to the COVID-19 coronavirus, the funding will help Bridges to Independence move families faster from emergency shelter into housing opportunities. "For the past three years, Bridges has been honored to be a beneficiary of and partner to the Arlington Bunny Hop. The Clarendon United Methodist Church is a few blocks from Sullivan House, the homeless family shelter, and we appreciate how our neighbors, community members, and friends from across the globe joined together in support of Bridges to Independence and O.A.R.," said Sam Kelly, Bridges' Chief Executive Officer.
Denny Edelbrock, Arlington Bunny Hop Race Director, states "It is truly an honor to help people get a fresh start!"
The Arlington Bunny Hop is an annual 5k walk/run timed race that was created to raise funds for local charities. The event was scheduled for April 2020. Due to the pandemic, the race organizers moved the race to a virtual event from June 13-30 and had successful results. This local, Arlington race had more than 300 virtual runners and walkers registered from at least 10 states and who spanned across the globe from Hawaii to England.
ABOUT:
Bridges to Independence is a 501c3 nonprofit based in Arlington, whose mission is to lead individuals and families out of homelessness and into stable, independent futures. Founded in 1985, Bridges to Independence programming focuses on stabilization (from homeless to hopeful), employment (from minimal to livable wage), and prevention (breaking the cycle of poverty) for homeless families to build a bridge to self-sufficiency. For more information about the nonprofit or ways to get involved, visit https://bridges2.org/ or call (703) 525-7177.