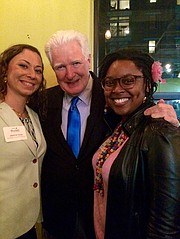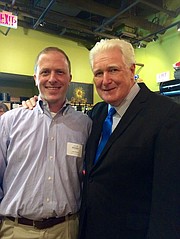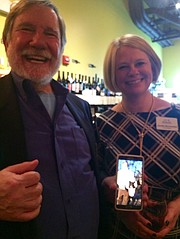 Like any other Alexandria mother, Amina Amir was bursting with pride that her daughter would be graduating from high school this spring, with plans to go to college, and that her son is in the U.S. Navy in California. But unlike most Alexandria mothers, Amir is a domestic violence survivor. She was taken out of her home a few years ago by a detective who referred her and her 13-year-old daughter and 17-year-old son to Bridges to Independence for emergency shelter from domestic abuse. They were placed in rapid rehousing in a three-bedroom apartment not long after, to rebuild their lives.
At the Screwtop Wine Bar in Clarendon on Feb. 6, this mother of two stood up and thanked a crowd of about 40 community-minded residents for giving her and her children a chance to live outside the shadow of domestic violence. Amin said she remains awed by the dedication of the staff at Bridges to Independence, a safety-net nonprofit organization which helps individuals and families in Arlington and the City of Alexandria out of homelessness and into stable, independent futures. "They miss time with their families to help families they've never met before, generous with their time and their help; they remain our family," she said.
It seemed like family, Monday night. Former U.S. Rep. Jim Moran, who was a founding board member 30 years ago when the organization was called the Arlington-Alexandria Coaltion for the Homeless (AACH) was there. "I started working with an Episcopal priest, Rosemari Sullivan, whose vision it was to create this," Moran said.
Lars Florio interjected: "It was Jim Moran who arranged for an earmark of a House Bill to enable AACH to purchase their original building at 932 North Highland St., which is one of the reasons we can raise capital today."
"Bridges" — as it is known in the community — has launched a $2.5 million capital campaign for a new headquarters space in Arlington. For over 30 years, individuals and families experiencing homelessness have turned to Bridges for support. Bridges' services provide the skills, knowledge, and community networks people need to become and remain self-sufficient. In 2016, Bridges served nearly 500 individuals in Arlington County and the City of Alexandria.
Board member Kopp Michelotti said his favorite thing about Bridges is the Kickball Tournament. "They always pick the hottest day of the summer to hold it, and it is always fun. Sponsors pay to set up teams, so it is a fundraiser, but mostly an event that brings the whole community together. " Board member Kris Finney's favorite thing was the running program she manages. They have about 20 youths, the children of clients, who run together. They train for the 5K races around town: Clarendon Day 5K, Turkey Trot, the Marymount 5K. Pacers Running Shop in Clarendon helps support the runners. "It's the health piece of running, the mental health piece, and the supporting the community piece, yes," said Finney. "But perhaps most important is the mentoring piece." The goal of Bridges is to interrupt the cycle of intergenerational poverty, she said. "So an important piece of that is getting the kids on track. We provide mentors who run alongside the kids and help them train. The mentors are volunteers who come from all walks of life and help expose the kids to people from outside their circle they wouldn't ordinarily meet. It may seem like a minor aspect, but those mentors have a big impact." Finney is always looking for volunteers.
"Let me tell you what I love about Bridges," said Jennifer Mulchandani, the new president of the board. "It's the Lemonade Stand, because what Bridges does, especially for the kids, is a lot of non-tangibles. The Lemonade Stand is about that. The kids have all the fun of setting up a stand, making the lemonade, and selling it. They bond. But they also work out the real life finances: 'How much did we spend? How much did we take in?' Since Bridges is about breaking the cycle of inergenerational poverty, the values which are conveyed by such activities are important and possibly not otherwise available to these kids. It may be intrinsic in families who don't know poverty to talk about finances, teach kids about money, and engage in healthy exercise. But it may not be intrinsic in families with challenges. So we teach them to have fun, give back, and handle money. It is really hard to quantify a program like this, but the results show it works," said Mulchandani.
Amir and her children are a good advertisement for the program. Amir went to school and got a degree in criminal justice, although she joked that she still has her retail job at Williams Sonoma and knows more about kitchen equipment than she ever thought she would, and her children participated in the youth development program affiliated with the 4H program. They are still in the same three-bedroom apartment that was originally found for them by Bridges but they are self-sufficient. And they still have Bridges in their lives, like alumni of a good school: they come back to give back.
"I have a great story about the lemonade stand," said David Sklar, another board member. "I remember when the kids decided to donate the proceeds of the stand to a homeless animal shelter. It wasn't until I went in one day and saw these dogs all over the place and the kids holding up a big paper cheque for '500 dollars' that it hit me: here were these kids who were homeless, working to raise money to help homeless pets. I was moved. And you know what? I was so touched by their willingness to help these dogs, I picked one out and adopted it."
Departing Board President Lars Florio says Bridges is entering a new phase, having spent the previous 30 years building up an organization and expanding its services. It is ready to go to the next level, especially given its success with children. Over 60 percent of Bridges clients are under the age of 18. Bridges has hired Strategic Consulting Partners to help them plan into the future.
Dan Blaine, chair of the Capital Campaign, urged those in the room to get involved. "Bridges was lucky to find Dan," said Jeanette Norton, director of development. "He is very active in the nonprofit community in both Arlington and Alexandria, and although he is an insurance broker, he just happens to also have a background in fundraising and agreed to take on this project."
Blaine didn't seem daunted at all by having to raise $1.5 million for a building that hopes to open in September 2017. "I've gotten the amazing task of having to talk to all the great people who are involved with Bridges," he said. "Think about what you might be able to do for us. Consider a hard hat tour (of the building under construction), discuss how you might be able to help, and get the word out: showing up is critical."
Sam Kelly, executive director of Bridges, told the crowd of supporters Bridges will contribute $1 million from the sale of its previous building. When coupled with the additional $1.5 million fundraising goal, the campaign will fund the purchase of the organization's new ground floor headquarters, a 4,700 square-foot multipurpose space, as well as outfitting the building and furnishing it to fulfill Bridges' expanded programmatic and organizational needs. "I know you will show up for us as you always have," he told the crowd.
To learn more about the capital campaign and donate, call 703-525-7177, ext. 112, or visit https://bridges2.org.