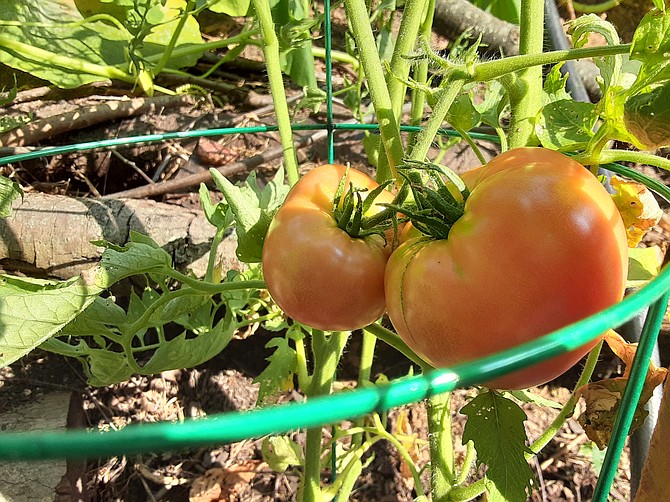 The Petersen garden in Springfield started as a project to build a couple of terraced garden bed on their hillside backyard, and turned into a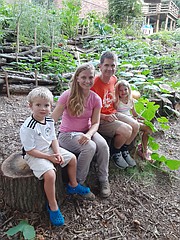 classroom of sorts to fill the quarantined hours, give the family a togetherness project and act as a horticultural laboratory for lessons the whole family could not get in any school.
"It turned into a quarantine family project when we found out the kids were going to be out of school," said David Petersen, the father of Sofia, 8, and CJ, 5.
The backyard of the Petersen's Springfield house has a portion on a steep hillside, and in the previous year, they started with a single level of terraced garden beds up by the house. Then a few trees died in the backyard and after cutting them down, they were left with a bunch of logs, so they researched how to build multiple terraces, and began the project in early 2020. Then the coronavirus altered things in every household across the area, so they made the best of it, and started cutting up all the logs and researched building terraces on the internet. Now they have gardens on several levels with green beans, tomatoes, cucumbers, peppers, spices, broccoli, strawberries, cantaloupes, squash, pumpkins and a few flower plants.
"We started them from seed," said Alicia Petersen, the mother of Sofia and CJ.
They also worked with Nalls Produce, an old fashioned garden store that's nearby, to get some of the soil, mulch and advice in addition to tapping into their neighbor's knowledge. "She actually gives us gardening advice," Alicia Petersen said, pointing to their next-door neighbor that works for the Food and Drug Administration.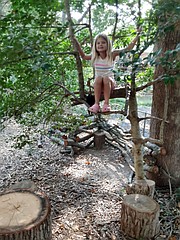 Sofia is full of plant knowledge and is learning more every day, especially about the pollinators and the plant regeneration. "I'm really excited about having pumpkin pie in September," she said, and hopes there is one to carve at Halloween too. "It's going crazy," she said of the pumpkin vine. Everything is natural, and when they had aphids causing harm to some plants, "we released ladybugs when we had aphids," said Alicia Petersen.
They see toads, snakes, birds, chipmunks and a fox who are all part of this ecosystem. "We just started it because we wanted to learn how seeds grow," Alicia Petersen said. "It was exciting to see, we're learning as much as they do," she said, pointing to the children.
So far, the cucumbers have grown so fast, they end up giving a lot away to the neighbors, and the cherry tomatoes are a good addition to their dinner salads. The lettuce, a cold weather vegetable, came in the early months this spring, and the watermelons are just taking shape.
"We call this our grand experiment," Alicia Petersen said.