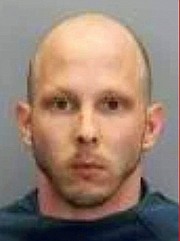 Fairfax County police have charged a local man with three felonies following the stabbing of an associate pastor, Saturday afternoon, at Grace Covenant Church in Chantilly. Arrested was Chance Harrison, 32, of South Riding.
When officers responded there, July 18, around 3 p.m., he was being restrained by several members of the congregation, including Police Chief Ed Roessler – who's a member of the church and was there when the incident occurred.
Before Sunday morning's service, Senior Pastor Brett Fuller addressed the church members about the incident. He said Harrison was saying "incoherent things" when he entered the room where nearly two dozen people, including Roessler, were attending a Bible-study class.
According to Fuller, Harrison "came to the front and had a knife and assaulted Pastor Sean Clemons." The victim, who was speaking at the time, was leading the class when he was stabbed in the chest.
Police say Harrison, a member of the church, allegedly attacked Clemons "without provocation." In addition, they say he reportedly stabbed another man who tried to intervene. Roessler and several others then confronted and subdued Harrison. During that time, the chief sustained minor injuries.
Both stabbing victims were taken to Reston Hospital Center for treatment of non-life-threatening injuries, and Roessler also received medical attention. Meanwhile, a knife believed to have been used by Harrison was recovered by police at the scene.
Afterward, Fuller expressed gratitude for the church members who "came to the pastor's aid and valiantly risked their own lives to defend him. We are in prayer for all the injured. We are grateful for the courage exhibited that prevented [something] worse from happening. Lastly, we want to thank the broader community for their outpouring of concern and support in this time."
Police charged Harrison with two counts of aggravated malicious wounding, plus one count each of felony assault on a police officer and misdemeanor assault. He's being held without bond in the Adult Detention Center.
Anyone with information about this event or who may have witnessed it is asked to call the Major Crimes Bureau at 703-246-7800, option 2. Tips may also be submitted anonymously via Crime Solvers by phoning 1-866-411-TIPS (866-411-8477), texting FCCS plus the tip to 847411, or going to http://www.fairfaxcrimesolvers.org/. Tipsters are eligible for cash rewards of $100-$1,000 for information leading to an arrest.