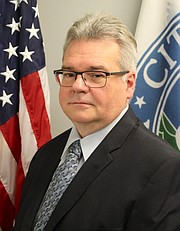 Detectives from Fairfax County Police Department Crash Reconstruction Unit are investigating a fatal car crash that occurred Monday morning in Huntington in the Mount Vernon Police District. Officers responded around 9:24 a.m. to the intersection of North Kings Highway and Telegraph Road for a crash involving a 2018 Honda CRV. A preliminary investigation determined the Honda was traveling westbound on North Kings Highway when the driver exited the roadway and impacted a traffic pole at the intersection. The driver, Robert Bloom, 61, of Alexandria, was pronounced dead at the scene. Bloom was the sole occupant. Debris from the crash caused damage to a second car and the driver was not injured. The cause of the crash remains under investigation.
Bloom was Public Safety Systems Administrator in the Department of Emergency and Customer Communications (DECC).

Bloom joined the City in 2016, following previous roles with the Metropolitan Washington Airports Authority, the City of Baltimore, and telecommunications vendors. After beginning his career in a small county 911 center in Pennsylvania, Bloom helped implement nearly every advancement in 911 technology over the next three decades. He earned several of the top certifications in his field, and was regarded as a national leader in public safety telecommunications. Bloom chaired the 2019 international convention of APCO International (the global organization of public safety communications professionals), and served on APCO's cybersecurity committee.
In 2020, Bloom led Alexandria to become the first city in the United States to enable staff to answer 911 and 311 calls from home. This helped DECC reduce the risk to staff from COVID-19 and ensure continuity of service to the community.

Bloom was an extremely dedicated and talented professional, whose 30-year career in public safety demonstrated a deep commitment to saving lives and serving people. His technical expertise, industry knowledge and practical experience helped protect first responders and the communities they serve.
Information about arrangements will be provided here when it becomes available.