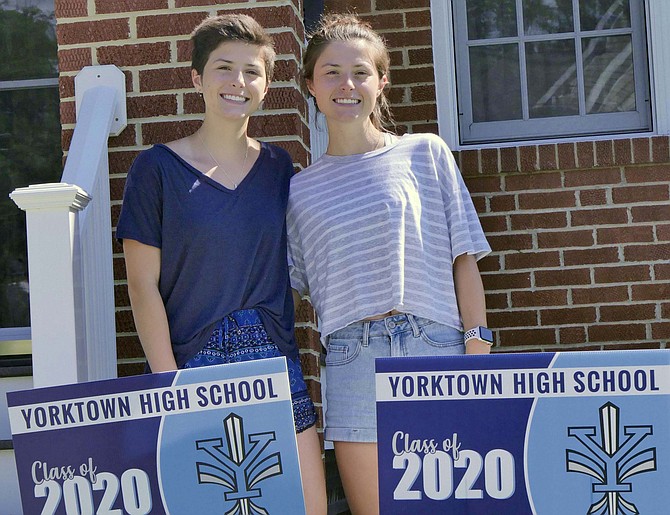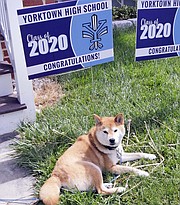 Twins Emily and Sarah Roberts stand on their front porch with Hachi on the leash headed toward his favorite spot in the front yard. Emily and Sarah say they were still hoping for an in-person graduation even after the rest of the school year at Yorktown High School had been cancelled. Emily says Yorktown sent a couple of messages out, but never really said graduation was cancelled, "so we kept hoping."
But Sarah adds, "I think they didn't really want to call it until necessary."
Emily says, "I thought they would do something, distribute the chairs, have it in a field, but they hired a production company to do a virtual graduation ceremony on June 18 at 4 p.m. It's something."
Sarah says, "I don't have high expectations. It's kind of like going through your yearbook." Emily says, "But not the same."
One of Emily's biggest disappointments is not having her grandma come out from Illinois. "I was so excited; she loves big ceremonies." She was also looking forward to seeing all of those faces she hadn't seen for a while and talking to them.
"We've been in Arlington Public Schools since kindergarten. We didn't know our last day was going to be our last day."
Sarah says, "It was a time to say goodbye. I wanted to make grandma proud; it was a time to be celebrated, a kind of closure. And there is something to walking across the stage."
Both twins are looking forward to fall when they start college at The University of Virginia. Emily says UVA has indicated they hope to have classes on campus, but may do the large lectures online. And Sarah says, "They will probably shorten the semesters so it will end before Thanksgiving in case there is a second wave of coronavirus. And then not start again until after New Year's."
She adds, "College will start things rolling again."
"And give some sense of normalcy," Emily adds. Emily plans to go into neuroscience, maybe pre-med, while Sarah is undecided but leaning toward pre-med as well.
"We've been in Arlington Public Schools since kindergarten. We didn't know our last day was going to be our last day."
Emily and Sarah indicated that they decided to apply to universities in-state because Virginia has good schools and because of the cost. Sarah said she got accepted at some out of state schools, and she gave some brief thought to California. "Now is the time. It would be a lot of fun." But on second thought she realized, "I have a lot of friends going to college in-state, and I knew I really wanted to be with her," pointing to Emily standing nearby.
Emily says, "I could never go to California. I would be so homesick, and I'd miss my dog." She says UVA is just far enough that her parents can't visit all the time, but close enough to be able to see them. Emily says, "We did consider different schools but realized it would be really hard."
Emily has her roommate for the fall. "To be honest a lot of people reach out online all at once on Facebook. I just tried to not be fake and see if we related."
Sarah says she felt awkward finding a roommate this way and has decided to go random.
Sarah used this as a time to cut all her hair off. She thought it would be fun and cool but she also knew she didn't have to "walk into school with my crazy haircut." Now that she has tried it, "I'm growing it all the way out." Emily comments, "It is a way to tell us apart."
They will shop for their campus supplies and furniture later in the summer when they have a better idea what the dorm rooms will look like. "And our grandmother gave us a Crux coffee maker for Christmas," so they have a head start on the necessities.
Sarah says they will start taking JumpStart online community college classes for college credit on June 1. "It feels like we're already in college."
Emily says Yorktown did everything they could for support. "I appreciate the signs they made for us, and so many people have congratulated the class of 2020. We haven't been forgotten."