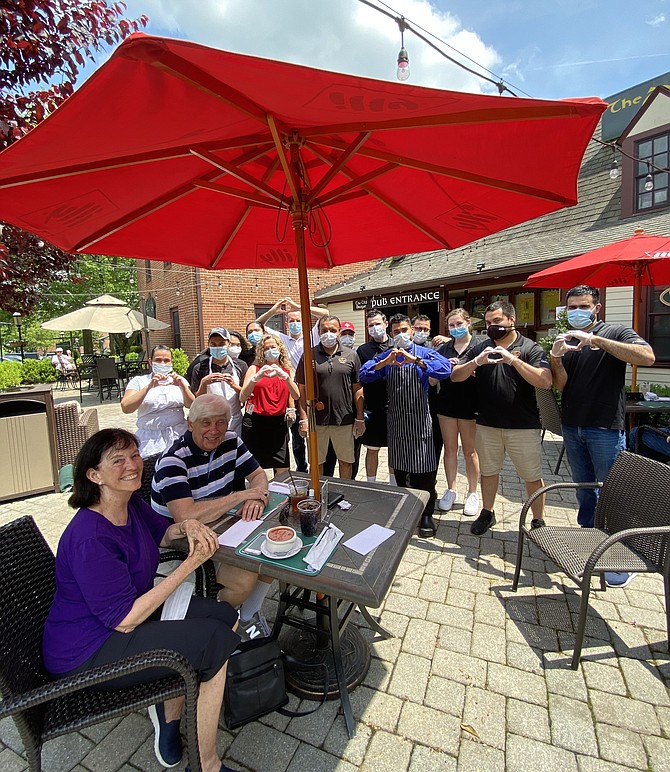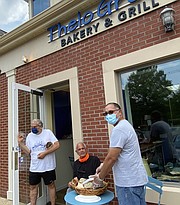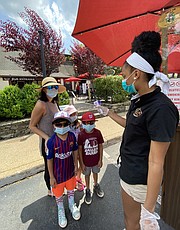 At the Village Centre in Great Falls near the corner of Georgetown Pike and Walker Road, The Old Brogue stood reopened for outdoor canopy dining on its courtyard and continued curbside pickup and delivery. The iconic local haunt is a classic Irish tavern, beers on tap, friendly atmosphere and lively bands. It has served the Great Falls community since 1981, under Proprietor Mike Kearney's leadership. Seven days after reopening under Phase One of Governor Northam's Forward Virginia plan, it drew a steady stream of lunchtime diners.
"We love The Old Brogue and supporting small businesses in our neighborhood," said Helga Morris of Great Falls as she waited with children at the hostess table. "And I'm so glad to be out of my house." Sally and Franz Jaggar sat in the courtyard, enjoying their lunch. Franz said, "If The Old Brogue didn't come back, we'd just have to leave."
Kearney said, "The Old Brogue and Katie's Coffee House has been blessed with the Great Falls Community support for over 39 years! Over the last 12 weeks, the community love and support have really shown through for all of our 84 employees. We have been trying to keep all of our employees active through these trying times, so we have reinvented ourselves with curbside pickup and delivery as well as 'Feed the Frontliners' program. Over the last 12 weeks, we have been able to feed more than 1,800 people through our 'Feed the Frontliners' community support program. We have been able to feed doctors, nurses, Safeway employees, postal employees, local police officers, firefighters and needy homeless people at the Missionaries of Charity in Anacostia, Washington, D.C. We are also proud to say that through our safety program we've had zero primary cases of Covid19 in our staff. We are thankful to the state for allowing us to go into Phase 1 which allows our outdoor patios to be occupied with cheerful and familiar faces and we look forward to Phase 2 in the upcoming weeks where we can actually get our loyal customers back inside. We hope to see you soon."
Thelo Greek Bakery & Grill Prepares To Open
Some people may think it crazy for a new food establishment to open now. The novel coronavirus caused so many restaurants and cafes to collapse with others screeching to a halt and pivoting to survive. Then again, they haven't met scrappy John Panas, owner of Thelo Greek Bakery & Grill, located at 10123 Colvin Run Road in Great Falls. Panas refused to let COVID-19 shatter his dream. For more than 50 years, restaurants and authentic Greek food have been Panas' passion. He is a step away from the soft opening of his newest establishment planned the week of June 14. "I believe in wonderful food...a four-star value but at $10-$21. I want people to get their money's worth," Panas said. "Our food reflects my taste, my travels, my restaurants, my background."
According to Panas, what will enable his new food establishment to be viable is its business plan and model. The bakery and grill occupy a small physical footprint with no indoor dining but a daily menu of authentic Greek carryout/delivery and artisan bakery choices, augmented by a catering service. If the customer wants something specific and it can be done, we will do it," he said.
Croissants, muffins, village bread, square cakes, pastries and more are some of the bakery's stars. Coffee and drinks will be available with the option for patrons to enjoy the fare at the bistro tables out front. "The bakery will open at 7 a.m. Fresh bread every day," Panas said. "Then at 11 (in the morning), we begin carryout (and delivery) until 9," he said. On Friday, June 3, Panas and others continued putting the finishing touches in place, checking the ovens and then sitting down for a morning break of crusty Greek bread. Check the website https://www.thelogreek.com/ for updates on opening day and time.