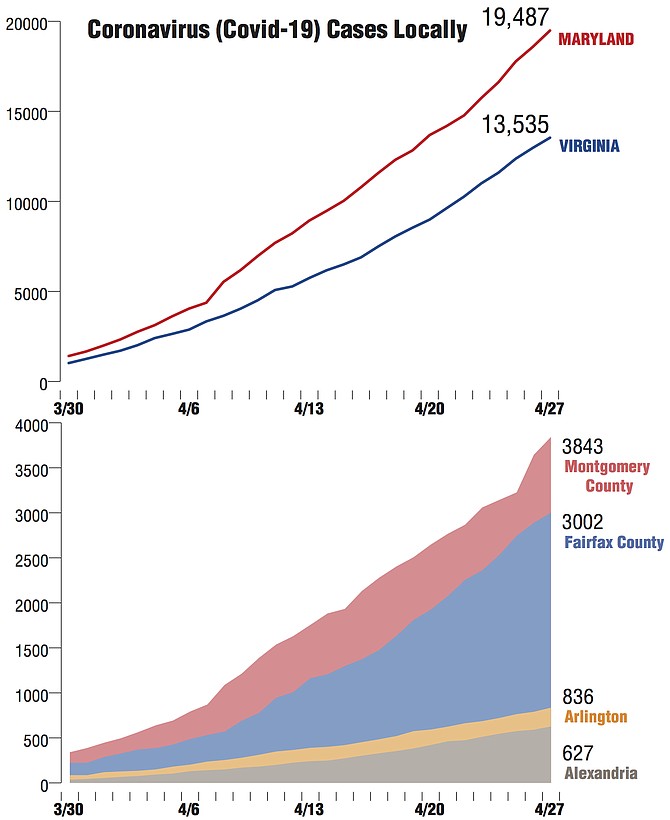 Monday, April 27
Fairfax County Cases: 3,002
Virginia Cases: 13,535
Fairfax County Deaths: 100
Virginia Deaths: 458
STAY INFORMED: See the Fairfax County Health Department's Covid-19 webpage at https://www.fairfaxcounty.gov/health/novel-coronavirus. Call the Health Department Call Center at 703-267-3511 with Coronavirus questions; open 9 a.m. to 7 p.m. weekdays and 9:30 a.m. to 5 p.m. on weekends. Text FFXCOVID to 888777 to receive updates from Fairfax County about COVID-19. Email questions or concerns to ffxcovid@fairfaxcounty.gov. The email account will be staffed Monday through Friday, 8 a.m. through 6 p.m. Visit a web portal for coronavirus www.fairfaxcounty.gov/covid19/ that serves as a one-stop online resource for information.
MAINTAIN CHILDREN'S IMMUNIZATION Schedules: Pediatricians across Virginia have noted a decline in infants and children receiving their scheduled vaccinations, over concern about exposure to the coronavirus. During National Infant Immunization Week, parents are being reminded of the importance of keeping children up to date on vaccine schedules, to protect them from diseases that are preventable.
VIRGINIA GETS HELP: U.S. Sens. Mark R. Warner and Tim Kaine announced $14,857,347 in federal funding for the Commonwealth's response to the novel coronavirus (COVID-19) outbreak. The funding, awarded through the Epidemiology and Laboratory Capacity for Prevention and Control of Emerging Infectious Diseases cooperative agreement, was made possible by the Coronavirus Aid, Relief, and Economic Security (CARES) Act.
The Virginia Department of Health can use the funds to establish or enhance the ability to aggressively identify cases, conduct contact tracing and follow up, as well as implement appropriate containment measures. It can also be used to improve morbidity and mortality surveillance, enhance testing capacity, control COVID-19 in high-risk settings and protect vulnerable or high-risk populations, as well as help healthcare systems manage and monitor system capacity.
Sunday, April 26
Fairfax County Cases: 2,889
Virginia Cases: 12,970
Fairfax County Deaths: 95
FIRE AND RESCUE: 12 Fire and Rescue personnel have tested positive for COVID-19, six have fully recovered, and two are currently in quarantine. All personnel are closely monitored by a nurse at Fairfax County's Occupational Health Center. Fairfax County Fire and Rescue Department reports COVID-19 impacts to personnel each week.
Saturday, April 25
Fairfax County Cases: 2,745
Virginia Cases: 12,366
Fairfax County Deaths; 90
COUNTY DATA SITE: The Fairfax County Health Department launched a new data site https://www.fairfaxcounty.gov/covid19/case-information with more information on COVID-19 cases specifically in the Fairfax Health District. The district is composed of Fairfax County, the cities of Fairfax and Falls Church, and the towns of Herndon and Vienna. The new COVID-19 dashboard breaks down case information by combined zip code, age group, and race, and also includes the trajectory of cases and Fairfax County's epidemic curve by new cases per week.
"Fairfax County residents deserve transparency in how their local government is responding to this epidemic. Identifying COVID-19 cases by race, gender, age, and combined zip code is crucial to our efforts," said Board of Supervisors Chairman Jeff McKay.
Some elected officials and residents have expressed dissatisfaction with both the combined zip code data and the interpretation of race and ethnicity data. Maryland is providing data by individual zip code,withholding the number if there are seven or fewer cases in a zip code.

Hispanic residents appear to make up 50 percent of all cases in Fairfax County, and even with wiggle room created by more than 25 percent "no data" it's hard to make sense of this disparity.
"Providing this data will help show the extent of the outbreak and highlight areas where there may be disparities in the Fairfax Health District without breaching the confidentiality of individuals with COVID-19 infection," said Fairfax Health Director Dr. Gloria Addo-Ayensu. "It's important to note that these data are an underestimate of the true burden of COVID-19 in the community, as it is a reflection of who is being tested more than a measure of the virus' prevalence."
See www.fairfaxcounty.gov/covid19.
Friday, April 24
Fairfax County Cases: 2,534
Virginia Cases: 11,594
Fairfax County Deaths: 85
MEALS SERVED: More than 550,566 meals have been served to students and families in need since March 14, 2020, reports Fairfax County Public Schools, including 26,577 on Friday, April 24.
LATE RENT: The county's Department of Housing and Community Development has waived more than $13,000 in fees for late rental payments for renters in Fairfax County owned affordable housing units. The Office to Prevent and End Homelessness has secured three hotels to provide additional shelter space for at risk homeless individuals. OPEH has also secured related services for transportation, security, cleaning, meal delivery, and laundry services. There are increased requests for help with rent and mortgage payments.
DONATION DRIVE: The Fairfax County Communities of Trust is sponsoring a drive to collect needed personal hygiene products and household cleaners to families and individuals facing hardship. Collection boxes are being placed at all eight Fairfax County District Police stations. The items will be picked up and distributed to local food pantries near the stations.
FEDERAL FUNDING: "As federal funding begins to come in, we wanted to give you an idea of where some of this money may go," according to McKay's update.
CARES Act funding will go towards COVID-related community needs.
Community Development Block Grant will be recommended to go to Fairfax County Coordinated Services Planning for emergency rent and utility assistance; to go to non-profits who provide targeted public services; and, to affordable housing providers as rental income replacement for tenants who are unable to pay.
Emergency Solutions Grant will help respond to those experiencing homelessness.
BLEACH CLEANS HOUSES, NOT HUMANS: After an infamous presidential press briefing with comments on disinfectants and ultraviolet light, the county has received inquiries about bleach and disinfectants. To be clear: "Drinking bleach or other cleaning products will NOT kill the virus inside your body; there is no product you can swallow to prevent a virus from attacking your cells once it is in your body. Swallowing cleaning products could result in serious illness or injury," according McKay. See the county's Myth and Rumor Control page at https://www.fairfaxcounty.gov/covid19/rumor-control
BUSINESS TASK FORCE: Gov. Ralph Northam formed the Commonwealth's COVID-19 Business Task Force, which will continue to provide advice and guidance to the Cabinet on a safe, responsible strategy for easing restrictions on businesses and individuals.
The task force consists of representatives from a variety of Virginia industries including restaurants, breweries, wineries, small and large retailers, fitness centers, hair salons, barber shops, spas and aestheticians, museums, hospitality groups, campgrounds and entertainment venues.
"These are Virginians who are thinking everyday about how to protect the health of their staff and the communities in which they operate," said Northam. "They understand that our public health and business interests are aligned — we must take measures that both ensure the safety and confidence of consumers and prevent the spread of disease. Their input will continue to be critical as we plan a safe, consistent, successful path forward."
Virginians are under order to stay home unless they must leave for essential services like buying food or getting medical attention, until June 10, 2020.
WHAT WILL IT TAKE TO REOPEN? The Commonwealth's aggressive actions included closing schools, limiting gatherings, and the stay-home order. Virginia's requirements for before moving to phase one to consider reopening include: percentage of positive tests over 14 days moving downward; rate of hospitalizations over 14 days going downward; adequate supply of hospital beds and intensive care beds; increasing and sustainable supply of PPE; increased testing and tracing. Then Virginia can move to phase one. Phase one might look like this: Some businesses reopen with strict safety restrictions; continued social distancing; continued teleworking; face coverings recommended in public.
Thursday, April 23
Fairfax County Cases:2,362
Virginia Cases: 10,998
Fairfax County Deaths: 76
APARTMENT AND CONDO SUGGESTIONS: People who live in apartments or condos should consider additional steps they can take to limit the spread of the COVID-19, according to the Fairfax County Health Department. Recommendations include: don't crowd onto elevators, consider only getting on with members of your own household, wait for the next elevator or take the stairs; limit your use of common spaces, like gyms, party rooms, laundry rooms and pet relief areas; wear a cloth face covering; limit visitors to those who are providing essential services. Property owners and landlords can also help keep their residents safe, by frequently cleaning high-touch surfaces; closing or limit access to common areas such as fitness rooms, party rooms and lounges; posting signs asking residents to practice social distancing, cover their coughs and sneezes and wash their hands.
EXPIRED LICENSES VALID?: Virginia's DMV offices and mobile units are closed at least until May 11. Those needing to renew a license or vehicle registration are encouraged to do so online. The Virginia State Police suspended enforcement of the time period in which new Virginia residents must get a driver's license or register their vehicles, the expiration of temporary license plates, and the time period in which temporary residents may operate vehicles with out-of-state plates, and enforcement of motor vehicle inspections by Virginia State Police. Until further notice, the City of Alexandria will not issue citations for driver's licenses, license plates, or safety inspection decals that expired after Feb. 29, 2020.
ELECTIVE SURGERIES ON HOLD: The current ban on elective surgeries has been extended by one week, until May 1. The public health emergency order does not apply to any procedure if the delay would cause harm to a patient. The order also does not apply to outpatient visits in hospital-based clinics, family planning services or emergency needs.
Hospitals continue to treat emergency patients and perform essential surgeries, and Virginians should feel safe going to hospitals if they are experiencing a medical emergency, such as a heart attack.
FEDERAL TELEWORK HELPS ALL: Northam, Maryland Gov. Larry Hogan and Washington, D.C. Mayor Muriel Bowser urged the Trump administration to continue to keep telework policies in place for the federal workforce. More than one-fifth of the nation's federal workforce lives in Washington, D.C., Maryland and Virginia.
"We know that a continued federal telework policy will help save lives by allowing more of our region's 360,000 federal employees to work from home," Hogan, Northam and Bowser wrote in a letter to Michael J. Rigas, acting director of the Office of Personnel Management.
"Failure to do so could lead to a rise in cases and delay our ability to re-open the region."
CHILDREN NEED TO EAT: U.S. Sens. Mark R. Warner and Tim Kaine sent a letter to the U.S. Department of Agriculture (USDA) urging swift approval of Virginia's request to operate a Pandemic Electronic Benefit Transfer (P-EBT) program that would ensure that children who are eligible for free or reduced-price meals will receive a supplemental food purchasing benefit to offset the cost of meals that would have been provided at school.
MEDICAID RECIPIENTS in Virginia now have easier access to medical care amid the current public health crisis. The Department of Medical Assistance Services (DMAS) will have flexibility to make critical services more accessible to people who need them as a result of the pandemic.
The executive order eliminates copayments for individuals receiving coverage through the Family Access to Medical Insurance Security (FAMIS) program. The order also ensures that Medicaid members can obtain replacements for prosthetics, orthotics, and other durable medical equipment and supplies that are lost or damaged without requiring in-person verifications or paperwork.
U.S. Rep. Jennifer Wexton (D-VA) voted to pass a COVID-19 interim emergency funding package that delivers relief for small businesses, provides critical resources for hospitals and health care providers, and expands testing capacity.
"While overdue and necessary -- this legislation doesn't do nearly enough to address the challenges facing our communities," said Wexton. "Small businesses need better access to funding, families need more direct assistance, and states and localities are in desperate need of money in order to prevent cuts to essential services. If our goal is to save lives and livelihoods, Congress must move with greater urgency and with working families in mind."
DON BEYER weighed in on the House floor.
"It's good that we agree on this funding, but Americans need more – much more. As of this morning over 26 million have lost their jobs, in some states as much as one third of the workforce. … Congress will have to do more to save small businesses, both in funding and making changes and exercising oversight to ensure it goes to small businesses.
"State and local governments desperately need our help. The idea that we would tell states and localities to bear the brunt and then let them go bankrupt and lay off medical workers, police, firefighters, and teachers is despicable and we must reject it."
CONTEST FOR TESTS: Rep. Don Beyer (D-VA) introduced the Point-of-Care Testing Prize Competitions Act, legislation designed to harness the power of scientific innovation in fighting the COVID-19 pandemic. The bill would direct the National Institutes of Health (NIH), in consultation with the National Institute of Standards and Technology (NIST), to rapidly launch prize competitions encouraging the development of a point-of-care COVID-19 test capable of producing accurate results in under 30 minutes for multiple samples.
Wednesday April 22
Fairfax County Cases: 2,256
Virginia Cases: 10,266
Fairfax County Deaths: 66
FEDERAL SUPPLY CHAIN PERPLEXING: U.S. Rep. Gerry Connolly and U.S. Rep. Don Beyer joined a group of House Democrats today to protest the Trump Administration's handling of the supply chain for COVID-19 response.
"Despite billions of dollars of taxpayer money dedicated by legislation for supplies, there is little understanding of federal government acquisitions and distributions, no public reporting, and continued unmet demand," wrote the representatives. "Moreover, when there is federal purchasing, thus far it has been reported as insufficient or unhelpful."
Tuesday, April 21
Fairfax County Cases: 2,077
Virginia Cases: 9,630
Fairfax County Deaths: 64
POSITIVE TESTS: The Fairfax County Health Department's Contact Investigations Call Center has a team of nurses and epidemiologists reaching out to each person in the county who has a positive test for COVID-19. Once they contact the person who is infected, they provide information on steps to take to avoid infecting others. Advice includes staying home and avoiding contact with others in the household, and having a separate bedroom and bathroom if possible.
Call center staff also provides instructions on how to identify others who they had been in contact with and how to talk with them about quarantine — meaning that those exposed should stay home and away from others for a 14-day period, the time during which they might become ill. This is important. By staying home and away from others, they can't spread disease if they have been infected.In this video, Dr. Benjamin Schwatrz, director of epidemiology and population health, Fairfax County Health Department, explains more about the contact investigations call center and the important work health staff there are performing.
AFRICAN-AMERICANS HOSPITALIZED MORE:
The Virginia Department of Health's (VDH) daily dashboard now includes case, hospitalization, and fatality information by age, sex, and limited information for race for Alexandria. COVID-19 affects every age group, gender, and race and ethnicity.
The distribution of COVID-19 cases in Alexandria by age and race are similar to the overall age and race distribution of Alexandria residents, however patients over 65 and African Americans seem to have higher rates of hospitalization if they contract the virus. This aligns with nationwide research on health outcomes. Underlying health conditions such as diabetes and heart disease can create additional complications and more severe symptoms if someone contracts COVID-19.
For generations, historically discriminatory systems in education, housing, and the workforce have created conditions that contribute to higher rates of chronic conditions in communities of color. The COVID-19 pandemic has exacerbated these existing inequities in health outcomes.

These types of differences in health outcomes have been a longstanding concern in Alexandria and across the country. AHD and community partners like the Partnership for a Healthier Alexandria have been working for years to eliminate these differences and ensure everyone has the opportunity to attain their highest level of health and well-being. AHD and the City are working with diverse, at-risk communities throughout Alexandria to provide information about COVID-19: what it is, what people can do to prevent it, and, for those who do not have a doctor or health insurance, where they can seek testing and care.
NO MORE RACISM. Sen. Warner and 28 colleagues condemned increased harassment and violence against members of the Asian American and Pacific Islander (AAPI) community during the novel coronavirus (COVID-19) pandemic. In a letter to President Donald Trump, the Senators stressed that America's leaders have a responsibility to avoid using rhetoric that fuels racism towards Asian Americans, and to prevent confusion about COVID-19 from being exploited to target communities of color.
Warner has previously urged the coronavirus task force only to distribute accurate information about the virus and dispel misinformation or discriminatory rhetoric to help prevent suspicion, panic and race-based assaults.