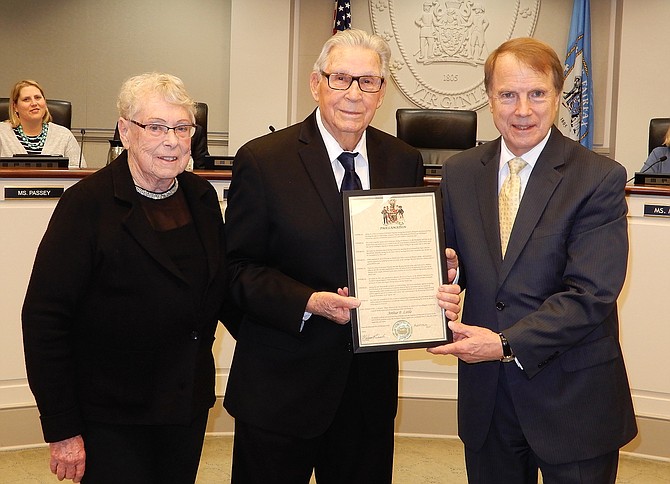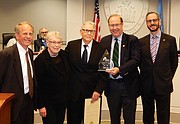 Longtime City of Fairfax resident Art Little received two special honors during the Feb. 11 City Council meeting. One was from the City and the other was from NOVA Parks.
With his wife Julia beside him – and standing before a full house in the City Council annex – Little, 92, listened while Mayor David Meyer sang his praises.
"Art has been involved in making sure that athletic facilities and recreation facilities are available to lots and lots of people," said Meyer. "And he has been a good friend to almost everyone in this room that knows him. Art is concluding 33 years of service on the NOVA Parks Board, so we're going to recognize him for his efforts."
Meyer then read the proclamation, which noted that Little is a Northern Virginia native, having been raised in Arlington. He attended Virginia Tech, graduated from George Washington University and later received his Master of Arts from Auburn University.
He served his country with distinction during World War II in the Philippines, and later in the Korean War, and retired as a lieutenant colonel in the Air Force Reserves. Afterward, he served as a civilian with the Central Intelligence Agency in several countries before retiring for the second time in 1982.
While at the CIA, Little met his future wife, Julia, and they now have four children and five grandchildren. Upon returning to Northern Virginia, they bought a home in the Old Lee Hills neighborhood of Fairfax City. Art soon served as an umpire for three years in the Fairfax Little League, followed by 10 years of service on the City's Parks and Recreation Advisory Board [PRAB].
IN 1987, Little was appointed to represent the City of Fairfax on the Board of Directors of the Northern Virginia Regional Park Authority, now NOVA Parks, where, the proclamation stated, "he has provided invaluable service for 33 years – the longest-serving citizen on their board.
"During his over three decades of service to NOVA Parks, Art Little contributed mightily in leading NOVA Parks in the preservation of numerous tracts of land as open space and the creation of numerous parks, trails, historic structures and recreation facilities, such as Gateway Regional Park, which appeal to and are accessible to all visitors, thus contributing to the physical and mental wellbeing of all residents in our region."
The proclamation further stated that "Art Little has exemplified the best in citizen volunteering and promoting civic betterment through his selfless dedication and generosity of time and talents and is now concluding his tenure on the NOVA Parks Board of Directors.
"Now, therefore, I, David L. Meyer, mayor of the City of Fairfax, in concert with my colleagues on the City Council, hereby express our profound gratitude and thanks to Arthur F. Little, on behalf of all the citizens of the City of Fairfax and the hundreds of thousands of visitors to the NOVA Parks facilities across the Northern Virginia region who continually benefit from Art Little's leadership and vision."
The audience gave Little a standing ovation. Then Brian Knapp – one of the City's two representatives who serve on the NOVA Parks Board – came to the microphone.
"On behalf of the 12 members of the Board of Directors for NOVA Parks – representing six jurisdictions here in Northern Virginia – I'm honored to be here on their behalf to recognize the 33 years of service by Art Little to NOVA Parks," he said. "We really are standing with a legend here – in his professional and married life and in his selfless service to Northern Virginia."
During all those years on the Board, said Knapp, Little has been part of and instrumental to many significant events. "He is a witness, a participant and an advocate for incredible growth, here in Northern Virginia, with parks, trails, recreation, water and land conservation," said Knapp. "It's truly been incredible. There are more buildings that have his name on them, in Parks and Recreation in Northern Virginia, than any other person I'm aware of."
KNAPP said Little is loved, not only by the Board, but also by the NOVA staff, represented that evening by Paul Gilbert and Michael Nardolilli. Gilbert served on the Board with Little and is now executive director, and Nardolilli is the Board chairman. Knapp then told Little that the three of them came to the Council meeting to give him a small token of their appreciation.
"Art has been a consummate and selfless Board member who lent his hand to our budgeting, discussions on capital expenditures and our audit," said Knapp. "And he's the longtime chair of our rowing committee and an avid golfer.
"When I moved to the City and became a member of PRAB, he welcomed me with open arms, was a terrific mentor and introduced me to all the people in the City I needed to know to do my job effectively. And I'm forever grateful for that." Knapp said Little also told him when there was an opening on the NOVA Parks Board and encouraged him to apply.
Then, as Nardolilli presented Little with a crystal plaque engraved with the words, "Thank you for your leadership in building a stronger regional park system, 1987-2020," Knapp addressed Little directly.
"Art, for your friendship, sense of humor, passion and enthusiasm for outdoor spaces – and all those other things you've had a hand in – and for your dedication to our City, our citizens and the citizens of Northern Virginia, we greatly thank you," said Knapp. "You are loved, you are appreciated and you are going to be greatly missed at NOVA Parks."
Afterward, Julia Little – who's been married to her husband for 54 years – noted that his family has lived in the City for 200 years and they've been Fairfax residents since 1957. "He's really enjoyed volunteering," she said. "And I'm very proud of him."