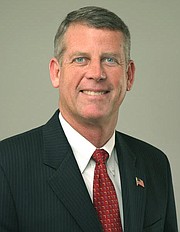 The Herndon Rotary Club has announced this year's Citizen of the Year: Michael O'Reilly. O'Reilly is the 54th recipient of this highest honor, presented annually by the club.
O'Reilly was selected for his many years of tireless service to the town. A former Herndon Mayor and Town Council member, he also served on the Heritage Preservation Review Board. Among his many contributions to the greater community, O'Reilly has worked to prevent and end homelessness in his position as Chairman of the Governing Board of the Fairfax Falls Church Partnership, reducing the homeless population by 46 percent.
O'Reilly is currently working to bring a new Art Center to downtown Herndon, aided by a 1.2 million dollar Fairfax County construction grant that he and the Mayor and Town representatives worked together to obtain. O'Reilly serves as the Chairman of the Board for Arts Herndon.
After he left the elected office, O'Reilly continued his service to the community. He served 5 years as a member of the Board of Directors of the Metropolitan Washington Airports. At the time he joined the MWAA Board, Dulles was undergoing major renovations and upgrades (spending roughly 2 million dollars a day) building a new runway, building an underground rail system, expanding the main terminal and reconfiguring the entrance and approach roadways to accommodate expected growth. During his time with MWAA, he was involved in the negotiations for the design, financing and construction of Phase 1 of the Silver Line Metrorail Project and also the procurement and contract award for Phase 2 of that Project.
O'Reilly is the owner of the O'Reilly Law Firm in Herndon, and he serves on the Board of Directors of the Dulles Regional Chamber of Commerce, and also chairs the Herndon Committee, which engages and supports Herndon businesses.
He has lived in Herndon for the past 40 years, where he and his wife Annie raised their 4 children.
O'Reilly will be honored at a banquet to be held at the Crown Plaza Dulles Airport, 2200 Centreville Road, Herndon, on Thursday, April 2, beginning with a reception at 6:30 p.m. Everyone is invited to participate in this community event to honor O'Reilly. For sponsorships, contact Arthur Nachman at 703-864-2900. Reservations should be made before March 25 by contacting Chris Mogensen at 703-582-9565 or chrisLMogensen@gmail.com.