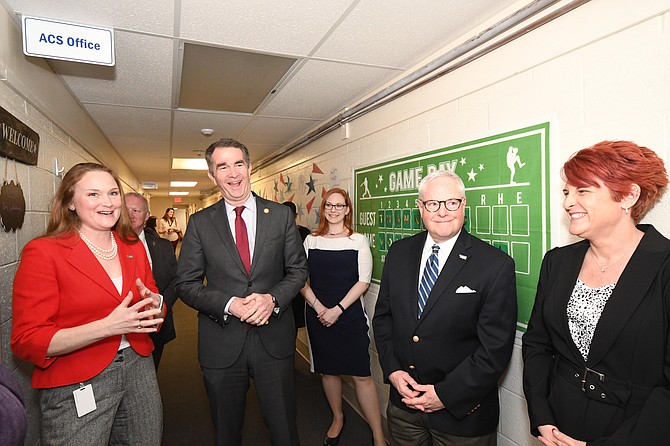 Virginia Gov. Ralph Northam visited the headquarters of Volunteer Fairfax in Fairfax City, Tuesday afternoon, Feb. 25, 2020. The governor was in Fairfax to speak with the staff of Legal Services of Northern Virginia, which is also housed in the Burkholder Building.
After taking a tour of the Volunteer Fairfax headquarters led by Volunteer Fairfax Chief Executive Officer Steve Mutty and Volunteer Fairfax Chief Operating Officer Emily Swenson, Northam spoke with Volunteer Fairfax staff, its board of directors president Ginger L. Bristow and several volunteers with RSVP (Retired and Senior Volunteer Program) and Volunteer Fairfax's Volunteers for Change program about the work they do and the current volunteer needs in the community.
RSVP-Northern Virginia, a program of Volunteer Fairfax, Volunteer Arlington and Volunteer Alexandria, personally matches volunteers 55 or better with their ideal service opportunities. RSVP is holding a free seminar titled "The Art of Volunteering in Retirement," Saturday, March 21, 2020, at the headquarters of Volunteer Fairfax.
Volunteers for Change provides flexible weekend and evening volunteer opportunities for busy adults with a desire to serve. A VFC orientation is scheduled to take place at 6:30 p.m., Tuesday, March 17, at Volunteer Fairfax.
Volunteer Fairfax also hosts the annual Fairfax County Volunteer Service Awards, this year taking place April 23, 2020, at the Westfields Marriott Washington Dulles Hotel in Chantilly. To sign any of these volunteer orientations or to purchase tickets for the April 23 Volunteer Service Awards breakfast visit www.volunteerfairfax.org or www.rsvpnova.org.