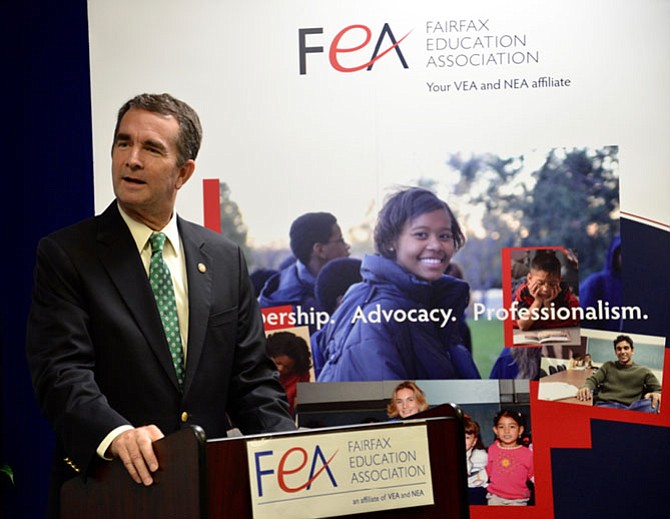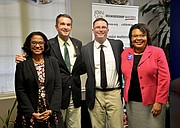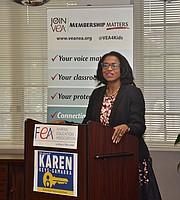 Gubernatorial candidate, and current Lt. Gov. of Virginia Ralph Northam, visited the Fairfax Education Association's (FEA) offices in Fairfax on Thursday, Aug. 24, to outline his educational platform and offer his thoughts on the importance of education in the Commonwealth.
"I attended public schools," Northam said to a conference room filled with association officials, educators, and phone-bank volunteers. "I remember the names of every teacher I had from kindergarten through high school. Public education is one of the reasons I am standing here today and why I have been able to do the things I have done."
The FEA, an affiliate of the Virginia and of the National Educational Associations, has endorsed Northam for governor, and given their support to Karen Keys-Gamarra, a Democrat who is running for the Fairfax County Public Schools Board. Keys-Gamarra also attended the event. She said that her experiences on the campaign trail have made her believe "more strongly than ever that we need to fight for public education. You [educators and administrators] need to be truly served and equipped by your school board."
In her introductions, National Education Association Secretary-Treasurer Princess Moss described the upcoming State elections as "life or death to public education in our Commonwealth." Moss pointed to Northam's record on supporting early childhood education and said "Ed Gillespie [Northam's Republican opponent for governor] will not do that." Citing financial support for Gillespie's campaign by the family of Secretary of Education Betsy DeVoss, Moss added "he [Gillespie] will rubberstamp her agenda, pushing for more voucher programs and taking resources away from public education."
Northam praised Governor Terry McAuliffe's administration's work toward building the "new Virginia economy," much of the success of which he said is based on "our acknowledged world-class education system and workforce training."
Going forward, the strategy for developing the priorities for Virginia's public education requires "determining what 21st century jobs look like," Northam said. A combination of reinforcing the basics and developing curriculum, resources and opportunities in "STEAM" – Science, Technology, Engineering, Arts, and Math – is the answer, according to Northam. "And add an "H" for Healthcare, so now it's STEAM-H!"
Northam, Keys-Gamarra and the Educational Associations say that moving toward a voucher-system for schooling will mean less people will be prepared for those "new economy" jobs. Too many schools struggle today to fund their programs and to offer enriching electives to all students, they said. In their estimation, stripping those limited resources to provide "vouchers for some" will have disastrous effects on public education and the welfare of Virginians.
The highlights of Northam's education platform include:
Increasing teacher salaries to at least the national average. "We are $7,500 below that now," said Northam. "We need to attract and retain good teachers."
More emphasis on career development. Northam says it's disturbing that so many students graduate high school and even college, with no idea what they want to do, no career path, and not the right skills to match the modern job fields.
More internships and job fairs, and more interaction with business partners in schools will also help students get real world understanding, expose them to career choices and give them a path for success.
Fight to increase funding for public schools. "It's not enough to just fight to maintain what we have now," said Northam.
Promote vocational and technical education. Northam has seen the successful outcomes in countries that value technical abilities and trades.
Expand Early Education. Northam cites countless studies showing that children who don't receive educational inductions at an early age, "struggle and sometimes never catch up." Northam says that's not fair, when these children have the potential, but are not assisted to achieve it.
Increase Home Visits to ensure that the most vulnerable and at-risk children do not go unrecognized and unassisted.
"Lift up rural Virginia" – Northam reminded his Northern Virginian audience that "we succeed together" and improving all conditions, especially access to quality education in areas being left behind "is the right thing to do" and serves us all.
"People always talk about a politician's legacy," said Northam. "I don't know about that. I just know I want to see world-class public education available to all our children in the great Commonwealth of Virginia."