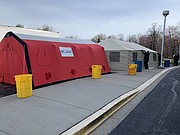 With the number of COVID-19 cases growing to 15 on Monday, March 16, in Montgomery County, local hospitals are gearing up while restaurants, bars, and theaters are closing.
Restaurants are open to provide carry-out and delivery only. The latest guidance calls for no group meetings of 10 people or more, keeping your distance six feet from others, frequent and thorough hand-washing with soap, and cleaning of surfaces like counters, elevator buttons, door handles, etc.
County Health Officer Dr. Travis Gayles said even though the County and the State are now taking extraordinary steps to stop the spread of COVID-19, more cases are certain to be reported. Holy Cross Hospital in Silver Spring installed a tent today on its parking lot, while other local hospitals are making similar plans.
"We wanted to let our community know that they should not be alarmed when they start to see tents popping up at our area hospitals," said Dr. Gayles. "This is actually a sign of preparedness. We want to ensure that due to this highly contagious virus, we separate those who are seeking traditional ER care from the people who may be infected. The tents also help us boost capacity to treat patients."
Montgomery County Executive Marc Elrich said he supports the actions of Maryland Gov. Larry Hogan who ordered all restaurants, bars, theaters and gyms in the state to close as of 5 p.m. Monday, March 16.
"Governor Hogan's actions today to close bars and restaurants is significant and drastic, but it is what we have to do," said County Executive Elrich. "We all must understand that we are in a State of Emergency and that means taking every precaution possible to eradicate this deadly virus and so we can all return to our daily routines. The challenge is that we just don't know when that will be."
Elrich said many residents have contacted his office with offers to help seniors and other vulnerable populations who are self-quarantining. The County is coordinating volunteer opportunities through the Montgomery Volunteer Center. www.montgomerycountymd.gov/volunteercenter
Manna Food Center is in need of donations, and is open to provide food. www.mannafood.org/covidresponse/
Gayles said yesterday, with the expected rise in cases, moving forward, individual cases will not be reported. "We know the number of cases will continue to increase so we will not have the capacity to continue reporting individual cases," he said.
Among six new cases announced Sunday were four men and two women. The men are in their 20s to 70s and the women are in their 20s and 30s.
In a message to County residents today, Gayles said that while more tests are available in community-based laboratories, hospitals and urgent care centers, the decision to test someone for COVID-19 is still based on Centers for Disease Control (CDC) criteria and is limited to individuals with symptoms.
While those guidelines continue to be expanded, there is NO walk-in, on demand testing for the general public unless they have symptoms and fit those guidelines.

"I understand the public's concern about the lack of widespread testing availability, but the guidance about what to do if you have symptoms will not change with test results," Gayles said. He urged residents to self-isolate if they are ill and to seek symptom relief with standard fever-reducing medication, adding, "individuals with severe symptoms may require hospitalization but by and large, most of us will have mild symptoms and recover."
Montgomery County has about 10,000 employees serving a county with more than one million residents. Elrich emphasized that the health and safety of employees is paramount, while also maintaining some continuity of services. For example, County employees are assisting in multiple response activities including staffing a call center.
Beginning Monday, March 16 through March 27, recreation facilities, libraries and senior centers are closed. During this time, the Department of General Services is performing enhanced cleaning of County buildings, including daily cleaning of Ride On buses.
"County government is open with employees teleworking where possible," said Elrich.
Speaking directly to Montgomery County's students, the County Executive said, "To the kids, these are not snow days, this is not time off, people are not getting to have a vacation, this isn't spring break, this is really serious."
Visit our COVID-19 webpage and follow us on Facebook @montgomerycountyinfo and Twitter @MontgomeryCoMD.