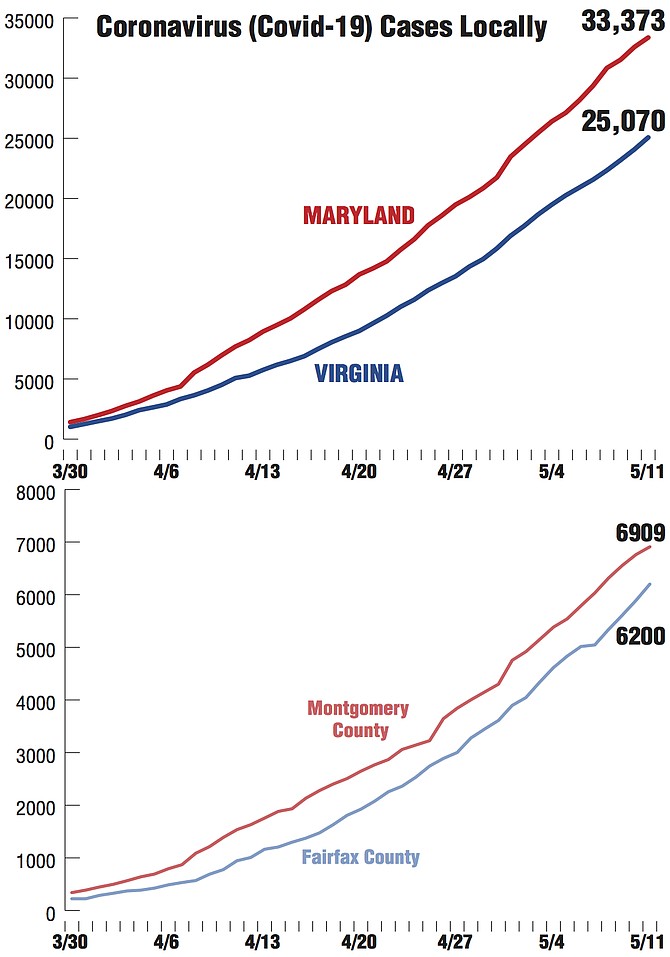 Monday, May 11
Potomac Cases: 201
Montgomery County Cases: 6,909
Maryland Cases: 33,373
United States Cases: 1,300,696
Montgomery County Deaths: 353
Maryland Deaths: 1,573
United States Deaths: 78,771
SECOND HIGHEST COVID TOTALS: County Executive Marc Elrich sends a message to county residents:
"I think all of us are grappling with the ongoing toll of physical distancing. I'm just like you. I want to go out, get together with friends, or go to a restaurant. But I realize, and hope you understand, that we're not ready for that yet. We are working toward a gradual reopening, but we cannot do so until the public health and science guidance recommend it.
"The number of residents with COVID-19 in Montgomery County continues to grow. We are the largest county in Maryland and have the second highest number of cases in the State. Unlike other areas such as western Maryland, we have many more densely populated areas. We need to base our reopening on the facts, or otherwise we are going to end up repeating what we are going through right now.
"One of the most important tools needed for a successful reopening is testing, and we are in the process of scaling ours up. We are contracting with additional sources of testing, and we have companies lined up to process those tests. We have already increased our testing substantially and will be doing even more, soon.
"Continuing to stay at home, and only traveling when it is absolutely necessary, is in all of our best interests. Our actions are helping to minimize the spread and a possible second wave. It would be a huge mistake to let up too soon and have this expand even further."
Sunday, May 10
Potomac Cases: 200
Montgomery County Cases: 6,762
Maryland Cases: 32,587
Montgomery County Deaths: 348
Maryland Deaths: 1,538
Saturday, May 9
Potomac Cases: 195
Montgomery County Cases: 6,555
Maryland Cases: 31,534
Montgomery County Deaths: 336
Maryland Deaths: 1,510
Despite restrictions being lifted at golf courses, Maryland waterways, and other places where six-foot distancing can take place, Montgomery County Executive Marc Elrich and County Health Officer Dr. Travis Gayles today said they are not ready to reopen the County until the number of COVID-19 cases and hospitalizations is on a sustained decline. Citing Gov. Larry Hogan's recent order opening a limited number of outdoor activities, Elrich said Montgomery County officials will be deliberate and thoughtful in planning when to loosen restrictions and begin to reopen businesses and services.
"We are in a densely populated metropolitan area, and we share borders with other jurisdiction," said Elrich.
Testing capacity is key to having data to support reopening according to Gayles. "We have so far tested 2.3 percent of residents, above Maryland's baseline goal of 2 percent, but below the County's goal. Testing capacity is continuing to expand, and plans are in place to test as many residents as possible, particularly frontline and essential employees."
"While we continue to monitor the number of cases and hospitalizations, we ask residents to continue to be vigilant in practicing preventive measures such as keeping nonessential travel to a minimum, wearing a face covering when going out in public, washing hands frequently and practicing physical distancing of at least six feet," said Dr. Gayles. "Quarantine fatigue is real, and I know it is impacting everyone, including myself. It is difficult to stay committed to all the changes there have been to every aspect of our daily lives; but now is not the time to let down our guard."
Friday, May 8
Potomac Cases: 167
Montgomery County Cases: 6,316
Maryland Cases: 30,845
Montgomery County Deaths: 315
Maryland Deaths: 1,453
The Montgomery County Department of Transportation (MCDOT) will receive more than $30 million in Federal funding through the CARES Act to support Ride On bus operations during and after the COVID-19 health crisis. The legislation also recognizes the critical importance of maintaining transit services during the health crisis for essential workers and others who rely on public systems to access basic needs such as food and healthcare. The funding will help make up for Ride-on fare collection, which stopped March 13 in order to limit personal interactions; hazard pay for bus drivers; maintaining standby drivers on buses stationed strategically; increased cleaning and safety measures to keep riders and bus operators safe.
Thursday, May 7
Potomac Cases: 155
Montgomery County Cases: 5,790
Maryland Cases: 28,163
Montgomery County Deaths: 304
Maryland Deaths: 1,338
More than 1,200 businesses have received Montgomery County's Public Health Emergency Grants that were created to help businesses suffering losses due to the COVID-19 crisis. Montgomery County has already issued more than $10.6 million in funding; $25 million is available with $10 million dedicated to restaurants and retail businesses. In addition, $333,270 in grants for telework has been authorized.
Applications continue to be reviewed for grants that can be awarded of up to $10,000 per applicant. See https://www.montgomerycountymd.gov/Biz-Resources/pheg/.
Because of limited County funds and overwhelming demand, Montgomery County is encouraging businesses throughout the County to explore other forms of Federal, State and local assistance that may be available. Resources to assist in this search include:
https://montgomerycountymd.gov/Biz-Resources/covid19/
https://thinkmoco.com/covid-19-resources
Due to the closure of all Maryland schools through the end of the 2019-2020 school year, all remaining permits for indoor and outdoor community use of MCPS facilities will be cancelled through June 15, 2020. All fees will be refunded by check and may take up to 30 days to process. Email CUPF.Finance@montgomerycountymd.gov.
U.S. Sen. Mark R. Warner (D-VA) joined Sen. Chris Van Hollen (D-MD) and seven other senators to tell President Trump it is imperative that the federal government fully use its authority to support and expand production of personal protective equipment and testing supplies.
"An analysis by Harvard University researchers found that the United States must, at minimum and under the best-case scenario, double the number of tests being conducted each week," wrote the Senators. "In many cases, even when state and local governments are able to get some supplies into the hands of their frontline medical personnel, they go unused because of shortages in other key supplies."
Wednesday, May 6
Potomac Cases: 155
Montgomery County Cases: 5,790
Maryland Cases: 28,163
Montgomery County Deaths: 304
Maryland Deaths: 1,338
Montgomery County Public Schools will remain closed for the rest of the school year. State Superintendent Karen Salmon made the announcement May 6 and Montgomery County Superintendent of Schools Jack R. Smith wrote a letter to parents, students, staff and community members: "We strongly believe this is the right decision for the safety and well-being of Maryland students and their families. While this news is not unexpected, it doesn't diminish the sadness and disappointment that many of us are feeling."
Montgomery County Executive Marc Elrich supported the decision. "I understand the Superintendent's decision, and as a former teacher, I know it was not an easy one," said Elrich. "We will be working with our school superintendent and the Board of Education as well as with our Library, Recreation and Health and Human Services staffs to support our families and our students to continue to learn and grow during this difficult time. I have heard and seen some great examples of creative solutions of teachers reaching out to students, and I appreciate the dedication and hard work. We will do what we can to support you."
The last day of school for Montgomery County Public Schools (MCPS) is currently scheduled for June 15. All MCPS school buildings will remain closed during this time.
ON MAY 6, GOV. Larry Hogan eased some stay-at-home restrictions and allowed the resumption of elective medical procedures. More outdoor activities are now allowed under the state's Stay at Home order.
"As of Thursday, May 7 at 7 a.m., I am lifting the restriction on outdoor pursuits like fishing, campground usage, boating and golf – and we are opening state parks and recreational areas.
At the same time, elective medical and dental procedures can also resume across the state," said Hogan.
"I realize that these are only small steps, and that they may be of little comfort to those who are out of work and struggling," said Hogan.
County Executive Marc Elrich presented a different message:
"As we head into this Mother's Day weekend, we do so with new guidance from the Governor as to what is acceptable as far as outdoor activities are concerned. While the Governor has said that people can now play tennis and golf, this doesn't mean that we should ease up on the physical distancing we have been practicing for nearly two months," said Elrich.
"While we want people to be physically active and get outside, we need to refrain from contact sports. Please only go out for essential travel and the limited approved outdoor activities. While the governor has approved activities such as boating, camping, fishing, horseback riding, hunting and driving in off-road vehicles, these can only be done with members of your household. Regardless, when you are around others, it is still necessary to wear a face covering. In the end, our ability to fully return to normal activity depends on our ability to control the virus.
Elrich warned that even though some outdoor activities may resume on May 7, all Montgomery County Recreation facilities will remain closed until further notice. All programs and rentals are cancelled. And while the outdoor areas surrounding County Recreation centers remain open, the public is reminded that all playgrounds are closed.